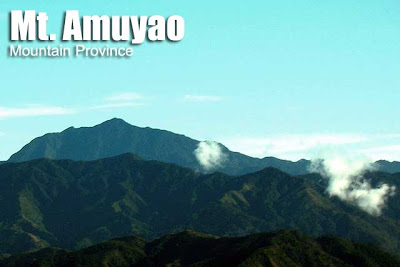 MT. AMUYAO
Mountain Province
Jump-off points: Sitio Macalana, Barlig, Mt. Province; Batad, Ifugao
LLA: 17°10N, 120°57E, 2702 MASL
Days required / Hours to summit: 2 days / 5-7 hours
Specs: Major Climb, Difficulty 6/9, Trail class 3
BACKGROUND
Rising at the northeastern edge of the Cordilleras is the highest point of Mountain Province, Mt. Amuyao. Unlike the famed mountains of the range such as Mt. Pulag and Mt. Napulauan which can only be viewed on high elevations, Mt. Amuyao stands prominently and can be spotted along the highway to Banaue. Because of its prime location, it was chosen to be the site of two transmitters, that of the PT&T and ABS-CBN. And because its summit area hosts these sites, the access to the mountain has been made easy, with stairways literally running all the way to the top. This literal flight of stairs takes 4-7 hours to climb*. Exhauasting and steep, yes, but the trail is assuringly well-established and continuous. Night trekking is a possibility.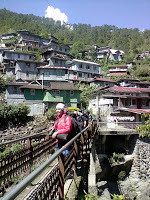 Barlig itself is set in high ground, 1300-1400 MASL. From here you would see a mountainous prominence: this is not Mt. Amuyao but Mts. Polis and Alemmona. At the start of trek, you would climb up the Awa Rice Fields in Barlig, and then commence the stairways to two low, successive mountains: Mt. Alemmona (1800 MASL) and Mt. Polis (2000 MASL), around two hours total. Here the refreshing views comprise of pine trees; in Mt. Polis a mossy forest ensues, leading to further areas locally known as Lifod / Lipod and Tokchor, respectively (these names are written on a map at the Tourism Office). The difficult assault ot Monkelat trail will, after around 3-4 hours of trekking, take you to the Barlig Viewpoint (2400+ MASL, total of 4-5 hours from jump-off). Here you can take great shots, including that of the summit of Mt. Amuyao. Not so far from here is a spring water source, and also a campsite known simply as Camp 1. The trails would eventually lead to a mossy forest again, this time grander, and culminate in a steep but manageable portion near the summit called the Amuyao Knife-Edge. From there, the summit area with its radio towers and relay stations are very near. From the viewpoint to the summit, allot an hour of trekking.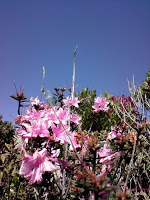 At the summit, a display of wild flora will greet you: there are pink flowers, highland grass, wild orchids, and other rarities. The scenery is breathtaking, encompassing the high mountains of the Cordilleras to the west, and the Sierra Madre to the east. Visible are the provinces of Benguet (W), Abra (WNW), Kalinga (N), Cagayan (NE), Isabela (E), and Ifugao (S). Both sunsets and sunrises have a magnificent character; more so the sea of clouds.
Aside from the beautiful view its peak affords, Mt. Amuyao is also special for other reasons. In Igorot folklore, diluveal legends say that it is in this high mountain where the surviving man and woman, Bugan and Wigan, took refuge. This legend is very much like the Biblical tale of Noah, whose ark landed in Mt. Ararat. Hence, the mountain has a special place among the locals. Also, its bioversity has earned the notice of scientists. Salcedo and Calora of the Benguet State University (2006) reports that "A total of 280 vascular plant species belonging to 180 genera and 84 families were recorded from actual floristic surveys and vegetation analysis of the northern slope of Mt. Amuyao." They were further able to caterogize the mountain into zones: a tropical moist forest (1600-1800 MASL), tropical premontane wet forest (1801-2400 MASL) and tropical montane rainforest (2400-2702 MASL). The same report warns, however, of a bad prognosis regarding the denudation of the forest; hikers must be aware of these environment concerns and lend their hand whenever possible to avert them.
Another option, recommended for the adventurous lot with the luxury of time, is a traverse of Mt. Amuyao all the way to Batad, Ifugao via Pat-yay. A seperate article in PinoyMountaineer has been constructed to describe this trek.
ITINERARY
(REGULAR CLIMB VIA BARLIG AND BACK)
Day 0
2100 Assembly at Autobus Station in Dimasalang Manila
2200 ETD for Banaue, Ifugao (P450)
Day 1
0700 ETA Banaue/ Breakfast
0900 ETD for Barlig, Mountain Province, via rented jeep
1100 ETA Macalama, Barlig. Lunch before trek.
1200 Start Trek (may be deferred if sun's heat too intense)
1700 ETA Barlig Viewpoint (~2400 MASL)
1800 ETA Summit. Either camp outside or stay at bunkhouses.
1900 Dinner / socials
Day 2
0700 Wake-up Call / Breakfast
0900 Start descent
0945 Back at Barlig Viewpoint
1300 Back at jump-off point; lunch. Take jeep to Bontoc/Banaue.
1530 Back in Banaue, wait for 1730hr, 1900hr, or 2000hr trips to
Manila (P450)
TRAIL AND NAVIGATION MAP
Click on the image to see the full-size map. Note that some of the data are approximates and the map is only meant to be a fairly-reliable overview of the trail and topography.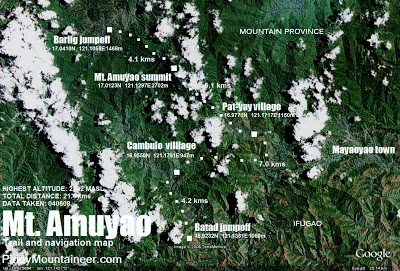 SPECIAL CONCERNS
Transportation
As in Mt. Napulauan, the trip to Mt. Amuyao can be staged from Banaue. From Manila to Banaue, the Florida Bus Lines (ETD 2245), Victory Liner (ETD 2245), and Autobus (ETD 2200)are reliable options, an alternative is the Cable Bus Tours. Florida and Autobus have terminals at Sampaloc, Manila while the Victory terminal servicing the route is in Kamias. Meanwhile, from Banaue to Manila, Florida has a terminal near Banaue Hotel (ETD 2000). Terminals of Autobus (ETD 1730) and Victory (ETD 1700) are also in Banaue; for these buses reserving/purchasing tickets in advance is advisable. Fares either way range from P400-450, with companies giving 10-15% student discount (so bring your ID!).
From Banaue, there is a regular jeepney service every morning to Barlig. Also, jeepney rides from the capital of Mt. Province, Bontoc, ply the route (1:00 PM). Given the infrequent departure times of these, however, chartering a jeepney from Banaue may be a better option, especially for groups of >10 persons. You may contact Cloyd of Las Vegas Lodge (Banaue) at +639109932538 or Jack (+639184409932) to charter a jeep; or you could arrange for your transportation on Banaue itself. Most of the time the locals are reasonable – although you have to bargain too.
Logistics
Guides may be secured at the municipal hall/ tourism office of Barlig, where you would also do a courtesy registration. A fee of P20 is paid per person for the municipality, and in Brgy. Macalana, another P50 is collected.
Most of the time, the caretakers at the summit bunkhouses allow climbers to stay there. Although usually for free, sometimes they may charge P100/person so prepare accordingly. Check with the tourism office if there are other climbers on that particular day. If lodging is assured, you may leave your tent in Barlig. Aside from bunk beds, the houses have electricity so bring your chargers; there's also a bathoom/CR where you can take a bath if you dare to in that chillingly cold weather!
Cellphone signal is good throughout the trail. Preparations for cold weather is a must when climbing Mt. Amuyao.
For further information, try contacting Ms. Jane Buyao, chairperson of the Banaue Tourism Council at +639196142266 or Ms. Juliet Mateo, information officer, at (+6374)3864010.
TRIVIA
There have been reports of hailstone showers and frost formation at the summit area of Mt. Amuyao, especially during the cold months (December-February). Indeed, temperatures as low as 0 degrees Celsius have been anecdotally reported although PinoyMountaineer.com would like to know the official record low.
Officially 2702 MASL, a wide range of proposed elevations exist for Mt. Amuyao, from as low as 2670 MASL (indexmundi.com) to 3045 MASL (Barlig Tourism Office). It is claimed by the Municipality of Barlig as the third highest mountain in the country although the PinoyMountaineer list places it at #10 for the whole Philippines.
Aside from Mt. Amuyao, the town of Barlig has its other ecotourism attractions: there are waterfalls and hot springs in Brgy. Latang, a burial cave in Brgy. Lunas, and rice terraces and scenic villages throughout the town.
The cover photo for this guide was taken by the author at Ny-o campsite in Mt. Napulauan.
MANILA TO BANAUE
| | | | | | |
| --- | --- | --- | --- | --- | --- |
| Bus line | Terminal | ETD | ETA | Fare | Contact numbers |
| Florida Bus Line | Sampaloc | 2245 | 0630 | 450 | 7433809 7315358 4933667 3864042 |
| Autobus | Sampaloc | 2200 | 0700 | 462 | 7358096 4802764 |
| Victory Liner | Kamias | 2245 | 0700 | 450 | 8330219 |
| Cable Bus Tours (to Bontoc) | E. Rodriguez near Trinity College | 2000 | 0700 | 400 | 09185216790 |