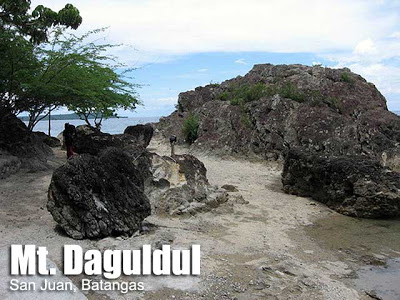 MT. DAGULDUL
San Juan, Batangas
Major jump-off: Brgy. Hugom, San Juan
LLA: 13°40.380N 121°19.160E, 672 MASL (+ 672 m)
Days required / Hours to summit: 1-2 days / 5 hours
Specs: Minor climb, Difficulty 3/9, Trail class 1-3
BACKGROUND
A nice trek in southern Batangas is the coastal mountain of San Juan, Mt. Daguldul. The name 'Daguldul' or 'Daguldol' has been used since olden days. It has an onomatopoeic feeling – that of suspense and grandness. Maybe it describes the grandeur of the range and the abrupt rolling of its slopes.Actually a small mountain range, Mt. Daguldul has several 'gems' to offer. First, there is the unique seascape that greets the hiker on the intial beach trail. Then, there is trail, moderate in difficulty, passing by woodlands and light forests. In some parts, the greenery is total. Of course there is the peak, which, although not really spectacular in terms of views, has a refreshing feel. Finally, there are excellent sidetrip choices such as the unique Naambon Falls and the acclaimed Laiya beach.
A good thing about Mt. Daguldul is that the guides are organized under the Hugom Environmental Guides Association (HEGA). This means that fees are fixed and they are reasonsable – guides for P400/day and a climbing fee of P30 (as of 2006; update needed). After meeting with the guides or registering, you can start trekking. The trail starts off at the beach – here is where you can see the good rock formations. Afterwards, you will enter the forest. After around 1.5-2 hrs, halfway through the trail, you will see Mang Lizardo's place; in this area are stores offering basic foodstuffs and softdrinks. Buco juice and even fresh, pure honey can be bought here. Another 1.5-2 hrs and you will reach the peak/campsite areas. Long Henson (2001-2002) was the first to report the names of these campsites, namely Campsite 1 (Gulugod-Baboy); Campsite 2 (Niyugan – lots of cocount trees); and Campsite 3 (Anahawan). Usually, the determining factor in camping is the one you reach before nightfall, but these campsites are all within the area which you can explore anyway.
The summit area is windy, as expected from a coastal mountain. Grasslands make for a 'picnic ground' feel; there are some rock formations also. In one viewpoint, called Biliran ng Limatik (20 minutes from Niyugan campsite), the nearby mountains such as Maculot (NW), Malipunyo (NNW), and more distant Mt. Banahaw (NE) can be seen; and also Mindoro (and perhaps Verde Island, SE), Tayabas Bay (SW) and a faint island, Marinduque (SSW). Visible also is Naguiling Peak in the same range – a pristine, promising destination.
On the way back, in between Mang Lizardo's place and the beach, there is a marker that leads to Naambon Falls, just 5 minutes away from the trail. The 25 meters cascade of water falling down a rock face is a must-visit on a trek to Mt. Daguldul. Finally, after the climb, you can unwind in the cool waters of Laiya beach before heading back to Manila.
MT. DAGULDUL ITINERARY
Day 1
0600 Take Lipa-bound bus from Manila (Buendia, Cubao)
0830 At Lipa, charter jeep to Brgy. Hugom
1130 ETA Brgy. Hugom; Arrange for Guides. Lunch
1300 Start Trek – Beach Front
1530 ETA Mang Lizardo's place
1730 ETA Niyugan Campsite, Set Camp
1900 Dinner / Socials
Day 2
0500 Wake up call
0520 Start Trek going to summit
0540 ETA summit
0700 ETD from summit
0730 Breakfast
0830 Break Camp
0900 Start Descent
1000 Back at Mang Lizardo's place
1100 Take Naambon Falls sidetrip (1 hr)
1200 Resume descent
1300 Back at Brgy. Hugom; head to beach resorts
1700 Rent jeep back to Lipa or Batangas City en route to Manila
PRACTICALITIES: MT. DAGULDUL
Transportation

Public (1) Bus, Cubao or Buendia to Lipa [P130, 2 hours] then jeep, Lipa to San Juan [P50, 1 hour] OR direct bus (ALPS) Cubao to San Juan [P200, 2.5 hours]
(2) Jeep, San Juan to Hugom (first trip 0400H; last trip 2000H) [P40, 45 min; charter P800/way]
Alternatively: Take Lucena-bound bus to Candelaria, Quezon, Supreme bus to San Juan, then take (3).
Private: SLEX>Star>Ibaan exit>turn left to San Juan>Laiya>Hugom

Registration

Logbook at trailhead; P35 fee

Available, required: P400/day

Jeep rental (Rene) – 09127570867
Brgy. Hugom (Kap. Boyet) – 09167664936

Campsites

Three campsites including Niyugan and Anahawan near the summit

Water sources

At Niyugan campsite

Cellphone signal

Present in some parts including summit

River crossings

None

Roped segments

None

None

None

Rattan

None

Hiking notes

On the hike itself, consider visiting Naambon Falls (+ 1 hour).

Sidetrips

Laiya beach is a very convenient side trip – resorts cater to different budgets (i.e. P100-150/person). See comments below for rental options.

Alternate trails

A traverse to Mt. Lobo has been reported by other hikers but guides from Daguldol may not be familiar.

Yes (3-4 hours to summit; 2 hours down); Note: consider private transport if doing a dayhike

850-1150


MT. DAGULDOL PICTURES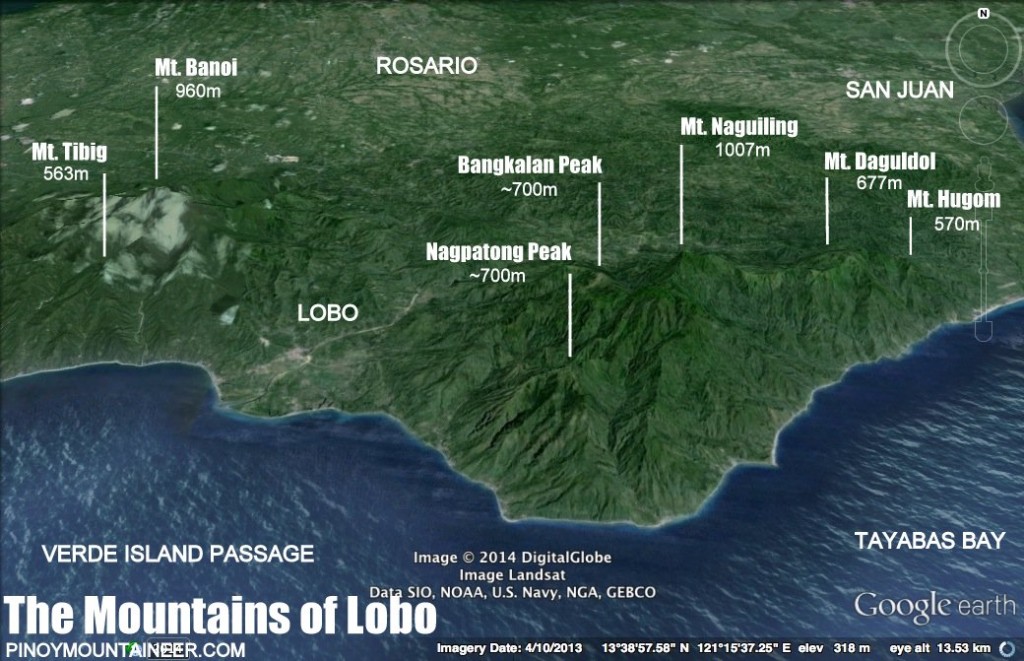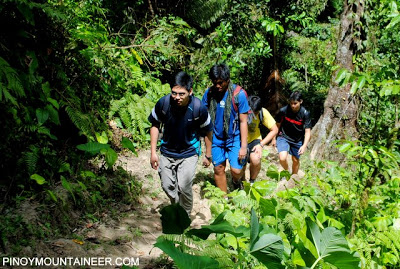 The trail is well-established, passing through woodlands (Mar 2012)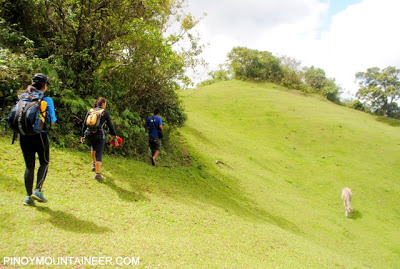 Open grassland slopes near the summit – say hi to the cattle! (Mar 2012)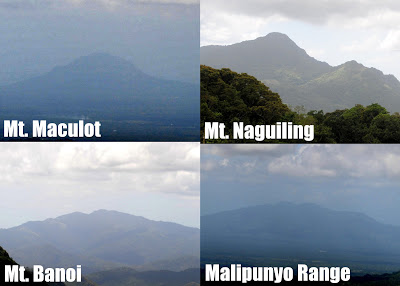 Some of Batangas' mountains as viewed from the summit (Mar 2012)


TRIVIA
Biliran ng Limatik, the viewpoint, should suggest the presence of the blood leech but actually they have long retreated to other, deeper regions of the range.
Mt. Daguldul actually bounds two towns, San Juan and Lobo. The latter is also a mountainous area, with Mt. Lobo being its highest peak (948 MASL). New destinations are bound to emerge from this area.
The UP Mountaineers were the pioneering group that led led to the establishment of Mt. Daguldul as a hiking destination in the 1990s.
An account of the blogger's dayhike up Mt. Daguldol is narrated is Hiking matters #239.
Many thanks to the UP Remondatos, including Dr. Francis Daytec, with whom I first climbed Mt. Daguldul on Oct. 2005. I referred to some websites including a helpful review by Sir Omar jhersey33.multiply.com) and of course Long Henson's IT to fortify this blog entry. Finally, the cover photo courtesy of Ma'am Ivan Manalansan (ivanulrich.multiply.com ) Many thanks!