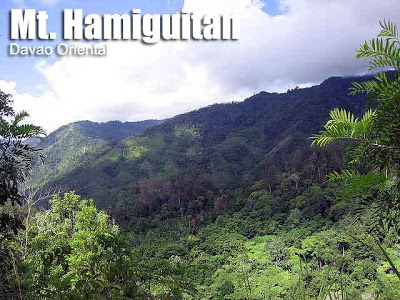 MT. HAMIGUITAN
Davao Oriental
Major jump-off: Brgy. La Union, San Isidro, Davao Oriental
LLA: 6.745 N, 126.174 E, 1620 MASL
Days required / Hours to summit: 3 days / 11 hours
Specs: Major climb, Difficulty 6/9, Trail class 3 (w/ river crossing)
BACKGROUND
Mt. Hamiguitan, Davao Oriental's captivating wonder, is home to the country's largest pygmy forest. Its impressive flora counts a total of 878 species, whereas its distinguished fauna include the Philippine Eagle. The vast, 600-hectare bonsai field is enchanting, and even more so the mysterious 'Tinagong Dagat' (Hidden Sea), a lake that is said to have high tide and low tide schedules – a phenomenon that awaits an explanation. A 3-trek to the 1620 MASL mountain will take you to this realm.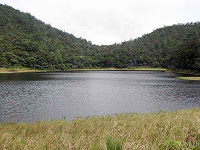 Blogger Edwin Gales shares his recent adventure to this mountain, and provides information for this article. In his post, the Hamiguitan has been described in these terms: " The climb can truly be hard, and the ravine can be the greatest scare of your life,but once on top, you're on for an experience of a lifetime, and experience a world of paradise."
The trek begins from Brgy. La Union in San Isidro, Davao Oriental. A whole-day trek to either Kapatagan Uno (first camp) or all the way to Kapatagan Dos (second campsite; near the summit) is typically done. The first two hours require river crossing, in a background of woodlands. followed by the second day which is mostly for exploring the beautiful pygmy forest, the summit, and the mysterious 'Tinagong Dagat'. Also, near the bonsai fields lie the narrow but high Twin Falls.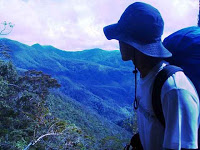 Before reaching Camp 3, a vantage point known as 'Lantawan' will be encountered – affording spectacular views of the Hamiguitan range as well as the southern seas, including Pujada bay. Pitcher plants and large ferns dominate the scene, as well as dense mossy patches.
On the third day, one may descend via the same route but there is the option of descending via Gov. Generoso town. Two other camps will be passed before reaching Sitio Badiang. Regardless of the route, when you leave Hamiguitan you cannot help but feel awed with the beauty of the mountain — a beauty that must be preserved at all costs.
ITINERARY
Day 1
0300 At Davao's Ecoland terminal, take van to Tibanban, San Isidro (P85)
0700 ETA San Isidro; hire jeep going to Brgy. La union
0800 Arrive at La Union, arrange for porters and guides. Register.
0900 Start trek
0500 ETA first campsite / Set up camp
0600 Dinner / socials
Day 2
0600 Breakfast / break camp
0800 Resume ascent
1000 Arrive at Lantawan 1
1100 Arrive at Lantawan 2
1200 Arrive at second campsite (Near summit/ Bonsai Field). Set up camp
1300 Explore the summit, bonsai field, and the 'Tinagong Dagat'
1700 Return to campsite
1800 Dinner / socials
Day 3
0600 Breakfast / break camp
0800 Start descent via traverse to Gov. Generoso
1200 River crossing and trekking (difficult ascents / descents)
1230 Lunch on trail
1330 Start trekking going to "Camp 1"
1530 Arrive at "Camp 1"
1700 ETA Sitio Badiang
1730 Return to Poblacion (Tibanban, San Isidro)
1800 ETD for Davao City
SPECIAL CONCERNS
Guides are necessary for this climb even if trail is already established, with the municipal gov't requiring a guide per 5 climbers. Registration must likewise be done (P100). Guide fee costs 150 to 200 per day. Max, a local guide, may be reached at +639155702173. Local tourism officials can assist you in securing guides.
Water sources are abundant with plenty of streams. Cellphone signal is present even inside forest area.
An annual climb is organized by the local government every early May, with the last climb held on May 2-5, 2007. You can also contact mountaineering clubs in Davao such as the SANDAWA-APO.
TRIVIA
In July 2004 the Mt. Hamiguitan Range Wildlife Sanctuary was formally declared a protected area by the DENR. 11 endangered vertebrate species have been identified. In spite of attempts to protect the mountain, the entire Hamiguitan Range was covered with mining claims in 2005 and 80% of the land area of Gov. Generoso is under mining claims. New exploratory mineral explorations were also started on the northeast margins of the Mt. Hamiguitan Wildlife Sanctuary in that year.
In April 2007, Mt. Hamiguitan was featured in the TV show "Rated K" as one of the best environmental spots in Mindanao. In Sept. of the same year, a radio station reported that medicinal plants that have the potential "to cure cancer" were discovered in the mountain.
WEATHER OUTLOOK: SAN ISIDRO, DAVAO ORIENTAL
Many thanks to Sir Edwin Gales for sharing his experiences in Mt. Hamiguitan. Cover photo courtesy of Ma'am Nenette Bundalian.