Mt. Apo/Sibulan-Kapatagan Traverse (2956+)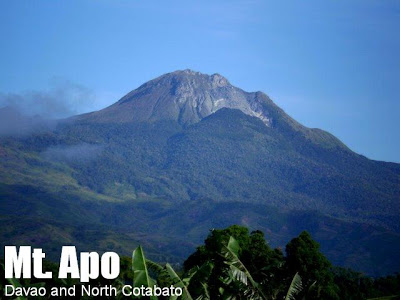 MT. APO (SIBULAN-KAPATAGAN TRAIL)
Davao del Sur
Entry point: Brgy. Sibulan, Sta. Cruz, Davao del Sur
Exit point: Brgy. Kapatagan, Digos, Davao del Sur
LLA: 7°0′30″N, 125°16′33″E, 2,956 MASL (#1)
Days required / Hours to summit: 3-4 days / 14-16 hours
Specs: Major Climb, Difficulty 8/9, Trail class 2-4
by Julius Paner, Mindanao Correspondent
PinoyMountaineer.com
BACKGROUND: WALK ON WILDERNESS
Sibulan Trail of Sta. Cruz, Davao del Sur is one of the entry points to Mount Apo as officially declared by the Protected Area Management Board. A memorable adventure awaits you as you rediscover the trail where the first successful climb to Mt. Apo peak was led by Don Joaquin Rajal, a Politico-Military Governor of Davao with Datu Manib of Sibulan as their guide, dating back to year 1880.
River crossing warns you up as you start the trekking activities, although Tibolo route is an option during rainy days. You will have to cross the river fifteen times and along the way you will see the abandoned dam where time and Mother Nature nurtured the man-made structure as it is now perfectly adapted to the scenery. Trekkers have to climb over the walls of the dam using sturdy vines on the sides as ropes.
Tarzan-like swing can also be tried to cross the rampaging water although the stretch of water maybe crossed by foot.
The school campus of Tudaya Elementary School serves as the first holding camp. While staying in sitio Tudaya, we invite you to go beyond your imagination as you explore the awesome spectacle of Tudaya Falls. It has an estimated 300 feet high that drops to a 50-meter diameter pool. When you go behind the rampaging waterfall you can understand why tourists describe it "as if she is watching a movie in a wide screen where computer-generated nuclear bomb explosion is shown but the difference is that the doom is the farthest thing in one's mind as lush vegetation abounds, forever battered by the driving wind and mist." The spray of swirling droplets generated by the strong falling waters get you WET ON WATERS.
Learn the culture of the Bagobo tribe, and witness the WORKS ON WEAVING the abaca clothing as their treasured traditional arts. You can also join their Tribal Day celebrated every last week of October.
Takamuri Campsite of Sitio Colan serves also as your base to pitch your tent. You can view the magnificent gorge of Mt. Apo early in the morning till 9:00 in the morning likewise in the evening if weather permits. To add to your wholesome adventure, you may take a dip at Mundo Apo Hot Spring with its curative attributes.
Tinikaran Holding Camps 1 and 2 are optional places to take your rest within the forest. In case you arrive beyond 3:00 in the afternoon, it is advisable to proceed to the peak the following day for your safety. At Tinikaran, nature welcomes you with the birds chirping in symphony with the swaying of trees and an offer of the sweet wild berries. If you are fortunate enough, you can also have the citing of the Philippine Eagle.
Gain your strength with the nature hug. Your third day brings you to breathtaking expedition as you begin to ascend the boulders of Mt. Apo. On the side is the crater where you will see the sulfur deposits.
When you reach at the peak, your vigorous exercise will surely be rewarded when you seemingly feel you're on top of the world.
On your way back, an Almaciga century tree is the common landmark that you are still within the Sibulan Trail. If Mother Nature permits, you will be brought to the "Garden of Eden" perfectly landscaped by nature with white sand, wild plants and flowers. You will cherish into your heart the WEALTH OF WONDERS.
Dare Sibulan Trail, the strenuous but challenging route….An experience foe lifetime, the adventure, culture and nature.
SIBULAN TRAIL MAP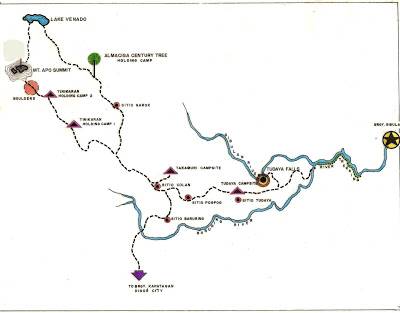 ITINERARY
SIBULAN-KAPATAGAN TRAVERSE
Day 1
0500 ETD (Davao City to Darong)
0600 Motorcycle Ride to Sibulan Barangay Hall
0700 Briefing/Orientation
0800 ETD to Sibulan River
0900 Start river trek (Lunch along the way)
1400 ETA at Tudaya Falls
1600 Tudaya Elementary School Campsite
1800 ETA at Takamuri Campsite
Day 2
0500 Wake Up Call (Prepare Breakfast and Packed Lunch)
0700 ETD from Takamuri Campsite to Garuk
0800 ETA at Garuk
1100 ETA at Tinikaran Holding Camp 1 (Lunch)
1300 ETA at Tinikaran Holding Camp 2
1700 ETA at Mount Apo Summit
Day 3
0500 Watch Sunrise and Panoramic Views
0700 Prepare Breakfast
0800 Breakfast
0900 Peak Hopping
1200 Lunch
1300 Trek Down to Lake Venado
1500 ETA at Lake Venado
Day 4
0600 Wake Up Call (Prepare Breakfast and Packed Lunch)
0800 ETD from Lake Venado
1100 ETA at Almaciga Century Tree Holding Camp
1300 ETA at Garuk
1400 ETA at Colan
1500 ETA at Kapatagan
1800 Back in Davao City
ARRANGING A MT. APO TRIP
Mt. Apo, as the highest mountain in the Philippines, attracts a lot of attention from hikers all over the world. PinoyMountaineer.com can help visitors arrange a trip to Mt. Apo. We can secure hiking permits, English-speaking guides, porters, and even tents and camp foods, as well as design itineraries based on your schedules. Depending on your specifications, we can contact local guides or even link you with local hiking clubs. A 2-day, 3-day, 4-day, and even a 5-day Apo are also possible, and there are several trails to choose from. Just emailinfo@pinoymountaineer.com for details.
SPECIAL CONCERNS
To give you an idea on the expenses, the following are the expenses incurred during an organized trip: Registration Fee: PhP 500.00; Exit Fee (At Kapatagan) : PhP 200.00; Tour Guide Fee : PhP 500 per Day (With Free Meals); Porter's Fee: PhP 300 per Day (With Free Meals)
Note: A porter carries maximum load of 15 kilos and charges an additional 10 pesos/kilo/day in excess of 15 kilos. A fraction of the day of the porter's services, either on the first or on the last is considered whole day.
You may contact the contributor of this itinerary for more information: Mr. JULIUS R. PANER, Sta. Cruz Tourism Office: Cel #0920-8567991; e-mail: trekjulpanz@yahoo.com.
MT. APO VIA SIBULAN TRAIL PICTURES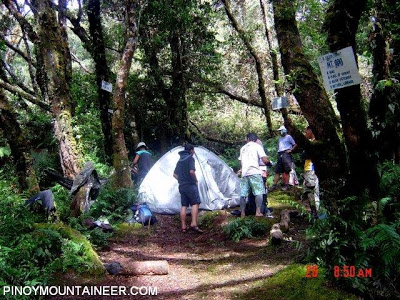 Encamped at Tinikiran – home to a beautiful forest

Interacting with the Bag0bo tribesfolk makes the Apo trek a cultural experience as well.

One of the more breathtaking – and challenging – part of the Apo trek is 'the Boulders' that lead to Mt. Apo's summit