Limatik (blood leeches): an overview
by Gideon Lasco

This is an article belonging to the 'climb health' category in PinoyMountaineer. Information provided in this article are based on research and are not meant as a substitute to actual medical advice and healthcare.
BACKGROUND
A familiar sight for mountaineers are the leeches that inhabit Philippine forests. There are several species of haemophagic (blood-eating), parasitic mountain leeches in the Philippines, belonging to the subclass Hirudinea. They range from the familiar brown and black ones to banded varieties, including those with green and yellow stripes. They are locally known as 'limatik' (Tagalog), 'limatok' (Bicol and elsewhere), and 'matok' (Cordilleras) among other names. These leeches range from 1-3 cms, and proliferate during the rainy season. Their extremely sharp sense of vibration enables them to detect approaching animals and humans.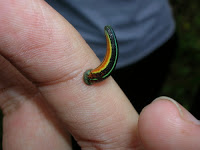 For many, they are a nuisance, especially when you open your shoes to find your socks stained red with your own blood. Others have developed a phobia for leeches (bdellophobia), and there have been horror stories about leeches finding their way inside the eyeballs, ears, and other body orifices. In Mt. Banahaw de Lucban, the locals have a particular name (bulalangwan) for a leech that has a notorious tendency to go for soft tissues (i.e. ears, eyes). However you may view these leeches, they are a part of hiking in the Philippines. These blog entry aims for a better understanding of these creatures – and we invite readers to comment about their own 'limatik' experiences!
MOUNTAINS THAT ARE LIMATIK-INFESTED
(mountaineers are invited to challenge/add to this list)
HIGH CONCERN
Mountains with reported high density of limatik, especially during the rainy season but even during other months.
Mt. Halcon and peripheral mountains
Mt. Calavite
Mt. Makiling
Mt. Banahaw de Lucban
Mt. Natib
Mt. Isarog (Patag-Patag trail)
Mt. Kanlaon (Wasay trail)
Mt. Talinis (Cuernos de Negros)
For Mindoro mountains: safe to assume presence of limatiks
For Negros ountains: safe to assume presence of limatiks
Mt. Malindang
SOME CONCERN
Other mountains with reported presence of limatik
Mt. Napulauan
Mt. Ugu
Mt. Pulag (Akiki and Tawangan trails)
Mt. Tabayoc and surrounding areas
Mt. Tapulao
Mt. Makilak (Bataan)
Some areas of Mt. Mariveles
Mt. Pamazam-mazam (Aurora)
Mt. Danayag (Aurora)
Mt. Labo (Camarines Norte)
Mt. Malasimbo (Mindoro)
Mt. Baco (Mindoro)
Mt. Guiting-Guiting (from Camp 2-Bulod's Spring)
Cleopatra's Needle (Palawan)
Mt. Mantalingajan (Palawan)
Mt. Timpoong (Camiguin)
Mountains of the Kitanglad range
Mountains of the Kalatungan range
Mt. Apo (several trails have been reported)
HOW TO PREVENT LIMATIK BITES
Physical, chemical, and botanical means have been reported by mountaineers and mountain guides as strategies to prevent limatik bites.
Physical
The most obvious way, of course, is to physically prevent them from entering your skin by using appropriate clothing. Leggings and rashguards are considered superior to merely wearing trekking pants as the leeches can easily make their way to the skin. Wearing light-colored clothes would also enable you to see the dark-colored leeches coming your way. Avoid shorts, sandos, and sandals for forest trekking. In extremely-infested segments of Mt. Makiling during the height of rainy season (not part of the regular trails), the rangers would also wear ear plugs. Goggles have been proposed also to prevent eye infestation, but PinoyMountaineer does not recommend this because the hiking itself may be compromised. Also, make sure your tents are sealed at nighttime. During rests, do not sit by logs that make access to your skin easier. Nor should your tents be connected with trees or branches.
Chemical
A majority of guides from different Philippine mountains attest to the efficacy of Off lotion in warding off limatik. Its insect repellant properties, of course, add to its value and thus it is the "chemical" of choice. The forest rangers of Mt. Makiling also say that rubbing detergent soap in the surfaces of your socks and pants would deter the leeches; the Mangyans of Mt. Halcon likewise attest to the preventive properties of soap. Alcohol and alcohol-based sprays can be used to remove, but not prevent, limatik bites.
Botanical
The guides of Mt. Kanlaon say that tobacco leaves are useful in prevention. ikmo leaves and the jackfruit peel are some of the anecdotal suggestions elicited from the user comments. The Ifugao dwellers of Mt. Kapugan in Kiangan say they also have a leaf they use as repellent. Still other mountain guides of different mountains say that they have grown used to limatik, and they no longer bother to take them off.
HOW TO REMOVE LIMATIK BITES
Pulling limatiks from your skin is not advisable because it causes the leech to regurgitate (or 'vomit back') the blood it has ingested. It may also aggravate the wound, or cause some part of the leech's jaw to be retained, increasing the risk for infection. Applying a flame, or a alcohol-based solution, is a quick way of removing a leech although it also causes regurgitation. Some studies would say there is risk for disease transmission, but IN GENERAL, this method does not cause removal or infection. Another way is to physically remove the leech by sliding your fingernail beneath its sucker, until its loses its suction.
If the limatik enters your mouth, throat, or nose, gargling with gin or any strong alcoholic beverage should do the trick. In the eyes, physical removal or application of eye drops can remove the limatik ( a lengthier discussion is added below). There might be hemorrhage in the conjunctivae of eyes (eyes will appear red) but this will subside in a matter of days to weeks. If the maneuver is difficult and no one is around to confidently remove the limatik, seek medical attention immediately.
WOUND CARE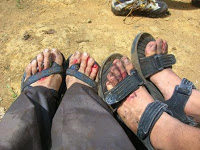 Just keep the wound clean. If there is bleeding, cover wound with a bandage. If there is itching, one tablet of an antihistamine such as Claritin (Loratadine) may be taken. Antihistamines, however, have a side effect of drowsiness, so in difficult situations where alertness is a must, it may be safer to defer intake of the medication. A must-watch-out-for scenario is if generalized (whole body) itching occurs in the person bit by a leech, as well as appearance of rashes, sweating, dizziness, fever, and difficulty of breathing. These symptoms may mean the person is having a severe allergic reaction. Give antihistamines as first aid, or more preferably epinephrine. Seek medical attention immediately.
EYE CARE
A much-feared scenario is leech entering your eyes. If this happens (and it can really happen), the most important thing is not to panic. Leeches will not cause blindness and most of the time will not damage your eyes irreparably. However, if you react wrongly to this scenario, damage may occur. Do not rinse your eyes with any chemical substance, although natural substances (such a very diluted alcohol or saline solution) may work. Anecdotally, physical removal of the leech using tweezers have worked, although this sometimes leave a permanent mark in the eyes. According to villagers in Brgy. San Miguel, Sto. Tomas, Batangas, the best thing to do is just wait for the limatik to leave your eyes on its own, or wait for it to be full — this is when its grip gets loose. The safest is of course seek medical attention. Opthalmic drops would likely be used to loosen the leech, or a lamp may be used to heat the eyes and dislodge it. Fortunately, we have not yet heard of any vision-threatening complication of a limatik bite, but understandably this is a psychologically-distressing situation.
While climbing Mt. Makiling via Sto. Tomas last Jan. 2008, limatik entered both my eyes. A villager removed the on my right. The one on my left eye wouldn't show up, so the villager just advised me to sleep it over. In the middle of the night I was woken by a sensation in my eyes and I felt the limatik leaving. I let it be. The next day I went to PGH-Opthalmology. I had subconjunctival hemorrhage (bloody red areas in my eyes) but I was told it will subside in a matter of 1-2 weeks. I was also given eye antibiotics just to be sure. Throughout this ordeal, it didn't hurt a bit, except for the weird feeling of having a limatik inside your eye.
FREQUENTLY-ASKED QUESTIONS

1. Does a limatik's bite hurt?
The answer is no. Limatiks secrete an anesthetic (pain-killing) substance along with its bite so it won't hurt a thing.
2. Can limatik transmit human diseases?
The risk of transmission is practically zero. There have been reports of bacteria and viruses (including HIV) surviving within a leech's body for months, although the chances of infection from this way is very insignificant. No actual reports of infection due to leeches have been reported, and the extremely low incidence of dangerous bloodborne infectious diseases in remote mountains make this threat very minimal. However, for those who are delicate about their health, yes, there is a theoretical risk of transmission. Again, very minimal.
3. Bleeding from my limatik has not stopped for several hours. Is there anything wrong?
Aside from an anesthetic, leeches also secrete an anticoagulant, a substance that prevents blood from clotting. Thus, you may expect bleeding to last for several hours. This may be aggravated if you have a bleeding problem.
4. How much blood will I lose on a leech bite?
A single leech bite will perhaps get 1-3cc of your blood. Comparatively, a blood donation can get anywhere between 200-500cc. Bottom line, there is no risk of significant blood loss from leech bites.
5. Is there a blood type that leeches favor?
No studies show that there is a favoritism. Interestingly enough, however, a study has found that persons with Type O blood are more likely to be bitten by particular types of mosquitoes.
6. Do you really need to protect yourself from limatik bites?
Based on current evidence and experience, extraordinary prevention from limatik is not required for healthy hikers climbing Philippine mountains. An exception is for those with bleeding and clotting problems (i.e. hemophilia in which steps must be undertaken to prevent infection. Likewise, unless the person is inconvenienced, there is no need to remove a limatik when it is having its blood meal. For reasons other than limatk, however, tightly-fitted clothes and insect repellant use is advised.
This is a constantly updated article. Everyone is invited to contribute and challenge the information given here by both the blogger and the those who posted their comments.