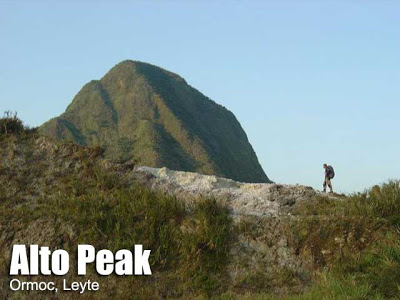 ALTO PEAK
Ormoc City, Leyte
Major jump-off: Lake Danao National Park, Ormoc
LLA: 11.1061 N, 124.7097 E, 1332 MASL (unverified)
Days required / Hours to summit: 3-4 days / 11-14 hours*
Specs: Exploration, Major Climb, Difficulty 6/9, Trail class 3 with unestablished trails
BACKGROUND
Outdoorsman Adonis Lloren shares another of his adventures – this time at Alto Peak in Ormoc, Leyte. The highest in Eastern Visayas (Region VIII), Alto Peak stands majestically on a beautiful realm, the Lake Danao National Park, home to a rich variety of fauna and flora. The domain is also home to farming communities whose vegetable plantations – and cool clime – are somewhat reminscent of the Cordilleras.
Lake Danao is the jump-off point in the trek. Said to be home to giant eels, carps, and other freshwater creatures, the guitar-shaped lake is an outdoor destination in itself, with an already
impressive elevation of about 830 MASL. You can have a boat ride in the lake and enjoy the view of the surrounding, cloudcapped mountains of the Amandiwin range.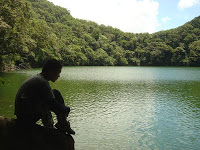 If proceeding to Alto Peak, you can make Lake Danao your staging-off point. Ormoc City, which is just 45 minutes away, is another possibility. The climb proper will take you to the even more secluded, and much more enchanting Lake Hanagdan, after three hours of trek. The trail is set on a forest with an impressive array of flora and fauna.
From Lake Hanagdan, you will have to descent for around 3 hours to reach the PNOC drill area. This segment of the trek is somewhat exposed to the sun. Wild strawberries, called 'bingit' by the locals, abound especially during the summer months – a welcome treat. The geothermal potential of this place is manifested by the sulfur vents beneath, and the volcanic soils that mat the campsite area. The entire trek beyond Hanagdan takes around 4-5 hours – and brings you in full view of the majestic Alto Peak.
The next day is devoted to the summit assault. In Sir Adonis' words: "DAY 2 is such a bold attempt but it is possible. however, the peak assault could be really precarious as the terrain glides to a 60-degree angle to the horizontal. I would suggest therefore that, only trail water (or in the case of the trail-blazers, plus ropes) be brought along. the peak assault, as soon as a trail has been established, could be just like Batulao assault from camp 5 I guess. so there's no need to take meals there." The UP Tacloban (Saklang Mountaineers) have reported a successful summit assault of Alto Peak in 2001. There have been reports of other summit ascents, but Alto Peak would be the first of what PinoyMountaineer.com would label as "Exploration" mountains (along with Mt. Patukan in Kalinga), i.e. mountains with less than 10 recorded ascents.
ITINERARY
PinoyMountaineer is still researching the most suitable IT for Alto Peak. This is based on Sir
Adonis' climb in 2007 and other accounts.
Day 0
Arrival at Lake Danao from Ormoc
Day 1
0700 ETD from Lake Danao
1100 ETA Lake Hanagdan
1200 Resume trek
1500 Reach PNOC old drilling site
1700 Reach campsite

Day 2
0500 Early breakfast
0600 Commence summit assault (no established trail)
1200 ETA Alto Peak; lunch at summit
1300 Start descent
1800 Back at campsite
Day 3
0500 Start descent
0900 Back at Campsite
1000 Resume trek to Lake Hanagdan
1500 ETA Lake Hanagdan
1800 Back at Lake Danao; spend night with locals
Day 4
Head back to Ormoc and proceed to final destination
SPECIAL CONCERNS
Being exploratory in nature, 'Day 2' of the itinerary is suggested only with the company of an experienced hiker or a guide. Since there is no trail, brace yourself for thick vegetation. Otherwise, one can skip the Alto Peak summit assualt, converting the itinerary into a 2-day major climb from Ormoc City. The two lakes, Danao and Hanagdan, are rewarding enough. Just the same, prepare 3-4 days in case you are lured by Alto Peak!
You may contact Ormoc Tourism, via Ms. Corazon Makabenta for more information. Phone numbers: +63533257268 / +639172778884.
TRIVIA
The area around Ormoc City is really mountainous and could serve as one of the next frontiers of Philippine mountaineering. Alto Peak is so named because 'Alto' in Spanish for 'High', in the same way that the Americans christened Mt. Tapulao as 'High Peak'.
HIGH POINTS OF VISAYAS
Panay Island: Mt. Madjaas
Negros Island: Mt. Kanlaon
Cebu Island: Osmeña Peak
Samar-Leyte: Alto Peak
ORMOC CITY WEATHER OUTLOOK
PinoyMountaineer.com thanks Sir Adonis for sharing his mountain adventure in Alto Peak. Pictures here used with his permission.