Mt. Kanlaon/ Mapot-Masulog (2,435+)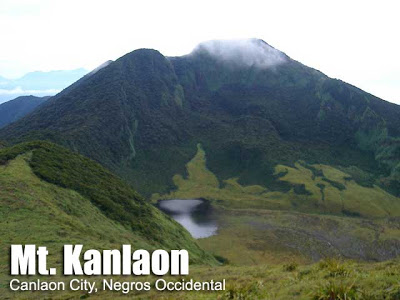 MT. KANLAON (MAPOT-MASULOG TRAIL)
Canlaon City, Negros Oriental
Entry point: Sitio Mapot, Brgy. Maiba, Canlaon City
Exit point: Sito Mananawin, Brgy. Masulog, Canlaon City
LLA: 10°24'44″N, 123°7'55″E, 2435 MASL (#27)
Days required / Hours to summit: 2-3 days / 9-11 hours
Specs: Major climb, Difficulty 7/9, Trail class 2-4
Note: Mt. Kanlaon is now open to climbing, with PHIVOLCS lifting the alert level 1 status. 4/28/08
BACKGROUND
Having featured the Wasay (Mambucal) and Guintubdan trails, PinoyMountaineer completes its feature of majestic Mt. Kanlaon with the trails that originate from its city namesake, Canlaon City in Negros Oriental.
The usual trek starts off at Sitio Mapot, Brgy. Maiba, where one can camp on Day 0, or proceed directly from Bacolod City at Day 1. Here lies another attraction of Kanlaon, the Sudlon waterfalls. Early departure is a must. Spanning 9 kilometers, the trail will lead the climber first to Makawiwili Peak, one of the volcano's peaks and an excellent vantage point. At 2141 MASL, Makawiwili Peak is considered as the 4th highest in the Visayas, although technically this shouldn't count because it is a secondary peak.
Beyond Makawiwili, a 3-hr. trek to the saddle and a further 1.5 hours up will take you to the crater-summit of Mt. Kanlaon. On the second night, the camp is set on Margaja Lake, itself an old crater of Kanlaon.
Although the forests of Wasay trail are supreme, the Canlaon City trail is rich in views, affording photographic wonders from Day 1 onwards. It also enables a camp down at Margaja Valley, whose ground is filled by water during rainy season, hence it is also known as 'Margaja Lake'. It also gives a fresh perspective on the volcano, since the climb is on the east face of the mountain. It is closer to Dumaguete City and thus affords easier access to sidetrips such as the famed island Siquijor and Cebu itself, where mountains such as Osmeña peak beckon.

ITINERARY
(From Bacolod City)
Day 0
Proceed to Canlaon City by bus then head to Sitio Mapot. Camp near Sudlon waterfalls or last water source.
Day 1
0630 Wake up call
0800 Start ascent to Makawiwili Peak
1100 Lunch on trail
1230 Resume ascent
1600 Arrival at Makawiwili Peak; Set up camp
1700 Explore area
0600 Dinner / socials
Day 2
0500 Wake up call
0600 Prepare breakfast and packed lunch
0700 Break camp
0800 Start trek to Pagatpat Ridge
1100 Lunch at Pagatpat Ridge
1230 Assault to crater-summit
1400 Arrival at crater-summit
1500 Start descent to Margaja Valley
1700 ETA Margaja Valley
1800 Dinner / socials
Day 3
0500 Wake up call
0600 Prepare breakfast and packed lunch
0700 Break camp
0800 Return to Pagaptpat Ridge
1100 Lunch at Pagatpat Ridge
1200 Start descent to jump-off
1700 Back at jump-off; head to Canlaon City
SPECIAL CONCERNS
Pagatpat Ridge is the convergence point of all trails leading to Mt. Kanlaon's crater-summit – take this in consideration when merging itineraries for a customized Kanlaon experience. On Day 1, alternative campsites include the Pagatpat Ridge campsite, or the PMS lagoon campsite (West; leading to the Wasay trail).
As in the other trails, the person to contact is Sir Angelo Bibar, the Park Superintendent of Mt. Kanlaon National Park (MKNP). Very kind and accommodating, he may be reached at +639173011410. Although checking the PHIVOLCS bulletin is prudent, the DENR is updated anyway and won't allow any climbs if there is an alert level hoisted. Thus DENR is the only institution to contact. They'll also be the ones to arrange the guides. Rate is P500/day for the guide exclusive of food and tent that you have to provide. Park fees cost P320 per person (P220 if student).
TRIVIA
Mt. Kanlaon is the third most active volcano in the Philippines and has had at least 23 episodes of historical activities since 1866. Kanlaon Volcano forms part of the west-facing Negros volcanic arc which is the result of eastward subduction of the Sulu Basin along the Negros Trench. This arc has been active since the Miocene. Other volcanoes of the Negros Arc include (from north to south) Mt. Silay, Mt. Mandalagan and Cuernos de Negros.
THE TRAILS OF MT. KANLAON
Mambucal (Wasay) – Guintubdan (Ara-al)
Canlaon City (Mapot) – Canlaon City (Masulog)
WEATHER OUTLOOK: CANLAON CITY
PinoyMountaineer thanks Sir Ogos Asuncion for contributing to this article, as well as the mountaineering groups of Negros whose websites were very helpful in getting information about Mt. Kanlaon.