Mt. Mantalingajan (2,086+)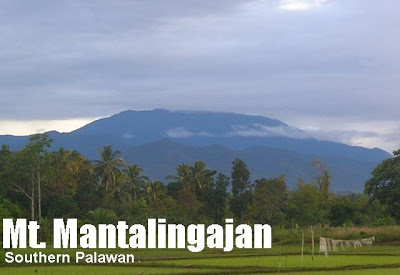 MT. MANTALINGAJAN
Southern Palawan
Major jump-off: Brgy. Ransang, Rizal, Palawan
Exit point (Traverse): Brgy. Malis, Brooke's Point, Palawan
LLA: 8°48'N 117°40'E, 2086 MASL
Days required / Hours to summit: 3-5 days / 15-20 hours
Specs: Major climb, Difficulty 9/9, Trail Class 2-5
Features: Indigenous tribes, ultramafic forests, unique fauna and flora
2014 Update
: I have returned to Mantalingajan to do the traverse and am in the process of updating the information in this website.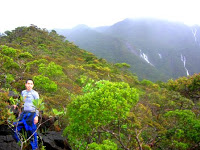 BACKGROUND
Palawan is the last frontier in Philippine mountaineering. Known more for its beaches, marine life, and tourist spots such as the Puerto Princessa Underground River, Palawan's potential as a hiking hotspot is overwhelming. The length of Palawan spans over 600 kilometers, bordering South Luzon and North Borneo. On its central axis there is a mountain range,  many peaks of which are unnamed and unexplored. The literal pinnacle of these highlands is
Mt. Mantalingajan
, locally revered as "The Mountain of God". Rising at 2086 MASL, this wild and mysical realm encompasses the southern towns of Rizal, Brooke's Point, Quezon, and Bataraza.Mt. Mantalingajan was once home to the feared Tau't Daram, the "People of the Night" who built houses high on the forest canopy. Never documented because of their cannibalistic ferocity, the Tau't Daram were said to have superhuman abilities such as the agility to leap from tree to tree; the use of poison darts with blowpipes; as well as the strength of carry whole trunks of hardwood. Although this tribe has become extinct with the death of its final chieftain decades ago, its legend lives on, and old accounts of the hike spoke of "shadows" that leapt over the thick jungle at night.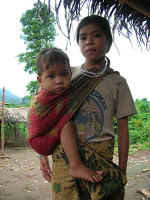 Today, the Tau't Bato, the "People of the Stone" continue to dwell on its forests, living by hunting birds and animals; gathering forest fruits; and perpetuating the 'kaingin' (slash-and-burn) system of farming. Although fast dwindling in number, the Tau't Bato is perhaps the last tribe to live with the old ways. Polygamy, arranged marriages, the use of potions and magic charms, and other customs continue to be practiced. If these people are to be believed, there are also other dwellers of the mountain, such as the spirit-people who live on the caves, visible only to the native priests; and the man-eating bats who hide on a ridge. Then there is said to be the giant serpent, called Ubud, who dwell on a mountain called 'Ubudun'. Other high points in the domain have an equally colorful etymology, such as the Bukid ni Salay, "Mountain of Death" and Kamandag, "Venom Mountain" where the poisonous darts get their lethal tool. This intricate, and living, system of beliefs add to the uniqueness of the Mantalingajan adventure.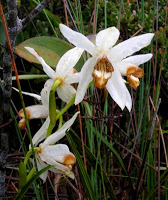 Further enriching the mountain is its biodiversity, which has come to the limelight after the discovering of new species in 2007 by Conservation International. A dizzying array of tropical trees such as ipil and kamagong comprise the lowlands, succeeded by upper montane forest trees. At the highest regions, you can see the endemic pitcher plant (Nepenthes mantalingajanesis) and other exotic plants. In fact, some of the flora I saw there have only been just described in 2007! As of time of writing, the orchid shown in the photo has not yet been assigned a scientific name. The mountain is likewise a birdwatcher's paradise having a rich variety of birds, many of which are endemic to the island and the mountain. Even non-experts can attest to this by the cacophony each hiker would hear at night: each hour brings a unique birdcall.
An average of 4-5 days must be devoted to scale Mantalingajan – earning for it the distinction of being the mountain with the longest minimum time to reach the summit. Only the physically- and mentally-prepared are encouraged to attempt the climb, because it is really very difficult
(PinoyMountaineer gives it a Difficulty 9/9). Indeed, A hike to the mountain requires crossing the sheer length of Mt. Halcon, and overcoming the sheer difficulty of Mt. Guiting-Guiting. The constant menace of malaria – though dwindling – further highlights the perils of the place.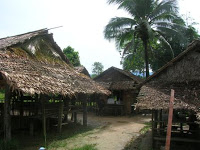 The travel time alone consumes an entire day, as the town of Rizal is 5 hours away from Puerto Princesa's San Jose Terminal by van. The Day 1 of climb is mostly a cultural experience, passing by two villages of the Tau't Bato tribe. This is also the same trail eading to the Singapan caves of tribe, which has come to media attention after a local journalist, Reyster Langit, and two others who visited the caves died of malaria. Several mountains must be crossed in Day 1 to reach the Balu'in campsite. Along the way, you will encounter tribesfolk carrying out their routine of collecting fruits, hunting, and doing other activities.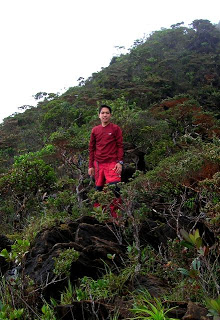 Day 2 is an arduous trek to the Paray-Paray campsite (I originally used 'Palay-Palay' following Panglima's suggestion). From Balu'in to Paray-Paray, the trail is steep and narrow, passing by a succession of environments, each with its distinct variety of plants (i.e. giant tropical ferns; mossy forests) Again, several small mountains would have to crossed just to reach Paray-Paray (so called because of the rice-looking grass in the area). Just before Palay-Palay, a foreshadowing of the following day's adventure will be met in the ascent to Pulanggok Peak (I originally used Mt. Tulanggok) – where one will experience trekking through the ultramafic trees for the first time. If climbing right after a downpour, the rare spectacle of grand, long waterfalls cascading from the peak will be seen. The campsite, which also has the final water source, has a soft, mossy ground, making it ideal for camping. Here, you can hear the convergence of the west winds coming from the South China Sea and the east winds from Sulu; as they collide, a howling sound will be heard throughout the night.
A At long last, at Day 3, the summit will be reached. It is normally assaulted from Palay-Palay, because taking your pack to the summit is virtually impossible — you will have to boulder your way to the top, walking on the very canopy of the dwarf forest and then crawling up the knife-edged rocks. Here, gloves are required; the weather is also very volatile. After the Palay-Palay forest, one will emerge into slopes of jagged rocks interlaced with century-old trees. The trail is virtually nonexistent. Landmarks include a large rock where one can have lunch (Simba Rock). At the very summit, after 2-3 hours of bouldering, you will see the magnificent view of Southern Palawan and the surrounding seas: Brooke's Point and Sulu Sea to the east; Rizal and South China Sea to the west; Quezon up north and Bataraza and the southernmost coast of Palawan island south. The other mountains in the range can also be seen, but they do not match the majesty of the Mantalingajan summit.
One must go down before the onset of afternoon rains, which may render the bouldering difficult. Two further days of descent complete the experience. By the fourth and fifth day, your Tau't Bato guide may offer a drink of the life-giving bark called 'pangopsa' – a native energy drink which the hunters take in times of fatigue. The months of June-August is the season of fruits and they would have been a great source of trail foods, but the rainy season is prohibitive of climbing because the trails would be utterly inaccessible. The last day may be spent interacting with the Tau't Bato; partaking of their local rice wine; or simply going straight to Rizal to unwind. On the way back, sidetrip possibilities – if you still have energy – include Tabon Cave in Quezon and Estrella Falls in Narra. Going further south to the municipalities of Bataraza and Babadac will take you to the southermost. At the town of Rizal, you can still see the towering presence of Mantalingajan – a reminder of its powerful experience. All said, Mt. Mantalingajan can arguably be considered the ultimate hiking destination that the Philippines could offer!
ITINERARY: TRADITIONAL TRAIL
via the Tau't Bato (Ransang) trail
Day 0
1000 Arrival at Puerto Princesa; take tricycle to bus terminal
1100 Take Charing Bus Lines to Rizal, Palawan (P250)
1700 ETA Rizal, Palawan. Head to Castelar Lodge (P150/night)
1730 Pay courtesy call to mayor
Day 1
0700 Shop for supplies at market
0800 Take jeep or ride motorcycle to Brgy. Ransang jumpoff
0900 ETA Brgy. Ransang; start trek
1000 Arrival at first village (Balin-Balin)
1100 Arrival at second village. Secure porter/guide. Early lunch.
1200 Resume trek
1600 ETA Mt. Dulangbukid; cross the four brooks
1800 Arrival at Balu'in campsite (water source nearby)
1830 Dinner
Day 2
0600 Wake up call / Breakfast
0700 Resume trek
1200 Arrival at Kawayan campsite; lunch
1300 Resume trek
1400 ETA Agong-Agungan (place of week-long wine feast)
1600 Reach start of canopy walk at Mt. Tulanggok
1800 Arrival at Palay-Palay campsite (water source nearby)
1830 Dinner
Day 3
0600 Wake up call / Breakfast
0700 Commence summit assault; bring packed lunch
0845 Reach Simba Rock
0930 Arrival at First Peak (2055 MASL)
1000 ETA Mt. Mantalingajan summit (2086 MASL)
1200 Lunch at summit
1300 Descent
1530 Back at Palay-Palay campsite
1600 Rest time
1800 Dinner / sociaks
Day 4
0600 Wake up call / Breakfast
0700 Start descent
1000 Arrival at Mangkopa campsite
1200 Arrival at Balu'in campsite / Lunch
1300 Resume trek
1730 Arrival at village
1800 Dinner / Interaction with locals
Day 5
0600 Wake up call / Breakfast
0700 Start descent
0800 ETA Balin-Balin village
0900 Back at jump-off
1200 If time permits, take last trip to Puerto Princesa
Day 6
Head back to Manila or sidetrips / other destinations
PRACTICALITIES: MANTALINGAJAN TRAVERSE
Transportation from Puerto Princesa

(1) Van from San Jose to Rizal – P300 (Several departures daily; last trip 1200H or 1400H)

(2) Motorcycle from Rizal to Brgy. Ransang –  P400 per person; also possible to rent a jeepney for the group
If doing the traverse:
(3) Van from Brgy. Malis (exit point) to Puerto Princesa – P300 (More frequent departures; first trip 0300H; last trip 2200H). Alternative but slower way is to take the RORO Bus

Registration

(1) Logbook and P100/person at DENR-CENRO Quezon (ask van driver to drop you off; it should not take more than 5 minutes)
(2) Logbook, Rizal Tourism. No fees.
(3) Logbook, Rizal Police Station. No fees.
(4) Logbook and P100/person at Brgy. Ransang.
If doing the traverse: 
(5) Logbook at Brgy. Malis, Brooke's Point. No fees.
Total fees per hiker P200

Available: 500 per day for guides and porters. If expediting the trip, consider giving the full four or five days. Note: Allot additional fee for guides' transportation back to Rizal.

DENR-PASU (Claris Pador) +639287129155
Rizal Tourism (Evelyn Reyes) +639981846682
Guide (Kuya Binoy) +639308624828

Campsites

Usual campsites include Balin-Balin village, Cabugan, Paray-Paray, Lapong, and Pirataw but there are several others in the between these.

Water sources

Numerous, including several streams on both sides of the traverse. Balin-Balin, Kabugan and Paray-Paray campsites all have nearby water sources. Note that drinking water from some streams are said to be taboo.

Cellphone signal

Present in many parts; stronger in the West (Brooke's Point) side. 3G signal present in Paray-Paray campsite. (Globe, Smart)

River crossings

Minor crossings but nothing that can compromise the hike.

Roped segments

None but some segments during the summit assault and on the way to Magringgit Peak require extreme caution and possible assistance

Yes – minimal to mild

Yes

Rattan

Yes

Sidetrips

Singapan Cave – cultural home to the Tau't Bato tribe. Estrella Falls in Narra and Tabon Cave in Quezon.

Alternate trails

There are definitely lots of possibilities as the Mantalingajan range.

No

For a group of 5 persons, 3000-4000 pesos from Puerto Princesa
OTHER CONCERNS
Malaria. Mosquito care is important as Rizal, Palawan is still endemic for malaria in spite of improvements in recent years. PinoyMountaineer highly recommends prophylaxis of Mefloquine (Lariam S), 250 mg tablet once a week, from one week prior to the climb to two weeks after. Also, physical protection using long-sleeved and tight-fitted clothing is recommended at night. Mosquito nets must be used if spending the night in the village huts. Insect repellant is also recommended for use throughout the day.
Limatik is also present but only in a short segment of the trail just beyond Mt. Dulangbukid (see Limatik overview article). Night trekking was not advised by my Tau't Bato guide because of presence of snakes. Should one deviate from the trail, other unverified dangers such as those of the man-eating bats have been reported. Also, cultural sensitivity to the customs of the tribe must be observed. Many members of the Tau't Bato, for instance, are still xenophobic for fear of catching the common cold (against which the tribe has little immunity).
TRIVIA
The closest higher mountain to Mt. Mantalingajan is already Mt. Kinabalu in North Borneo, the highest mountain in archipelagic Southeast Asia (sans Papua island).
The 'panglima' (chief) of the Tau't Bato village who accompanied the blogger during his climb was also the guide of Reyster Langit and his company to the Singapan caves in the Tau't Bato territory. Further conversations with the Tau't Bato revealed other tales, such as the magic charms called pugay which could give men virility and power over women; chants that can ward off snake and scorpion bites, among others. The place is really enchanting – culture and nature merge to form paradise!
WEATHER OUTLOOK: RIZAL, PALAWAN