Maktrav: Mt. Makiling/Sto. Tomas-Los Banos Traverse (1,090+)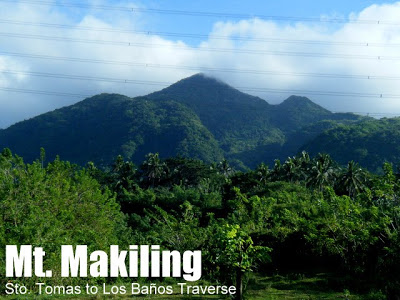 MT. MAKILING TRAVERSE (MAKTRAV)
Sto. Tomas, Batangas and Los Banos, Laguna
Entry point: Sitio Jordan, Brgy. San Miguel, Sto. Tomas
Exit point: UP College of Forestry, Los Banos, Laguna
LLA: 14.13°N 121.20°E, 1090 MASL (Peak 2)
Hours to Peak 2 / days required: 1-2 days / 5-8 hours
Specs: Major climb, Difficulty 5/9, Trail class 3 with roped segments
Features: Roped segments, rocky face, limatik, rattan, tropical rainforest
Article history: Last updated February 23, 2015
LATEST UPDATES
On February 21, 2015, after several months of closure, Mt. Makiling Traverse is open again. However, the Traverse will be closed during the Holy Week — but only for the duration of that week.
BACKGROUND
Perhaps the most challenging dayhike within the vicinity of Manila, the
Makiling Traverse
(which we first dubbed as '
Maktrav
' in 2008), pioneered by Sky Biscocho in the early 1990s, remains a popular dayhike, eventually leading to its recognition by park authorities as a legitimate trail that enters from Sto. Tomas and exists in Los Banos, Laguna. Through typhoons and other changes in the mountain, we have alternated our preference between two trails – Palanggana and Sipit – but this year, the authorities have declared that Palanggana Trail can no longer be used, as it sits on private property.
One important change through the years is the way Maktrav has become easier, as the trail gets more established. In 2008, the average time to complete the Maktrav was 12-18 hours; in 2009, it was less than 10 hours; and now it is easily managed in single-digit timeframes. Thus the difficulty rating of Mt. Makiling has changed from 7/9 in 2008 and 6/9 to 2009 to 5/9 in 2013.
The attraction of Mt. Makiling lies in the well-preserved state of its forests, considering its proximity to Manila. Thus you will find it teeming with wildlife – not just the limatik (leeches) that make the hike interesting, especially during rainy season. Moreover, the Makiling Traverse includes a somewhat precipitous ascent in the Melkas Ridge (named after three early explorers of the trail) which is the most challenging part of the hike. The trails are narrow, requiring holding on to branches and trekking on root-scaffolded steps in the upper reaches.
SIPIT TRAILHEAD TO MELKAS CAMPSITE
The trail starts at Sitio Jordan in Brgy. San Miguel. The first part can be quite confusing, given the plethora of community trails. The approach up the mountain should be clear of agricultural activity, and is marked by 'stations', starting with Station 1 which lies beside an eroded river. Take the trails left of the eroded river. Station 5 up features steep trails, until you reach the covergence point with the Palanggana Trail (Station 7). Follow the rightward, ascending, forested trail that leads to relatively flat portion of the forest which include the Melkas Ridge Campsite.
MELKAS CAMPSITE TO PEAK 2
Melkas Campsite can accommodate a large number of hikers – perhaps this is evidence that the MakTrav was once a very popular destination for the mountaineers in the 1990s (camping is not officially allowed by park authorities as of 2013). In 2008 when the MakTrav was being rediscovered, mountaineers usually arrived at Melkas Ridge past lunchtime so they had meals here. However, with the improvement of the trails mountaineers can now easily reach Melkas by 1100H so the best (and more scenic) place to have lunch is now either the Melkas Ridge (which is 10-15 minutes above the campsite) or Peak 3 (1020 MASL) – the pinnacle of the ridge and one of the peaks of Makiling. Elder mountaineers used to refer to this grassy clearing as 'Mt. Cornites'.
The trail continues, getting narrower yet still distinct. It takes two to three hours to connect from Melkas to Peak 2; the distal portion has come to be known as the Wild Boar Trail. This part of the trail is like an obstacle course which will require you to do contortions, body flexions and extensions in order to negotiate the paths. Finally after around 2-3 hours from Melkas (1-2 hours from Peak 3), you will reach the familiar grassy flatland that is Peak 2 (1090 MASL) – the summit of Mt. Makiling.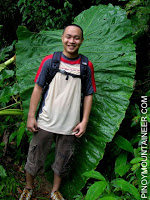 THE DESCENT FROM PEAK 2
From Peak 2 there are 30 stations marking the way down the UPLB trail; for a total of 8.4 kilometers. Landmarks include the roped segments at Stn. 28; the start of a big landslide at Stn. 26; etc. Occasionally, one would be offered glimpses of a northern view encompassing Los Banos and neighboring towns, as well as Laguna Lake. Still, however, the main attraction remains the beautiful forest.
After two hours of descending, one should be at the Makiling Nursery, which has stores that sell buco juice (P10) for a very nice and refreshing treat. The famous Mudspring – sulfuric vents of Makiling which is a dormant volcano – is just a 5-10 minutes' walk away and could be a nice sidetrip.
From the Nursery one has the option to rent a jeep to take you down, or walk another hour to reach the UPLB College of Forestry. Since 2013, it is also possible to take a motorcycle (P70/person). If you start the traverse from Sto. Tomas at 0700H, you can expect to reach UPLB by 1600H, but given the length and difficulty of the trail, bringing lights is a must, therefore, especially since snakes are known to periodically cross the rough roads. At the park entrance you can take tidy-up or take a shower. As of 2015, the UPLB side does collects an exit fee for climbers taking the Sto. Tomas trail.
ITINERARY
Via Sipit Trail (as of 2013)
0430 Take Lucena or any Maharlika-bound bus
0630 Drop off at Brgy. San Felix; Head to Ecopark by trike
0700 Registration at Sitio Jordan; secure guides (optional)
0730 Start trek
0930 Trail Junction (Station 7)
1100 ETA Melkas Ridge (Haring Bato)
1130 Lunch at Peak 3 (1020 MASL)
1200 Continue trekking
1330 ETA Peak 2 (1090 MASL)
1400 Start descent
1630 ETA Nursery
1730 ETA College of Forestry; take jeep to Los Banos proper
1800 Dinner at Grove
1900 Take bus back to Manila
2100 ETA Manila
PRACTICALITIES: MT. MAKILING TRAVERSE
Transportation

ENTRY
Public (1) Bus (any Lucena- bound), Buendia or Cubao to Brgy. San Felix [P110, 2 hours]
(2) Tricycle, San Felix/Maharlika Highway – Ecopark, Sitio Jordan [P65/ride, up to 3 pax; 15 minutes]
Private (1) SLEX-ACTEX, Sto. Tomas Exit (2) Maharlika Highway, then turn left to Mak-Ban road (3) Turn left to Brgy. San Vicente before bridge between Sto. Tomas and Bay, Laguna, then follow through. [1.5-2 hours]
EXIT
Public (1) Optional habal-habal from Nursery to College of Forestry gate [P50/person; 20 minutes] (2) Jeep from College of Forestry to Los Banos Crossing [P8; 20 minutes]; (3) Bus from LB Crossing to Buendia or Cubao [P99; 2 hours]
Note: the last trip for Buendia passes at around 2000H; the last trip for Cubao passes at around 2030H. If you are running late, you take a jeepney to Calamba Crossing where there are non-aircon buses to Alabang.
Private (1) Exit UPLB through main gate, follow through road then turn left at LB Crossing; (2) Follow through road to Calamba; turn left at Calamba Crossing (3) SLEX [2 hours]

Registration

Logbook at Ecopark/Trailhead. No fees collected as of Feb 2014

Guides are mandatory but regular hikers can petition for exemption. Those planning to start early should inform Sir Erwin in advance because guides usually start showing up at 0700H. Fees are negotiable; I suggest P500-600 plus fare going back to Sto. Tomas.

MENRO Sto. Tomas – 043-7848434;
Erwin Adornado (Coordinator)- 09183460730.
Makiling Center (Los Banos) 049-5362637.

Campsites

Sto. Tomas side

: Melkas Campsite (Stn 15)

UPLB side: Malaboo Campsite (Stn. 14)
Tayabak Campsite (Station 8)

Note: Camping not allowed in the peaks or other parts of the Wilderness Zone beyond Los Baños Stn. 15.

Water sources

Kambingan (Stn. 2; 30 minutes past trailhead) but none beyond until the Los Baños side

Cellphone signal

Present throughout the trail

River crossings

None

Roped segments

Fixed ropes in Melkas ridge and in some rocky segments. Not necessary but helpful especially if raining.

Yes, especially during rainy season

Present

Rattan

Yes, especially in Sto. Tomas side

Hiking notes

Exercise caution while crossing Melkas Ridge; trails in LB are wide and marked with station numbers; backtrack if trail doesn't fit this description.

Sidetrips

Mud springs 0.5 km away from the Nursery; Hot springs in Pansol; Mt. Kalisungan in Calauan, Laguna

Alternate trails

The Sto. Tomas via Sipit and Los Baños (UPLB) routes are the only ones sanctioned by the park officials.

Yes (4-7 hours to summit; 2-4 hours down)

300-550 + guide fee


MT. MAKILING TRAVERSE PICTURES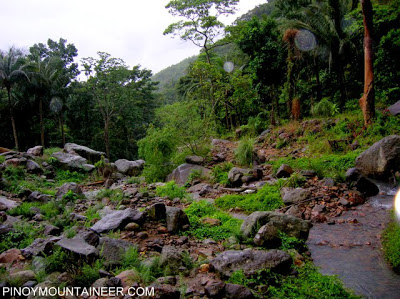 The Sipit trail is laden with rocks eroded from the mountain (Jan. 2008)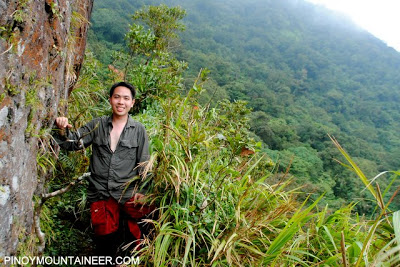 As the trail progresses towards Peak 2, it gets more and more narrow hence the term 'Wild Boar Trail (Feb. 2009)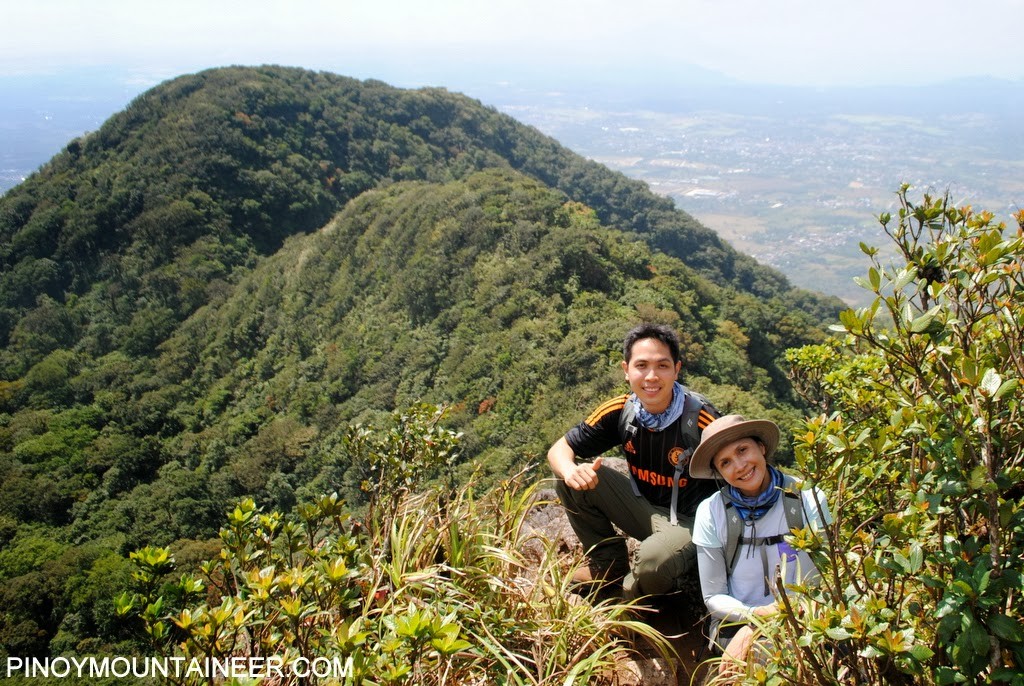 At the Melkas Ridge, the scenic highlight of the MakTrav (Sipit) trail
of Mt. Makiling from Sto. Tomas, Batangas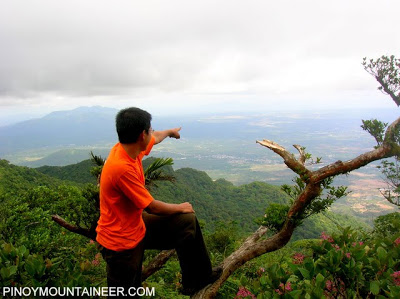 Makiling's Peak 2 can at times offer a nice view of the surrounding towns (May 2007)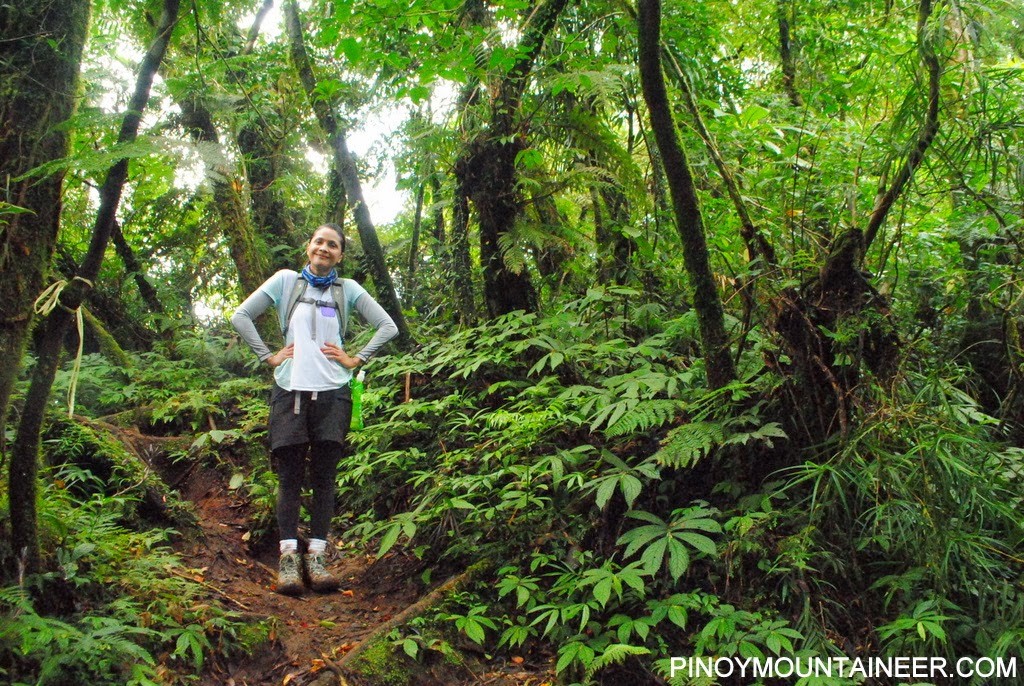 The Los Baños side has a gentler,wider trail through beautiful forest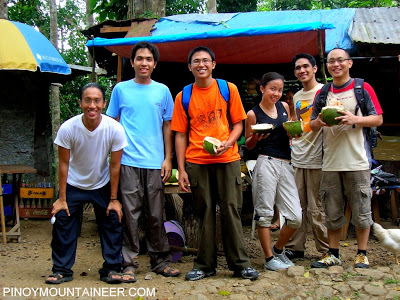 Enjoying fresh buko juice at the Makiling Nursery (May 2007)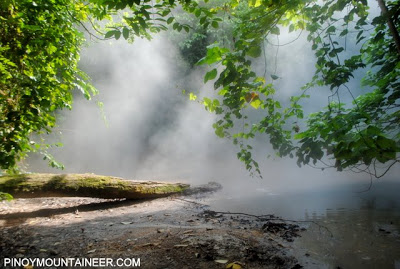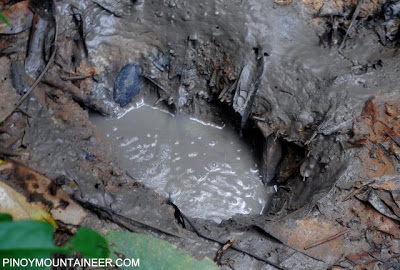 At the Mudspring – a nice sidetrip if you have enough time (Feb. 2012)
TRIVIA
There are three peaks in Mt. Makiling. The traverse trail connects Peak 3 and Peak 2. Peak 1 has two locations. The Peak 1 known to mountaineers is also along the traverse trail but the official Peak 1 is only 900 MASL and can only be accessed at the UPLB trail at around Stn. 15. It is currently closed due to research.
The blogger unsuccessfully attempted a traverse of Mt. Makiling on Jan. 12, 2008. It was day of continuous rains, and two limatik entered his eyes, one on each eye! The other was manually removed by a friendly villager on his way down, and the other left on its own during his sleep on that night.
HISTORICAL FOOTNOTES
A previous version of this page (2009-2013) described the Palanggana Trail in these terms:



Two major paths converge to form the traverse trail, the Palanggana trail from Sitio Palanggana, Brgy. San Bartolome and the Sipit Trail from Sitio Sipit, Brgy. San Miguel. In the 1990s, the Sipit trail was the one more commonly used. But a series of landslides, culminating with Typhoon Milenyo in 2007, has made the Sipit trail difficult and at times inaccessible. Although Sipit is still passable (the blogger climbed up and down Sipit in 2008), PinoyMountaineer.com is recommending the Palanggana Trail.
THE PALANGGANA TRAIL (2-3 hours)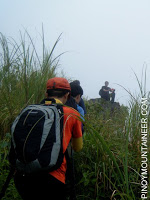 This trail originates from the barangay hall of San Bartolome where you will register for free. Take the cement road which goes on a northeast direction (bear in mind that NE is the way to go for MakTrav). It transitions into a rough road which narrows into footpaths that meander around dead creeks. The first landmark is the Bahay Kubo about 60-80 minutes from the jumpoff; this also counts as the last water source. Then, continue northward to reach the Palanggana Ridge – a series of elevated slopes with breathtaking southeast views and a ravine to your right. After Palanggana Peak, highest point in the ridge is reached, a descent into more forested areas is done and during this descent the convergence point with the Sipit Trail is reached. The combined trail then reached the Melkas Ridge Campsite.
via Palanggana Trail
0430 Take Lucena or any Maharlika-bound bus
0600 Drop off at Jolibee Sto. Tomas; Breakfast
0630 Head to Brgy. San Bartolome by tricycle
0700 Registration; final preparations
0730 Start trek
0830 ETA Bahay Kubo
1030 ETA Melkas Ridge campsite
1100 ETA Melkas Ridge (Haring Bato)
1130 Lunch at Peak 3 (1020 MASL)
1200 Proceed with traverse via Wild Boar trail
1330 ETA Peak 2 (1090 MASL)
1400 Start descent
1630 ETA Nursery
1730 ETA College of Forestry; take jeep to Los Banos proper
1800 Lunch at Grove
1900 Take bus back to Manila
2100 ETA Manila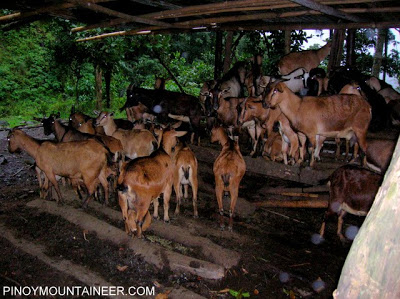 The 'Kambigan' used to have actual goats. (Jan. 2008)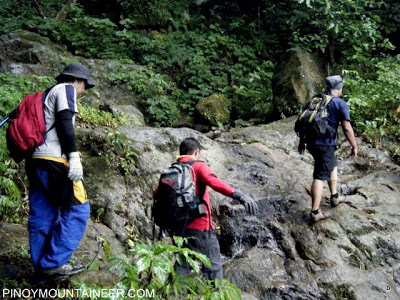 Fording the rocky formations up the Palanggana Trail (Nov. 2009)
PINOYMOUNTAINEER IN MT. MAKILING
Hiking matters #238: My first Maktrav attempt