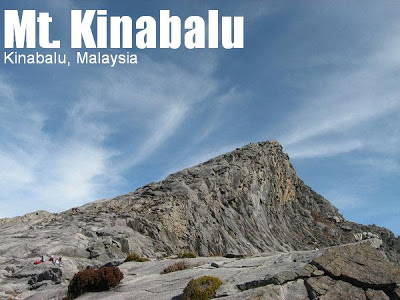 MT. KINABALU
Sabah, Malaysia
Jumpoff: Mt. Kinabalu National Park, Sabah
LLA: 06°050'N 116°33'E; 4095 MASL
Days required / Hours to summit: 2 days / 7-8 hours
Specs: Major climb, Difficulty 6/9, Trail class 1-4 (8km)
BACKGROUND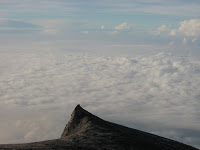 Rising at an impressive height of 4095 MASL in the island of Borneo is Mt. Kinabalu, considered to be the highest mountain in archipelagic Southeast Asia. Its rival for the title is Puncak Jaya in Indonesia, which is higher at 4885 MASL but it sits on the island of Papua, which is held to be already part of Oceania. If Indochina will be considered, then Hkakabo Razi in Burma will be even higher at 5881 MASL. At any rate, Mt. Kinabalu has become the most popular Southeast Asian climb by Filipino mountaineers, with its proximity and accessibility. This has become especially true now that two budget airlines, AirAsia and Cebu Pacific, are servicing the route from Manila or Clark to Kota Kinabalu.
Interestingly, the territory of Sabah is being claimed by the Philippine government since the 1960s, drawing from the fact that indeed Sabah once belonged to the Sultanate of Sulu, whose sovereignty should have passed on to the Philippines. This claim notwithstanding, Mt. Kinabalu is one place in Sabah which Filipino climbers conquer every year, with tour operators offering a Kinabalu climb for around P20,000 (as of September 2008) including fares, entrance fees, and accommodation.
One explanation of the etymology of 'Kinabalu' is that it was derived from the words 'Kina' (meaning 'China') and 'Balu' (meaning 'widow' – true in Malay and Tagalog); in other words 'Chinese Widow'. This name pertains to the tale of a Chinese prince who was banished to Borneo and fell in love with a woman there. The prince, however, returned to China, promising to return soon. But he was kept in China by his royal parents, and the Bornean lady, anxious, climbed up the highest mountain to wait for her husband's ship to arrive. She did this for a time, until she succumbed. The spirit of the mountain turned her into a stone, facing China forever. Thus the name Kinabalu. The fact that the term 'balu' (balo) is understandable in Filipino shows how connected we are, culturally, with this mountain.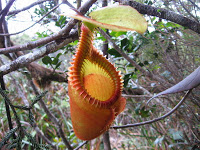 What comprises the beauty of Kinabalu? First is its biodiversity. There are pitcher plants and Rafflesia, suggestive of how immense the ecosystem is in terms of the food chain. Here are also rare sightings of the Orang Utan, chief among the mammals found in the forests. The variety of orchids and plants is legendary – there are more plant species in this mountain than all of North America and Europe combined! Moreover, Mt. Kinabalu is a geologic wonder; a young, giant mountain in the tropics whose granite origins is manifest in its craggy peaks.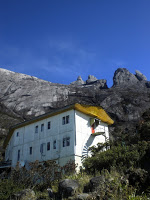 The Kinabalu climb takes two days. The first day is going up to the Laban Rata guesthouse, where one spends the night. This 'mountain hotel' offers buffet meals, heated rooms and hot shower — the best one can offer at 3300 MASL, higher than Mt. Apo. From Laban Rata, you wake up very early next morning for the 2-3 hour, 2km trek to Mt. Kinabalu's summit. Wooden ladders continue the trail, and after 45 minutes the Sayat-Sayat hut (3810m) is reached. Here the vegetation is stunted – a phenomenon familiar among those who have climbed any Cordillera mountain closer to home.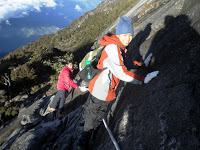 Carrying on, the trail gets steeper, at times reaching 70 degrees. But these difficult parts have ropes to assist you. Soon the earth becomes devoid of plant life, and what remains is naked granite rock. Finally, at the end of the 8kms, St. John's Peak and South comes into view (left) and Low's Peak – the very summit – up ahead.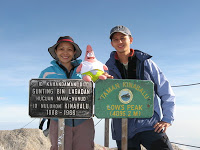 At the summit plateau, views of the mountain and the land below are said to be magnificent. You can spend a whole hour here or more, but the actual summit is very small and you can spend only a few minutes there – just to have your picture taken. As a whole though, the summit plateau is a grand experience – some websites even claim that you can see the waters of the Southern Philippines (N, NE). With these grand views and the great climbing experience, Mt. Kinabalu is truly an adventure of a lifetime, as a growing number of Filipinos have come to discover!
ITINERARY
Day 0
Take AirAsia or Cebu PAcific flight to Kota Kinabalu
Day 1
0600 Take bus from KK to Mt. Kinabalu Park HQ
0800 ETA Park HQ; present booking; secure permit
0830 Take service to Timpohon gate jumpoff
1400 Arrival at Laban Rata guesthouse; rest
1700 Take buffet dinner (buffet starts 1700H)
1900 Assault preparations
2000 Sleep early
Day 2
0300 Wake up
0330 Start summit assault
0600 Arrival at Mt. Kinabalu summit
0730 Start descent
0930 Back at Laban Rata;
1300 ETA Kinabalu Park HQ; take buffet lunch
1400 Head back to Kota Kinabalu or sidetrip
SPECIAL CONCERNS
Budget. Save around 13k if you are planning to climb Kinabalu on the lowest fare available. Otherwise the regular amount required for Kinabalu is 15-20k. Airfare is anywhere around 5-10k, plus 1.6k travel tax. The Laban Rata guesthouse is 230-250 MYR (around P3000) then other fees (etrance, etc.) would amount to P1500-2000.
Logistics. The most important step in planning a Kinabalu climb is booking a reservation at Laban Rata lodge. Although tour operators can do this for you, you can directly book through the Sutera Sanctuary Lodges website. Do so 2-3 months in advance because Laban Rata is almost always fully booked, with local and international climbers and tourists trying to catch a spot.
You can also call for a booking at +6088243629 (English speaking). If a room in Laban Rata is not available, then you may be offered a place in the satelite lodges. Although cheaper by a bit, these lodges do not have the amenities of Laban Rata such as the restaurant, heated rooms and hot showers, and therefore is not recommended. As of September 2008, a Laban Rata package (room + buffet meals) costs 230 MYR.
Travel to Kota Kinabalu. Cebu Pacific has late afternoon, MWF flights to KK coming from Manila, whereas AirAsia flies from Clark and has daily flights to KK. Alternatively, if you are coming from Mindanao, there is a ferry service by Weesam Liner from Zamboanga City to Sandakan, Malaysia. From Sandakan, you can just take a bus to Kota Kinabalu.
Climbing notes. Although by Philippine standards just an average challenging climb, Mt. Kinabalu possesses temperatures and elevations way above our Cordilleras, hence the chilling cold is the main difficulty Filipino climbers face in Mt. Kinabalu. This should not be a problem, however, with proper gear.
Medical concerns. Visit the altitude sickness page for more information.
Sidetrips. Many sidetrips exist within the Kota Kinabalu area; there is the Poring Hot Springs which is along the way to the Kinabalu National Park; there are beaches north of KK including the famous Sipadan Resort. And there are also nearby mountains such as Mt. Trusmadi, the second highest in Malaysia.
TRIVIA
'Gunung' means 'Mount' in Bahasa; hence the Malays refer to it as 'Gunung Kinabalu'. Same goes for other mountains in Borneo and elsewhere in Malaysia and Indonesia.
The seven highest 'Gunungs' of Malaysia are popularly dubbed as G7: Kinabalu, Trusmadi (2642m), Tambuyukon (2579m), Murud (2386m), Mulu (2341m), Tahan (2187m), and Korbu (2183m) . One of the exciting goals among local hikers is to complete the G7, in the tradition of the world's Seven Summits. Of the seven, Trusmadi is within the Kinabalu area and can also be negotiated with a two-day climb from KK.
RELATED POSTS
Hiking matters #38: Christmas in Kinabalu – The blogger celebrated Christmas 2008 in Mt. Kinabalu with his family.
For more Malaysian mountains and a glimpse of adventure life in Malaysia, visit Shaun Yap's blog, My Mountain Adventures. Pictures courtesty of Sir Erick Bautista and Ma'am Julie Ocate. Many thanks!