Historical trails: Mt. Buntis (280+) and Mt. Nagpatong (100+)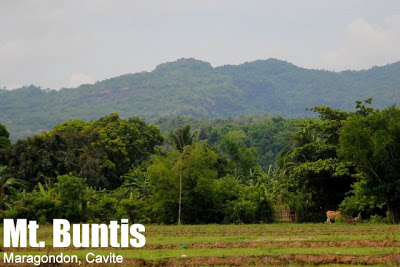 HISTORICAL TRAILS: MT. BUNTIS AND MT. NAGPATONG
Maragondon, Cavite
Jump-off (Mt. Buntis): Kaingin Hanging Bridge, Maragondon
LLA: 280m (Mt. Buntis; unverified); 100m (Mt. Nagpatong)
Days required / Hours to summit: Half day / 1.5-2 hours (Mt. Buntis)
Specs: Minor climb, Difficulty 2/9, Trail class 1-2
Features: Historical sights, bird sanctuaries, views of Mariveles
Last updated: May 17, 2012
LATEST UPDATES
I visited Mt. Buntis and Mt. Nagpatong last May 16, 2012 as a dayhike and I am updating this page based on the information and experiences I got from this trip. This dayhike is narrated in
Hiking matters #267
. A dayhike itinerary is now included in this article. The elevation of Mt.
HISTORICAL CONTEXT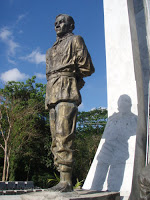 Andres Bonifacio (1863-1897) was a Philippine revolutionary leader and founder of the Katipunan, a society which aimed to start an independence movement against Spain. Although one of the 'masses', Bonifacio was said to have very educated, even reading literary books such as Victor Hugo's Les Miserables. He was also a great admirer of Jose Rizal. He led the revolution in its early stages; but during the heat of the revolt, two factions were formed within the Katipunan: the Magdalo and the Magdiwang. To cut the story short, a general election was held in Tejeros, Cavite in an attempt to reconcile the two parties. The Magdalo, led by Emilio Aguinaldo, who would later become the president of the First Philippine Republic, emerged victorious. Bonifacio didn't even win a single position; he cried foul and ultimately he was arrested by Aguinaldo's officers, who executed him and his brother Procopio in the hilly areas of Maragondon, Cavite on May 10, 1897. It is a subject of debate whether Bonifacio was executed in Mt. Buntis or Mt. Nagpatong. Both mountains are covered in this featured historical trail.
BACKGROUND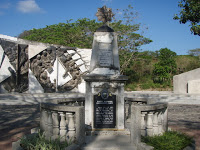 A visit to Maragondon is like a walk through history, particularly the life of Andres Bonifacio. One of its sons, mountaineer Eric Marquez, shares to us this destination. In Maragondon, one can visit the house where the "Father of the Revolution" was tried; and the two mountains that are proposed as sites of his execution: Mt. Buntis and Mt. Nagpatong. In the following itinerary, one gets to see the old church of Maragondon which has been declared as a National Heritage Site in 2001. What comes next is a quick trip up Mt. Buntis, which measures just 280 MASL – a 1.5 hour trek. After this, one can proceed to visit Mt. Nagpatong, where the Bonifacio Shrine has been recently established. This shrine can be accessed by any vehicle that can pass through rough roads, including tricycles, or by foot.
According to locals, Mt. Buntis is called such, because the mountain is shaped like the pregnant belly of a woman. They go on to say that the Maragondon range comprises the form of this woman, with Pico de Loro and Mt. Palay-Palay forming the face. Mt. Nagpatong, on the other hand, is named after a rock that is on top of the mountain. These are just two of the peaks of the range; they speak of Mt. Nagputok, site of a legendary eruption (hence 'putok') and twenty other peaks in Marangondon, waiting to be explored and discovered!
Going to Maragondon is by bus from Manila. Regular climbers would note that the transportation route is similar to those going to the more popular climbing destinations of Cavite, such as Pico de Loro and Mt. Marami further south. Mt. Buntis is surprisingly forested and biodiverse, replete with birds and occasional monkeys. Moreover, there are nice views of the Mariveles range at the summit. On top of these natural wonders, the historical sights in Maragondon make it a worthy trip especially for history enthusiasts.
ITINERARY
Dayhike
0500 Take bus from Lawton to Maragondon via Cavitex (P85)
0630 ETA Maragondon. Register in Municipal Hall and secure guide.
0645 Take tricycle to Kaingin Hanging Bridge
0700 Start trekking
0745 ETA creek / watersource
0900 Arrival at 'Dungawan' / Summit of Mt. Buntis (280m)
0930 Start descent
1100 Back at Hanging Bridge. Proceed to Lolo Claro's for lunch
1130 Lunch
1300 Proceed to the Bonifacio Trial House and the Catherdral
1400 Take tricycle to the Bonifacio Shrine in Mt. Nagpatong
1500 Head back to town
1530 Take bus to Lawton (P85)
1700 Back in Manila
Overnight
Day 1
1000 Meet Up at 7-11 Park n Ride, Lawton (take brunch)
1100 ETD for the town of Maragondon.
1230 ETA at town of Maragondon Quick visit to the old church of Our Lady of the Assumption (National Heritage Site), Last minute shopping for provisions
1400 Start trek via Kaingin hanging bridge
1530 ETA summit of Mt. Buntis / set camp
1730 Sunset appreciation
1800 Dinner / socials
Day 2
0500 Wake up call / appreciate sunrise
0630 Breakfast
0800 Breakcamp
0830 Start trek to Mt. Nagpatong (site of Bonifacio Shrine)
0930 ETA at Bonifacio Shrine, site where Bonifacio was assasinated.
1030 ETD back to jump-off point (Kaingin hanging bridge)
1130 Lunch at jump-off point / wash up
1400 ETD for Manila / take tricycle going to bus station (Caltex Station)
1530 ETA in Manila
SPECIAL CONCERNS
Transportation. take the Naic/Ternate-bound buses that originate from Lawton and Taft Ave (LRT1: Central Station) and tell the bus conductor to drop you off at Maragonon. As of May 2012, the cost is around P80-P85.
Guides and directions. There are many trails in the area, and a guide is recommended. Municipal employee Jimmy Diones is the most knowledgeable guide and even knows a semi-traverse from Mt. Buntis down to Mt. Nagpatong. He has been recommended in this website since this article was first posted in May 22, 2008. You can reach him through the Maragondon Tourism Office; I will supply the details very soon. Otherwise, you can also just go to the Kaingin Hanging Bridge and ask the youths to guide you. On May 16, 2012, we were guided by a high school student named Maynard, who is also recommended. We paid him P300 for a half-day trek.
Hiking notes. The initial, 30-40 minute stretch can be scorching hot, so it is best to start the trek very early in the morning. Else, make the necessary sun protection / precautions.
Camping notes. It is possible to camp at the summit, but as of May 2012, the overgrowth would necessitate clearing the grass to recreate the open spaces. There are no water sources at the summit, but there is one halfway along the trail.
The Bonifacio shrine in Mt. Nagpatong. A trip to Maragondon is not complete without a visit to the Bonifacio shrine. Transportation, however, is notoriously expensive, and do try to haggle with the tricycle drivers (quotations range from P300-400 roundtrip). Also, consider the possibility of walking to the shrine from same jumpoff, from which it is only about an hour away. Both Jimmy and the youth guides know the trail to the shrine. Officially, there is a P20 entrance fee at the shrine.
MT. BUNTIS AND MT. NAGPATONG PICTURES
A major highlight of the summit is the view of the Mariveles Range (N). You can even see Bataan Peak and Pantingin Peak!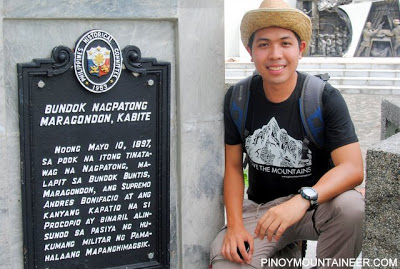 Wall sculptures depict scenes in the life and death of Andres Bonifacio and his brother Procopio, who were executed in May 10, 1897.
TRIVIA
Adrian Cristobal, in "The Tragedy of the Revolution" (1997) gives a narrative of what happened to Bonifacio on that fateful day:
On May 10, 1897, four days after his trial, Andres Bonifacio and his brother, Procopio, were fetched from their prison by soldiers led by Lazaro Macapagal. They were to be taken to Mt. Tala, where Macapagal would then open a letter of instruction given him by Gen. Mariano Noriel on what to do with his prisoners. On the way to their destination, the brothers, sensing something tragic would befall them, asked Macapagal if they would be shot. Macapagal denied this. Andres, heavily wounded in his neck and arm, suggested then that Macapagal open the letter, as he was not sure that he could travel the whole distance. As they neared Mt. Tala and with Mt. Buntis behind them, Macapagal finally opened the letter given him and read aloud the command of the Council of War to shoot the Bonifacio brothers. Procopio was shot first. The wounded Andres allegedly ran to the woods, but was eventually found by Macapagal and his soldiers. Macapagal claimed that Bonifacio was shot, and then buried by his men. Another eyewitness account, however, states that the Supremo was not shot. He was said to have been hacked to death with bolos and bayonets by Macapagal's soldiers.PinoyMountaineer thanks mountaineer Eric Marquez for sharing to us this historical trail. Some pictures courtesy of him also.