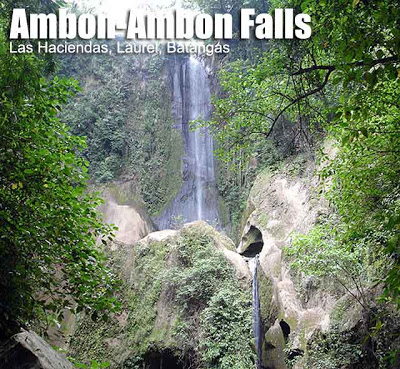 AMBON-AMBON FALLS
Laurel, Batangas
Height: 60 meters (estimate)
Jump-off point: Las Haciendas Estates, Laurel
Trail length: 20-30 minutes
Specs: Difficulty 1/9, Trail class 1-2
At the foot of the Tagaytay highlands and near the western coast of Taal Lake lies Ambon-Ambon Falls. Its name literally means 'drizzle' or 'light rain'; a waterfall christened as such would have to be very tall to evoke such an effect. With an estimated height of 60 meters, in three levels of sharp rocks, crisscrossing their way up like a modern skyscraper, the falls is visible and its cascade of waters audible from the clubhouse of Las Haciendas, the private estate which encompasses the waterfall.
From Tagaytay city, the waterfall may be reached via the Sungay Road that goes down to the lakeside towns of Talisay, and then Laurel. The scenes as you go down the highlands are breathtaking; you can see the whole of Taal Lake; with Mt. Maculot in the background. In Laurel, a right turn, passing by semi-completed roads, takes you to Las Haciendas. Here, you can arrange a day trip to the waterfall, as well as the estate's other point of attraction, the Simbahang Bato – a chapel built inside a shallow cave which has been used by the locals as a place of worship.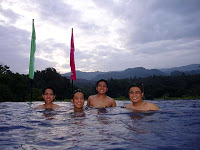 The package, which costs P750 (minimum of 15 pax), includes a mandatory guide to the falls, lunch, two snacks, and use of the facilities such as the mudslide and the infinity pool. There are also overnight rates at P1,500 inclusive of overnight accommodations in the campsite huts, two lunches, one dinner, one breakfast and three snacks as well as use of the facilities. For more information on trekking to the falls, or if you want to camp overnight, please contact them at (0920) 9255044 or arnel_caraan@yahoo.com.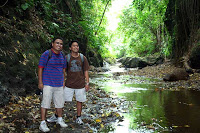 The trek to Ambon-Ambon falls is easy, taking less than 30 minutes. You will be passing by four small streams before reaching the waterfall. The guides are very helpful and mountaineers will be amused how delicately they handle the guests, likely because the destination is open to everyone, including casual tourists.
Being relatively far from Manila, a visit to the waterfall is best coupled with a trek to nearby Taal Volcano. One caveat though is that swimming in the ground level pool is now impossible since real estate developments up stream covered the springs that used to power the falls. One will have to go up the second level to do that. Even then, the sight of this waterfall is quite refreshing.
TRIVIA
There are at least two more "Ambon-Ambon Falls" in Luzon: one in Pangil, Laguna and the other in Bagac, Bataan.
RELATED ARTICLE
Las Haciendas and our Ambon-Ambon Falls trek