Hiking matters #267: Hiking up Mt. Buntis and visiting Mt. Nagpatong in Andres Bonifacio's Maragondon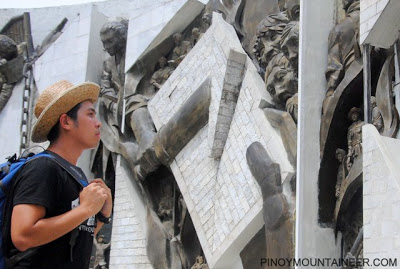 Today, Coby Sarreal (@cobysarreal) and I decided to visit Maragondon, Cavite, to see what possibilities lie in that historic town for hiking. Both Pico de Loro and Mt. Marami are actually claimed by Maragondon as under their jurisdiction, and indeed, both these peaks are part of the Maragondon Range.
While going about town, the tricycle driver pointed to us what he thinks is Mt. Buntis: it is just a little bump in the range, but I cannot verify this. We had lunch at Lolo Claro's Restaurant, which served great food at reasonable prices! Coby and I agreed that we should eat there after the climb as well! We stayed at the restaurant until 1300H, as we didn't want to start trekking under the midday sun.
We crossed the hanging bridge. Initially, the trek passed through wooden houses and agricultural fields, and as you walk past them, you can really see a slice of life in a rural community: men with their beasts of burden, transporting felled wood and bamboo trunks; or women with their harvests of vegetables.
After 30-40 minutes through these fields, the trail enters a forest akin to those of nearby Pico de Loro, though with less forest trees. Though the forest was not expensive, I was impressed by the variety of birds, and I even spotted a monkey. This is indeed a relatively pristine forest with an ecosystem that is still vibrant and active.
Some parts were moderately steep, but the trail was generally easy. We passed through at least two bamboo gates that are intended to keep the cattle from roaming beyond their assigned territories. It rained a bit while we were on this part, so I was not able to take pictures. Finallly, after another 40 minutes, we arrived at the 'Dungawan', the summit of Mt. Buntis.