Climb security: overview and bulletin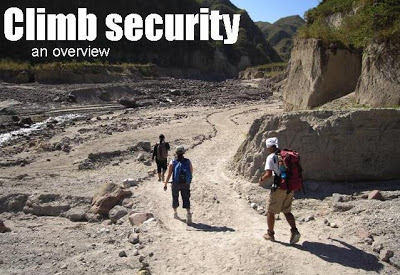 CLIMB SECURITY
an overview in the Philippine context
BACKGROUND
Safety is the number one consideration in mountain climbing, and the security situation poses a great concern in many mountains. It may range from petty theft and holdups in campsites, to crossfire in military operations versus insurgencies. Before I proceed, I would like to preface this article by saying that PinoyMountaineer, being primarily a special-interest website with the advocacy of promoting and preserving Philippine mountains, will not make any judgmental or political statements. We do not wish anybody's reputation to be damaged.
To promote ecotourism, however, it is necessary to allay fears. An example is Mt. Arayat, whose rumored insurgents have deterred hiking groups from visiting it. In fact, Mt. Arayat is considered safe. So as not to fuel these rumors, PinoyMountaineer will refrain from mentioning reports that have been proven to be false.
More practical, is the concern over the growing "business" of stealing from mountaineers. We have heard of reports on several mountains, and PinoyMountaineer will maintain a regularly-updated list of mountains with reports of concern (i.e. theft, assault, intimidation by any parties, etc.). This is not mutually exclusive with the bulletin on closed mountains; an open mountain may be dangerous whereas a closed mountain may be perfectly safe.
BULLETIN: MOUNTAINS WITH REPORTS OF CONCERN
(Mountaineers are encouraged to challenge/add to the list)
Right now, there are no mountains on the list.
TEN COMMANDMENTS OF SECURE MOUNTAINEERING
(1) Register and give your contact numbers to proper authorities. Get their numbers also. Let them know of your exit point and estimated time of return.
(2) Give your itinerary, names, and contact numbers to a third party.
(3) As civilians, hikers are discouraged from wearing military-looking outfits
(4) In general, do not climb a mountain all by yourself.
(5) If in doubt about safety, research about the situation first before proceeding with your climb
(6) As much as possible, get authorized guides and make clear the terms of your agreement beforehand. In making deals with locals involving money, make sure the transaction is well-understood by both parties.
(7) Do not climb mountains that are closed unless you have a special permit to do so. (See the bulletin on closed mountains)
(8) Do not bring too much cash and flashy items when climbing. Keep your valuables safe. When doing summit assaults, make sure your basecamp is secure.
(9) Be culture sensitive – avoid antagonizing the locals!
(10 Avoid excessive drinking and making loud noises in the mountains.
There are also special instances where special customs have to be respected. For example, in the Kitanglad and Kalatungan mountain ranges in Bukidnon, a ritual sacrifice of chickens is requested by the local tribes. In Bud Bongao in Tawi-Tawi, it is customary to wear a cloth called 'sawal' and to bring bananas to feed the monkeys. Respect will win you the trust of the locals, and avoid any mishaps.
IMPORTANT NUMBERS
National Emergency Hotline: 117
Philippine National Police 24-hr hotline: 027222353 / 027229587
Tourist Assistance Hotlines: 025241728 / 025241660
Philippine General Hospital: 025218450
ENDNOTE
Trust among mountaineers is a very important concept that must be respected. Unfortunately, we have heard in the past of groups of 'mountaineers' who do not adhere to this. Mountaineers may report unbecoming conduct and other feedback at info@pinoymountaineer.com.