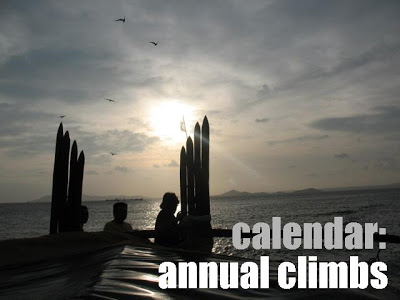 ANNUAL CLIMBS
Many mountains play host to 'annual climbs'. Sometimes, these open climbs commemorate an event such as, in the case of Mt. Manunggal in Cebu, the fateful day Magsaysay's plane crashed. They may also coincide with the local festivals. In many cases, these climbs are just a celebration of the mountains themselves. The good thing about these climbs is that they are scheduled ahead of time; you can contact the organizers in advance and book your schedules.
Do know of other annual climbs in the Philippines? Please add them up so we will have a comprehensive annual climb calendar at a glance!
PinoyMountaineer Annual Charity Climb
Starting off with Mt. Pulag in February 7-8, 2009, PinoyMountaineer will hold an annual climb every February to kickoff the climbing season. A movable climb, it will be held in various venues across the country in destinations that can accommodate a large number of climbers. The proceeds of each climb will support the endeavours of the Mu SigmaPhi Service Committee and other charitable efforts nationwide.
Flight 387 Tribute climb, Mt. Lumot
On February 2, 1998, Cebu Pacific Flight 387, enroute from Ninoy Aquino International Airport in Manila to Lumbia Airport in Cagayan de Oro City, crashed on the slopes of Mt. Lamot, killing all 104 people on board. The crash was the deadliest Philippine aviation accident at that time. As a tribute to the victims, an annual climb is held. The last was from Feb. 2-4, 2008. See the contact details of the local organizers on the Mt. Lumot page.
URASTIGON Climb: Mt. Isarog
As you may have guessed from the oft-used term 'astig', urastigon is a Bicolano word that means 'matibay' or tough. Like astig, it has since evolved to mean 'cool', in its colloquial sense. At any rate, KADLAGAN Outdoor Shop in Naga, Camarines Sur is organizing so-named annual climbs to Mt. Isarog, via the Patag-Patag trail which they themselves pioneered. For more information on URASTIGON and other open climbs that KADLAGAN organizes, contact Sir Jojo at +639283807493.
Mt. Manunggal Annual Climb
On March 17, 1957, the plane Mt. Pinatubo carrying then Pres. Ramon Magsaysay crashed in Mt. Manunggal in Balamban, Cebu, killing the president and 24 other passengers. To commemorate this and to honor Magsaysay, an annual climb is held on the weekend closest to the day of the crash. The latest, on March 15, 2008, included an adventure race dubbed the "Paghandum ni Magsaysay Adventure Trip". Information is now available in Mt. Manunggal page.
Mt. Ugo Summer Climb
This event, now going on its seventh year, has garnered ecotourism awards (including Best Tourism Event for 2007). The climb is regarded as a big event by the locals, who take part in the activities. The 6th Mt. Ugo Summer Climb was held last April 4-6. For information on the 7th Summer Climb,see contact information on the Mt. Ugo page.
Bantayog Festival / Mt. Labo Climb
Last April 11-13, 2008, the Daet-based Oryol Outdoor Group held an open climb in Mt. Labo, San Lorenzo Ruiz, Camarines Norte as part of the month-long "Bantayog Festival". Attractions of Mt. Labo include a dense forest, a waterfall, and the giant rafflesia flowers that can be found in the mountain. A Mt. Labo page in PinoyMountaineer is still in the making.
Mt. Candalaga Summer Climb
The Mindanao mountain known to be very difficult, heavily forested, and enchanting is Mt. Candalaga in Maragusan, Compostela Valley. An annual climb is held every May. Previous climbs were held on May 14-20, 2006; May 14-20, 2007; and most recently, May 9-13, 2008. For more information, contact Jonald Buyoc of the Maragusan Tourism Office at +639187733123 or +639277001465. I will post a Mt. Candalaga page in PinoyMountaineer soon, thanks to information provided by the Southern Mindanao-based Earth Island Outdoor Environmental Club.
Bonsai Festival / Mt. Hamigutian Annual Climb
Locals and mountaineers alike celebrate the beauty of Mt. Hamiguitan in Davao Oriental during its annual climb. Last held in May 2007, the 2008 schedule for the climb is from June 12-15. This climb will coincide with the municipality of San Isidro's Bonsai Festival.
"OctoTrek": Mt. Apo Annual Climb
The local government of Kidapawan has, for three years now, organized an annual climb festival to Mt. Apo during the long weekend of semestral break in late October. The latest was held from Oct. 29 – Nov. 1, 2007. Though this is not a single climb where everybody participates, there are incentives in climbing Apo during this time, including meeting a lot of mountaineers from Mindanao, as well as getting a climb shirt.