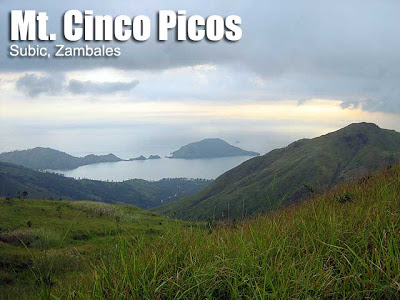 MT. CINCO PICOS
Subic, Zambales
Major jump-off: Sitio Cawag Settment, Subic
LLA: 14° 47′ N 120° 9′ E, 881 MASL
Days required / Hours to summit: 2 days / 6-7 hours
Specs: Major climb, Difficulty 3/9, Trail class 3
BACKGROUND
Mt. Cinco Picos in Subic, Zambales is a hiking destination that is attracting the interest of more and more climbers. Once a training ground for US servicemen stationed in the now-defunct Subic Naval Base, this mountain, like the nearby highlands, is home to the local Aetas who call the mountain "Tatlong Tirad". The Spanish name 'Cinco Picos' represents the five peaks of the mountain. The typical two-day trek in Mt. Cinco Picos starts at an Aeta settlement called Sitio Cawag and will take you past Peaks 1 and 2 to camp at Peak 3 and lets you glimpse at Peaks 4 and 5. Aside from the rolling, grassy slopes that characterize the coastal side of the Zambales mountains, views of Subic Bay, neighboring Mt. Balingkilat, and nearby islands and beaches make climbing Cinco Picos a truly pleasant experience.
Hikers would take the first trip from Manila to Olongapo to arrive there at around 0600H. A jeepney may be arranged to take the group to the Aeta settlement in Sitio Cawag. After securing guides, who ask to be referred to as 'kulots' and a courtesy call to the village chieftain, the rest of the day will be spent trekking. The trails are even, mostly exposed, grassy/rocky, passing by a few streams. There are some steep parts also. The first three peaks become landmarks in the progress of the hike, with the first peak assault occurring less than two hours after start of trek. Huts are in place as rest stations. Ultimately, after six hours, Peak 3 will be reached. Not faraway is the campsite that is nestled between the two peaks beyond. Mt. Balingkilat looms from a distance. Being a coastal mountain, the breezes are truly refreshing.
ITINERARY
Day 1
0300 Take first trip Manila-Olongapo via Victory Liner
0600 ETA Olongapo; take rented jeep to jump-off (P1,600)
0730 Arrival at Sitio Cawag jump-off. Secure guides.
0900 Start trek
0930 Courtesy call to Chieftain; leave settlement
1100 Reach Peak 1
1200 Lunch at hut
1230 Reach Peak 2
1600 ETA Peak 3
1630 Reach campsite
1800 Dinner / socials
Day 2
0600 Wake up / Breakfast
0700 Break camp
0800 Start descent
1130 Lunch at hut
1330 Back at jump-off; Tidy up
1430 Take jeepney back to Olongapo City
1530 ETA Olongapo City. Take bus back to Manila
1900 Back in Manila
SPECIAL CONCERNS
For Mt. Cinco Picos and Balingkilat, a very important resource person is MikeB. You may visit his website to make more specific inquiries. According to his website, advance notice to the Mayor's office is requested of groups wishing to climb either Cinco Picos or Balingkilat. Also, guide fee for two 'kulots', all in, is P600. You may want to contact Mike for help in making climb arrangements through his email, mikeb@mikeb.info.
TRIVIA
The Cawag Settlement was actually where the Aetas sought refuge after the 1991 eruption of Mt. Pinatubo. The Aetas of Zambales are great outdoorsmen — tapped by American soldiers to teach them about jungle survival for the Vietnam War and later conflicts. The Jungle Environment Survival Training (JEST) camp originally built for US Special Forces and Navy Seals continue to offer Aeta outdoor knowledge to those wish to learn about it.