MountainTalk #1: John Fortes on the early days and the Everest dream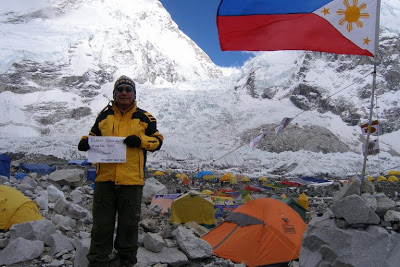 I had lunch with John Fortes last month and he spoke to me of the early days of Philippine mountaineering. As we all know, Sir John was one of the pioneers that led to the organization of an umbrella group that will bind various clubs from all over the country together, ultimately leading to the establishment of the Mountaineering Federation of the Philippines in 1979. Aside from being first president of the MFPI, John Fortes also founded the PAL Mountaineering Club (PALMC), one of the pioneer mountaineering clubs in the Philippines.
Here are some tidbits from our conversation:
How did you get into mountain climbing?
At first it was part of my job description. During the 1970's, we in PAL wanted to promote the Philippines as a adventure and travel destination. Diving was already established, but there were foreigners looking for mountains and hiking destinations. So we begun exploring and searching for what could be promoted. I went to Mt. Kanlaon and there I met Edwin Gatia (another mountaineering pioneer). We went to Mt. Apo and Mt. Pulag (those three were the initial mountains we promoted).
Pulag must have been awesome 30 years ago.
Oh yes! Unlike now when you can take a jeep all the way to Ranger, the Ambangeg trail starts all the way from the DENR outpost. It was still in pristine condition back — and so were the other mountains.
And in the early days there were no mountaineering stores yet. Everything was cowboy-style and we used to build fires, something no longer practiced now. Most of the tents then were Boy Scout tents that actually had little protection from rain, and we would get flooded inside all the time! OF course as a PAL employee, I get to travel around and when we had climbs I was the only one with modern backpacks and equipment. Now, there are stores all over.
You must have been everywhere in the Philippines.
We've explored a lot of places. You mentioned Mt. Mantalingajan — we actually climbed that mountain. It took us an entire week to do the trek! We summitted Mt. Mayon – now it's no longer possible because of the volcanic eruptions. I have lost track of the mountains I have actually climbed in Luzon, Visayas, and Mindanao…
PAL was very supportive of our efforts, and with its backing I was able to travel around. Its backing also enabled us to mobilize and gather various mountaineering clubs all over the country.
Do you still climb nowadays?
Yes, but not as much as before. I still go to MFPI activities whenever I can.
You dreamed of Everest ever since.
Yes! Art [Valdez] and I had our sights on Everest more than twenty years ago. But the problem was, we were clueless on how to go about it! With many developments in the last decade, however, it became a distinct possibility and we went for it. In 2006 when Leo Oracion summitted Everest, Art Valdez called me first, saying, "They made it!". And I was filled with tears of joy! It was truly a triumphant moment for us Filipinos.
A year later, I was in basecamp [as co-team leader] for the ladies [Noelle, Janet, Karina – the first Southeast Asian women to reach Mt. Everest summit]. We waited at the Nepal (South side)…being part of these achievements for our country is a fulfilling mission, and this is just the start. We've proved that yes, the Filipino can!
Indeed, the Filipino can. And throughout thirty years of aspirations, Sir John Fortes has led the way in taking Philippine mountaineering into great heights.
Acknowledgment: Picture of Sir John Fortes at Everest basecamp taken from Tochs: Thoughts on Climbing, Manila.