MountainTalk #3: Romi Garduce on his Seven Summits bid
–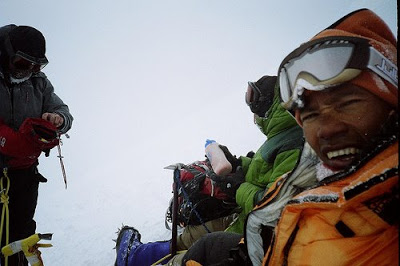 Romi Garduce – Garduch to his mountaineering friends – is a pride of the Philippines. Aside from being one of the first Filipinos to climb Mt. Everest in May 2006, he has climbed alpine mountains from all over the world. His notable climbs are those in the Seven Summits' list: the seven highest mountains on each of the seven continents. In order of his conquests: Kilimanjaro – Africa (2002); Aconcagua – South America (2005), Everest – Asia (2006), Elbrus – Europe (2007), and McKinley or Denali Peak – North America (2008).
Sir Romy, who turns 40 in 2009, is a member of the UP Mountaineers and works as an IT consultant in Proctor & Gamble Philippines. Here are seven questions for our Seven Summits candidate:
You are the pioneer Filipino in doing international climbs. What drove you into pursuing this path?
I'm not actually the pioneer, we have senior members in UPM, and I heard a few from other orgs like AMCI/ PALMC, who have been climbing in alpine conditions. What drove me is part-envy generated by their stories, and partly – my desire to travel (w/ includes walking to the top of some mountains).
Since when did you begin aiming for the Seven Summits? Aside from pursuing a mountaineer's dream do you have other motivations for pursuing this?
Started a couple of months after I topped out Kiliminjaro [2002]. I thought that since I've already finished one, why not aim for the others? My motivation is two-fold: First, to set a record for us pinoys so the world knows we can do this shit as well (sort of), Second, to create awareness on adventure sports so more pinoys will follow this path, to 'discover' new talents who can pursue more challenging objectives.
Among the five of the Seven Summits that you've bagged, which was the most challenging?
Everest is still Everest, the danger, the difficulty, the conditions.
How was your latest climb in Denali (Mt. McKinley, Alaska)?
Yes, it is difficult and dangerous. Difficult coz I'm hauling 110-130lbs of gear (using sleds and pack), we have less time (21days vs 2.5months in everest), we experienced super bad weather in our summit climb (30mph windstorm, etc.), and conditions were tough.
Only Vinson Massif and Puncak Jaya to go…which one are you planning to climb next? (Would the dispute between Mount Koschizuko and Puncak Jaya as the 7th summit affect your plans?)
Antarctica wd be the last (as how others do it), last continent, last mountain, other than the fact that you'll need sponsors as cost can reach to 35k $. It's better to climb Kozzie and Carstensz to make sure ur top ALL – depending on funds. If none, either one should do (either Bass List or Messner List 7 summits).
To those who wish to follow your footsteps in the Seven Summits, what mountain do you recommend as a starter?
Kilimanjaro is a good start. very high, but not technical, not too alpine. Best to trek around Nepal Himalaya also, for hi-altitude and cold weather training.
What climbing tips could you advise to Filipino mountaineers who want to do international climbs?
WORK HARD AND SAVE UP! The one thing that will stop you from climbing abroad is MONEY. The rest should be fairly easy. Just climb it!
I second the motion! Sir Romi's bid continues as he will attempt to climb Puncak Jaya in 2009 and Vinson Massif in 2010. Let us all support him as he carries the Philippine flag atop the highest peaks of the world!
Acknowledgment: Photo taken from Our Awesome Planet; courtesy of Anton Diaz and Romi Garduce. Photo shows Sir Romi at Denali Peak in Alaska – his latest "Seven Summit" conquest.