MountainTalk #12: The legendary Sky Biscocho speaks his mind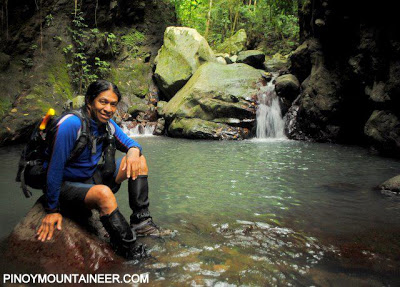 The name Sky Biscocho is synonymous with exploration, and he is a legend among Filipino hikers because of his remarkable exploits and enigmatic, at times maverick personality. Hailing from Tanauan, Batangas, Sky is a member of AMCI Mountaineering Club, Inc (Batch '92). His notable explorations include the many trails of Mariveles Range, Makiling Traverse (the 's' in Melkas is named after him), Malipunyo Traverse, and the famed 'Dragon Trail' Traverse of no less than Mt. Halcon, among many others. Aside from his feats in hiking, Sky is also a sculptor, painter, and country music singer-songwriter.
He is about to turn 60 this December, but he is youthful, strong, and swift as ever, easily able to keep up with the pace of his younger companions. In fact, he says that he enjoys hiking with youths because their presence reinvigorates him. I personally had the privilege of hiking with Sky with our traverses in the Mariveles Range and the Malipunyo Range last year (Hiking matters #187, 188, 192), and I can truly say that he lives up to his name as a living legend. I count myself one of the people who have been inspired by his passion for mountaineering.
In this piece, we ask Sir Sky several questions, and he speaks his mind about some things:
PinoyMountaineer: What led you to start mountain climbing?
Sky Biscocho: Curiosity. Adventurous kasi talaga ako. I love to feel the changing of the weather outdoors and I love heights…to me, hiking is a form of art.
PM: What was your first climb?
SB: I grew up in Bukidnon, and during those days, I would just climb the nameless, unknown mountains around the village where I lived. I climbed with Manobos sometimes, and those adventures became a very memorable part of my childhood. Eventually, when I joined AMCI, I realized that what I had climbed were peaks of the Kalatungan Range.
On the other hand, in Luzon [after I came back from Bukidnon] my first climb was Mt. Makiling. When I was in high school, this mountain was my playground. I influenced my classmates in high school to climb it with me and we formed the "Sky Mountaineers". On our own, we established a traverse trail that connected to the UPLB trail! Eventually, this became the MakTrav that hikers now commonly do.
PM: What are your favorite hikes?
SB: I have many favorite hikes, but the Mariveles Range stands out for me. It has a different character, the vegetation is fascinating, and the waters are clear.
PM: What were the most difficult exploration you faced?
SB: I find myself confronted with extreme hardship whenever I would climb Mt. Halcon's "Dragon Trail", which I myself created.
PM: Some hikers say that Sky Biscocho is a controversial figure. Why do you think they would describe you as such?
SB: I know that a lot of people love what I do; but others hate it, probably because of the sheer difficulty of the routes and trails I made. My philosophy is, the more difficult a trail is, the more fun it is. Others may disagree, but this is what I am.
PM: You have inspired the younger generations of hikers to keep climbing and keep exploring. But who were your own inspirations?
SB: To be honest, I cannot think of any person…but the beauty of nature has always been my inspiration. Siguro, utak-art talaga ako, natural sa akin eh. And I feel that I am in my element whenever I do explorations, or face challenging situations in the mountains. The more difficult a climb is, the more I enjoy it.
PM: Kung may nais kayong mangyari sa pag-akyat ng bundok sa Pilipinas, ano po iyon?
SB: Sana manatili yung classic na kaisipan sa pag-akyat. Sana huwag gawing parke na inuman ang bundok, sana hindi gawing minahan at iba pang makakasira sa ganda ng kalikasan.
PM: Any advice to young explorers and hikers?
SB: Love the true adventure! The harder, the better, but even if you climb the highest or toughest mountains, stay humble. Just keep on exploring and loving the mountains.
PM:What is your message the mountaineers who have followed your hiking career?
SB: To all my followers and to those who admire my mountain trail explorations, I thank you for appreciating what I do. For those who criticize me saying that I don't share the routes to them… I agree! Yes the mountains aren't mine… but I also believe it is not for me to decide to go ahead and expose these places.
I believe that you have your own skills… you can go ahead and explore the mountains in your own way.
I did it only to inspire my artistic needs… not to expose hidden paradises to the public… As I always say… "To climb a mountain is to feed the visual needs of our living spirit".
Picture of Sky Biscocho taken during our Mt. Malipunyo Traverse climb in August 2011.