White Peak/ Mt. Pandadagsaan (2,670 +)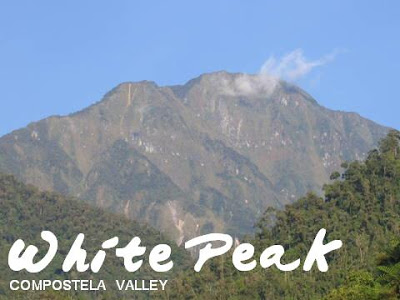 WHITE PEAK (MT. PANDADAGSAAN)
New Bataan, Compostela Valley
Major Jumpoff: Brgy. Andap, New Bataan
LLA: 2670 MASL (#13)
Days required / Hours to summit: 2-3 days / 8-10 hours
Specs: Major climb, Difficulty 6/9, Trail class 2-5
BACKGROUND
Following the feature on Mt. Candalaga, PinoyMountaineer presents the highest mountain in Compostela Valley, and the 13th highest point in the Philippines, White Peak on Mt. Pandadagsaan.
The merits of the mountain are well known among mountaineers in Southern Mindanao, but it has yet to be discovered by Luzon-based hikers. What sets it apart is the white, almost sparkling, appearance of the mountain face as contrasted to the forests surrounding it.
The trails are a mix of mossy forest and steep grassy slopes – parts of which required the assistance of built-in ropes. Peak 1 is forested, while Peak 2 offers a panorama of Compostela Valley and the Davao provinces, as well as a full profile of Mt. Apo, the highest mountain in the Philippines. Visible also is Mt. Candalaga, another high mountain in Compostela Valley.
The trekking time to reach the summit can be as short as 9-10 hours, but the itinerary below follows a more relaxed pace, based on the latest annual climb held on March 2008. Small groups may opt to follow a 2-day itinerary plus a Day 0 for travel.
ITINERARY
Day 0
1100 From Davao Overland Terminal, take Metro Shuttle bus to New Bataan
1500 ETA New Bataan terminal; proceed to tourism office
1700 Make final preparations
1800 Dinner / stay at Poblacion for the night
Day 1
0600 Take jeep to jump-off (Brgy. Andap)
0800 ETA jump-off; start trek
1200 Lunch on trail
1500 ETA Pag-abangan (Camp 1). Set up camp.
1800 Dinner / socials
Day 2
0600 Wake-up call
0800 Resume trek
1200 Lunch on trail
1400 Arrival at summit (Camp 2). Set up camp.
1800 Dinner / socials
Day 3
0400 Wake-up call / Preparation
0600 Start descent
1200 Lunch
1400 Back at jumpoff
1500 Back at New Bataan; head back to Davao City
SPECIAL CONCERNS
Logistics. The person to contact in arranging a climb in White Peak is Ma'am Lutie of New Bataan Tourism Office. Her cellphone number is +639203604789. Through her you can make arrangements for the climb, as well securing guides and porters. There are also open/annual climbs that you can join. Right now we have no info but we will update you on these activities.
Transportation. The staging-off point is Davao City, from where you can take buses directly to New Bataan. Manila to Davao is an air route serviced by major domestic airlines such as Philippine Airlines and Cebu Pacific.
TRIVIA
White Peak is the answer to the mysterious Mt. Tagubud listed in the Rodol Map and future lists of Philippine tallest mountains (including the Phil Top 30 in PinoyMountaineer). The measurement given was 2670 MASL but the address was Davao del Norte. What made it doubly confusing for us to associate White Peak with Mt. Tagubud was the fact that the names changed, and so did the provinces. Davao del Norte was truncated to give way to Compostela Valley, and under the new province the mountain fell under.
The first clue was the presence of only one high mountain in the area in topographic maps. And then a certain "Puting Bato" peak was described in Tagub range, and I surmised that Puting Bato can actually be White Peak, and Tagub range can actually be Tagub – making Mt. Tagub, Mt. Tagubud, White Peak, and the current name Mt. Pandadagsaan one and the same mountain.
Hence, PinoyMountaineer identifies the mountain as "White Peak (Mt. Pandadagsaan)" and is currently listed as the 13th highest mountain in the Philippines.