Mt. Bulusan / Bulusan Volcano (1,565+)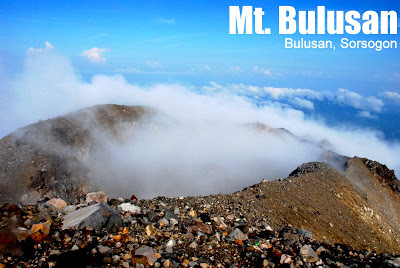 MT. BULUSAN (BULUSAN VOLCANO)
Bulusan, Sorsogon
Major jumpoff: Lake Bulusan, Brgy. San Roque, Bulusan
LLA: 1565 MASL
Days required / Hours to summit: 1-2 days / 6-9 hours
Specs: Major climb, Difficulty 6/9, Trail class 1-4
Features: Three lakes, volcanic crater, tropical rainforest
Article history: Created June 27, 2012
Note: This page is under construction. Pictures, links, and more information will be added in the coming days.
BACKGROUND
Mt. Bulusan, or Bulusan Volcano, in Sorsogon, rises to 1565 MASL and is one of the active volcanoes in the Philippines. Recent eruptions in 2006, 2007, 2010, and 2011 intermittently closed the mountain for several years, until it reopened in June 2012. In that same month, PinoyMountaineer.com and team visited the volcano, and the stunning beauty of Mt. Bulusan was revealed to us – together with an impressive organization of local caretakers and guides. This article is a product of that climb (See Hiking matters #275-277)
Mt. Bulusan falls under five municipalities in Sorsogon, the southernmost province in the Bicol Region. The municipality of Bulusan covers the most area, and therein lies Lake Bulusan, the major jumpoff of the trek, itself a major attraction in Sorsogon. The trekking program designed by the caretaker NGO actually begins by kayaking across the lake, which is a fun, adventurous, and unique way to warm up before the trek!
At the other end of the lake lies the trailhead, which immediately takes the hiker to a pristine tropical rainforest, wherein a diverse range of flora and fauna can be found. Three kilometers into this forest, which has a moderate slope, brings you the 'Ranger Station' which is a small hut that marks the halfway point between Lake Bulusan and Lake Aguingay, which serves as the campsite.
Between the Ranger Station and Lake Aguingay, the trail gets somewhat narrower and steeper. Limatik (blood leeches) have sometimes been reported in this area, and there are some precautionary ropes. Before reaching Lake Aguingay, "Mini-Lake Bulusan" can be seen – today it is a tiny basin full of ferns and lush greenery. Altogether, the trek to the campsite takes 3-5 hours.
Lake Aguingay (~890 MASL) is a beautiful plain surrounded by two peaks: the "Sharp Peak" to the south and Mt. Bulusan's Summit to the north. It can be likened to Margaha Valley of Mt. Kanlaon, and parallels can be drawn beween Bulusan's two peaks and Kanlaon's main crater and Makawiwili Peak. The waters of Aguingay recede to just a small portion of the plain, though it is said to swell during the rainy season. The campsite is located at the mouth of the trail coming from Lake Bulusan.
It is actually possible to dayhike Bulusan (Postulate: All Bicol mountains are dayhikable) and it has been done several times in the past. However, considering the beauty of the crater, which must not be missed, and is likely to be in its full glory early in the morning, an overnight climb is highly recommended.
In such an overnight climb, Day 2 starts very early, akin to a Mt. Pulag climb, with a summit assault (0330H). Initially, there is a rainforest but much of this assault requires hiking/scrambling up a steep slope covered by cogon grass, and then completing the on a semi-scree slope leading to the summit crater. Many hikers say this is the most challenging part of the trek, and requires around 3 hours to complete.
At the summit, however, with favorable weather conditions, the view is absolutely breathtaking. The crater, traditionally known as the "Blackbird Lake" is a gaping void surrounded by fragile rocky ridges where sulfuric steam continues to emanate from; and on the other side, Lake Aguingay looks very tranquil under the shadow of Sharp Peak. Beyond Bulusan's realm, the towns of Sorsogon can be seen and on a blessed day, the distant perfect cone of Mayon Volcano can be spotted.
These features and views make Bulusan Volcano easily one of the most beautiful climbs in the Philippines, not to mention that biodiversity that has the potential to attract birdwatchers and wildlife enthusiasts. Considering that it is also one of the most active volcanoes in the country, hikers interested on this mountain should climb it soon, before it erupts again! The impressive local organization of trained and very friendly guides, caretakers, and even an EMT officer gives me no hesitation to recommend Bulusan as a must-try hiking destination in the Philippines!
ITINERARY
Day 0
2000 Take bus to Irosin or Bulusan, Sorsogon
Day 1
0800 Arrival at Irosin/Bulusan. Breakfast
0830 Take tricycle to trailhead (P150/trip)
0900 ETA Lake Bulusan. Registration/Orientation
1030 Early lunch
1200 Start kayaking across the lake
1215 Arrival at trailhead
1230 Start trekking
1430 ETA Ranger Station / Tree planing stop
1630 ETA Lake Aguingay / Set up camp.
1800 Dinner / Socials
Day 2
0300 Wake up call
0330 Start trekking
0630 ETA summit/crater of Mt. Bulusan (1565m)
0730 Start descent
1000 Back at Lake Aguingay / Brunch
1100 Start descent
1330 Back at Lake Bulusan
1400 Tidy up
1500 Head back to Irosin / Bulusan
1700 Take bus back to Manila
SPECIAL CONCERNS
When to go. Sorsogon receives a superabundance of rain throughout the year, and thus it will not be surprising to find out that less than 30% of hikers actually get a nice clearing at the summit, even during the summer months. At times, if the weather conditions are severe, the guides do not allow the hikers to proceed to the summit. To their credit, the park officials offer a "free registration" for participants who wish to return to Mt. Bulusan after an unsuccessful climb. On the brighter side, it is also possible to have great weather even during rainy months, as evidenced by our hike from June 23-24, which was met with superb weather and a clearing at the summit.
Transportation. Bulusan Volcano Natural Park (i.e. Lake Bulusan) can be accessed by tricycles from Irosin, Sorsogon. The cost of a one-way trip is P150, and can fit 3-4 persons. For a larger group, a jeepney may be secured. To get to Irosin from Manila, the direct way is by taking the Elavil Bus or other bus lines which leave at the Araneta Center Bus Terminal at the back of Ali Mall (LRT2: Cubao; MRT3: Araneta Center – Cubao). Some also have stations in Pasay. These buses cost around P900 one-way, leave at around 1800H and arrive at Irosin at around 0800H the next day. Alternatively, you can charter a jeepney from Legazpi or Sorsogon City.
Registration and guides. There is a registration fee of P250/person. Guides and porters can be secured for P750/guide and P600/porter, respectively; this already covers the two days, but the rate is the same for a dayhike. There is also a package rate of P650/person for a group of 5 persons, which already includes one guide and one porter for the group. Take note that the number of climbers at any given time is restricted, so it is strongly recommended that you coordinate ahead of time with the park officials (see contact numbers below).
Hiking notes. Be prepared for the presence of limatik (blood leeches) on the forest before reaching Lake Aguingay. Make sure you have adequate protection from the blade-like leaves of the cogonal slopes on the way to the summit, and hence, don't forget to bring gloves!
Camping notes. A water source is available at the Lake Aguingay Campsite (Camp 2). Cellphone signal is sporadic throughout the trail, but strong at the summit.
Security and safety. The coordinators and guides are in touch with PHIVOLCS and will close the park in the event of volcanic activity, as had happened a couple of times in the past. The park is very safe and there has not been a report of any untoward incident involving hikers.
MT. BULUSAN CONTACT NUMBERS
Note: Cellphone numbers do change often, I can't assure if they're viable, but please help us update them!
AGAP Customer Service – +639192231536
Mr. Philip Bartilet (Park Manager) – +639088968826
Mr. Philip Bartilet (Email) – phil_bartilet@yahoo.com
MT. BULUSAN PICTURES
Pictures to follow. For the official set of Mt. Bulusan pictures, check out the PM Facebook page.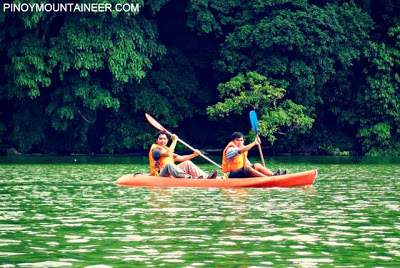 The Bulusan adventure starts with a kayak ride across Lake Bulusan!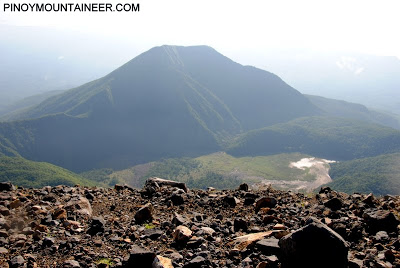 Lake Aguingay and Sharp Peak as viewed from Mt. Bulusan's summit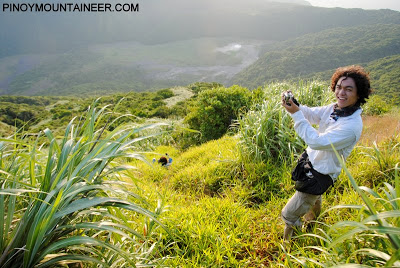 The assault on cogonal slopes from Lake Aguingay to the summit
TRIVIA
The BVNP is the only national park in the province of Sorsogon established by virtue of Presidential Proclamation 811 on 7th day of June 1935. However, it was declared Bulusan Volcano Natural Park under Proc. No. 421 on 21 November 2000 under President Estrada's Administration.
Fauna that can be found in the park include the Yellow-striped Slender Tree Skink (Lipinia pulchella), the threatened Sailfin Water Lizard (Hydrosaurus pustulatus), Philippine Brown Deer Cervus mariannus, Philippine Warty Pig (Sus philippensis), the Philippine native monkey or Philippine Macaques and the threatened Southern Luzon Giant Cloud Rat (Phloeomys cumingi).
PinoyMountaineer climbed Mt. Bulusan on June 23-24, 2012 – one of the first groups to do so after the volcano reopened. Rica Peralejo's account of the climb is narrated in her blog (see links below) and it is also chronicled in Hiking matters #275-277.
MT. BULUSAN ACCOUNTS
Hiking matters #275: Breathtaking Mt. Bulusan, Day 1
Hiking matters #276: Breathtaking Mt. Bulusan, Day 2
Hiking matters #277: The wonderful fauna of Mt. Bulusan
Rica Peralejo: Mt. Bulusan Day 1
Rica Peralejo: Mt. Bulusan Day 2
BULUSAN WEATHER FORECAST