Hiking matters #23: Save the Ipo Watershed and the Sierra Madre forests!


IPO WATERSHED
We cannot keep our silence in the light of rampant destruction of our forests. Mountaineering is not only a sport or a recreation; it should also involve a commitment to the environment. This committment from the mountaineering community is badly needed now, with our forests and mountains under threat in many places. Last year we heard that Mt. Guiting-Guiting was being opened for mining; this year the mountaineering community in Negros has raised a furor over the cutting of trees in Mt. Kanlaon. Everywhere, there are environmental battles to be fought – and mountain climbers have the position and the passion to make a difference.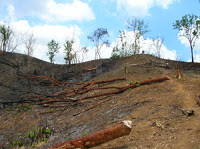 Our attention has been brought to the Sierra Madre range in Eastern Luzon, where forests are fast dwindling in number. In particular, illegal logging has reduced to forest cover at the Ipo Watershed in Bulacan to just 30%! The implication of this is great considering that 97% of Metro Manila's water supply is sourced from this watershed chain (Angat->Ipo->La Mesa). Also, the Sierra Madre is the habitat of many endangered species. What will happen to these animals and plants? For the sake of earning money, they may be lost forever. And finally, explorations on these areas, such as Mount Maranat – reveal beautiful sites; waterfalls, nice views — but if we allow the destruction to continue, we stand to lose everything.
Mountaineers, by their mere presence, can contribute to the preservation of forests. If the hiking public sees loggers in action, they would at least be ashamed of what they are doing. And with the publicity generated by climbs and photos – through newsprint and the Internet – people would be more aware of what's happening, and with public awareness would come clamor and discussion, and perhaps local authorities will be pressured to listen and finally act. On a more active role, tree planting and other activities would help reforest the watershed, and enable what is lost to be regrown and recovered — before it's too late.

The UP Mountaineers, now on their 30th year, have taken up the cause of promoting public awareness on this issue, and they have been active in the field to document the watershed's status and now, they have begun work in reforesting the watershed in partnership with other concerned groups.
Your support — whether as a person or as a mountaineering club — is requested in this advocacy. Feel free to contact Fredd Ochavo at 09295527504 or visit the UPM EnCom Multiply site to get updates and information on the present status of the watershed, and future activities in which you can participate.
MORE ON SIERRA MADRE
A multi-sectoral group composed of World Wildlife Fund, Conservation International, PTFCF, PFEC, FPE, Luntiang Alyansa para sa Bundok Banahaw, MOVE-ON Mountaineering group,Tayabas Mountaineer, LIFE – COVE and Tanggol Kalikasan is forming a movement to act on the above-mentioned destruction of Sierra Madre's forests. See the open climbs and events page for more details.
Pictures and information courtesy of the UP Mountaineers Environment Committee.