Hiking matters #22: Mt. Matarem / Same old Maculot
Mt. Matarem on Manila Bulletin
My climb last April in Mt. Matarem together with the Sarreal siblings and my brod Gerome was published in Manila Bulletin this Sunday (August 10), in an article entitled "The enchanting trail of Mt. Matarem". It is nice to reminisce about Batanes, truly one of the most beautiful places in the country. Click this link to view the article in Manila Bulletin Online.
Same old Maculot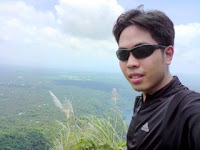 At the first opportunity to escape from hospital work, I climbed
Mt. Mac
ulot
on Saturday with one of my mountaineering mentors, Sir Bambi Guevara, and my blogging partner
Ivan Henares.
We left Manila at around 0800H and started climbing at 1000H. Even with a relaxed pace, the Maculot trail up the Rockies can take just less than a hundred minutes
.
At the campsite and the Rockies, nothing has changed. Taal Lake lay perfectly still, and the breezes were refreshing – counteracting the sunshine. The talahib was as obstructive as ever; Aling Rose still operates the '7-11' – and the halo-halo was enticing as ever especially on a day that turned to be sunny. The locals assured me that Maculot safer than ever; there have been no untoward incidents for over a year and with the bridge to Cuenca repaired last May, climbers continue to flock on weekends.I remember my first climb in Maculot when I was 13 or 14 years old; it was a family outing. My younger brother, then 8, joined up and he together with my younger cousins just slid their way down from the campsite to the jumpoff! Our titos and titas chatted over halo-halo while we explored the Rockies, as well the forest up to the summit, where I saw my first wild boar.
Last year I went to Maculot twice. The first one in February was with my classmate Pao – we cut classes to climb on a weekday: the result was having the mountain all to ourselves. Then I went back with the UP Med Outdoor Society in August.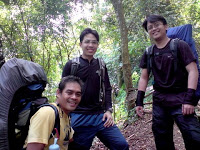 Exactly a year later, I'm thankfully back. At the summit we met some members of a group called Team Sagul, plus some Korean trekkers. Meanwhile, on the way down I was pleasantly surprised to come across Sir Orly Ylaya and Albin Juta (with blogger on photo)- my companions from G2 and Amuyao – together with their fellow hikers from Nestlé.
Seeing nice views, meeting friends new and old, and catching a breathe of mountain air — that's just about it. That's what a nice daytrip means to me and today, that's exactly what i got!
THE BLOGGER'S CLIMBS IN MT. MACULOT