Hiking matters #27: Ivan Henares reaches Pulag summit!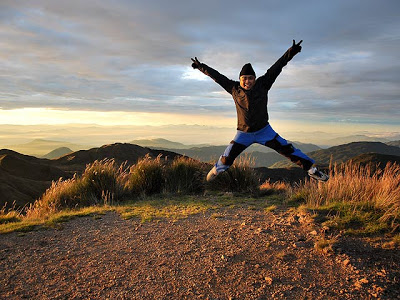 Ivan Henares of Ivan About Town: he introduced me to blogging, helped build PinoyMountaineer, and I in turn influenced him to climb mountains (he still blames me for it). He joined the UP Med Outdoor Society climb to Pico de Loro last June 2007 (he was one hour late) and unfortunately his group got lost on the way down!
But the feisty Ivan didn't give up on climbing, and a month later we headed to Marinduque to climb the formidable Mt. Malindig. It was there where the idea of PinoyMountaineer was conceived. If you noticed, the layout and even the fonts of the website was patterned after Ivan About Town – it was much later that I developed distinctive features of the site such as the Flora and Fauna of the Week, among others.
We went on to explore the waterfalls of Rizal and Batangas, as well as minor climbs such as Batulao, Romelo, and Maculot. We also headed to Anawangin Cove – these are all in his travel blog. It is interesting how a traveler and a mountaineer's perspectives differ when tackling an outdoor destination such as Anawangin.
This time, on Sept. 6-7, Ivan with his brods Mike, Caloy, and Lemuel (my classmate and fellow Outdoor Society member) headed to Mt. Pulag via the Ambangeg Trail. Ivan braved the rough roads and drove all the way to Visitors' Center, and as suggested by one of our readers, he took the habal-habal up to Ranger Station. The others, however, walked all the way from DENR to Ranger! Old school! I experienced this myself way back 2003 and as Sir Deng commented in Ivan's Multiply, I'd rather go up via Akiki (or Tawangan) rather than walk that way!
Anyway, their group spent the night at Ranger, and they did a very early morning assault to the summit. I called Ivan up by noontime and I found myself talking with his answering machine. "I hate this answering machine!" I blurted, adding, "Anyway I hope you had a nice time at the summit." And they sure did!
Suddenly envious and craving for a Pulag experience, I planned my own Akiki-Ambangeg climb last week, but typhoon Marce ruined it. Oh well, time to go back to the hospital. I'll just continue my account of the Dulang-Dulang-Kitanglad traverse next week. Till then!