Mt. Apo/Kapatagan-Kidapawan Traverse Trail (2,956+)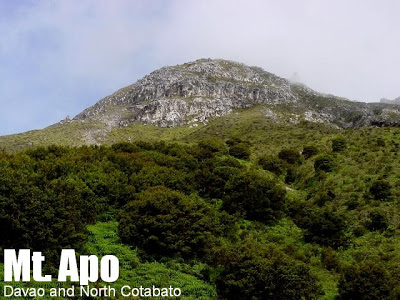 MT. APO (KAPATAGAN-KIDAPAWAN TRAVERSE)
Davao del Sur and North Cotabato
Entry point: Brgy. Mainit, Digos
Exit point: Brgy. Ilomavis, Kidapawan City
LLA: 7°0′30″N, 125°16′33″E, 2,956 MASL (#1)
Days required / Hours to summit: 3 days / 10-11 hours
Specs: Major Climb, Difficulty 7/9, Trail class 2-4
BACKGROUND
The different flavors of a Mt. Apo climb are reflected in the different trails, and in the past decade two major trails have emerged: the Kidapawan Trail in North Cotabato and the Kapatagan Trail in Davao. Whereas the Kidapawan Trail features hot springs, river crossings, and a steep forested trail that leads to a swampland ultimately leading to Venado, the Kapatagan Trail on the other hand has a more "volcanic" feel – initially wide trails lead to a mossy forest; and then arrives the challenge of boulering your way up the crater of Mt. Apo and ultimately reaching the summit – the highest point in the Philippines.
The two trails form a traverse of Mt. Apo, spanning two provinces and the above-mentioned attractions. Another common route, Kidapawan-Magpet which focuses on the North Cotabato side of the mountain, is detailed on the original Mt. Apo page in PinoyMountaineer.
ITINERARY
From Davao City
Day 1
0500 Early breakfast
0600 At Davao Ecoland Terminal, take bus to Digos
0730 ETA Digos; take tricycle to Digos market
0800 Breakfast / Buy supplies
0900 Take Kapatagan-bound van
1100 ETA Kapatagan; Registration. Arrange guides.
1130 Take habal-habal to Mainit jumpoff
1200 Arrival at jumpoff; start trek
1730 ETA Camp 1 (Goodygoody camp). Set up camp
1830 Dinner / socials
Day 2
0600 Breakfast / Break camp
0800 Commence trek to crater via Boulder trail.
1200 Arrival at crater. Lunch
1300 Arrival at Mt. Apo summit; Set up camp
1400 Explore vast summit area
Day 3
0600 Breakfast / Break summit camp
0700 Start descent
0900 ETA Lake Venado
1200 ETA Mainit Hot Spring; start river crossing
1500 End of trek, Lake Agko
1600 Take habal-habal to Kidapawan City
1700 ETA Kidapawan City; take van to Davao City
2000 Back in Davao City
*The reversibility of this itinerary is not exact but complementary; if doing a Kidpawan-Kapatagan traverse, the reverse of Day 3 will become Day 1-2; the reverse of Day 1-2 will become Day 3.
ARRANGING A MT. APO TRIP
Mt. Apo, as the highest mountain in the Philippines, attracts a lot of attention from hikers all over the world. PinoyMountaineer.com can help visitors arrange a trip to Mt. Apo. We can secure hiking permits, English-speaking guides, porters, and even tents and camp foods, as well as design itineraries based on your schedules. Depending on your specifications, we can contact local guides or even link you with local hiking clubs. A 2-day, 3-day, 4-day, and even a 5-day Apo are also possible, and there are several trails to choose from. Just email info@pinoymountaineer.com for details.
SPECIAL CONCERNS
Budget. This is commonly the number one concern when climbing Mt. Apo, and I suppose we should begin with the expenses involved. Of old we often hear of backpacking groups making their way to Mindanao via SuperFerry, or even via the Philtranco bus. With the advent of budget air travel, however, it is no longer recommended to resort to these measures. Instead, fares may be purchased from Cebu Pacific between P3000-4000 roundtrip, if you book early.
Aside from the airfare, the climbing fees are also quite expensive. As of 2010, the prices have increased even more (with fees reaching P1000 per trail). For a hassle-free Mt. Apo climb, one can arrange a climb through PinoyMountaineer.com. Click this page for more details.
Transportation. From Davao, whether bound for Kapatagan or Kidapawan, the departure point is Davao's Ecoland Terminal. The jeepney system in Davao City is quite complex, but it is very convenient to just take a taxi to the terminal. Night trips are limited especially those coming from North Cotabato, so please check the last trip while in Ecoland.
Logistics. Fuel and food may be conveniently purchased in Davao City's malls, while market supplies may be bought in Digos or Kidapawan markets.
Climbing notes. Water sources are available in Camp 1 and the summit. Being an inactive volcano, Mt. Apo has sulfuric vents and there are some parts that have a mildly sulfuric smell on both sides of the traverse, more so on Kapatagan. Cellphone signal is absent in some parts of the trail but it is strong in the summit and good on Lake Venado,
TRIVIA
Henceforth, assault will refer to segments of climbs when light packs are commonly employed and the heavy packs are left at campsite.
MT. APO TRAILS
Mt. Apo/Kidapawan-Magpet: Davao + North Cotabato / 2956m (#1)
Mt. Apo/Kapatagan-Kidapawan: Davao + North Cotabato / 2956m (#1)
Mt. Apo/Sibulan-Kapatagan: Davao del Sur / 2956m (#1)