Mayon Volcano (2,462+) [CLOSED]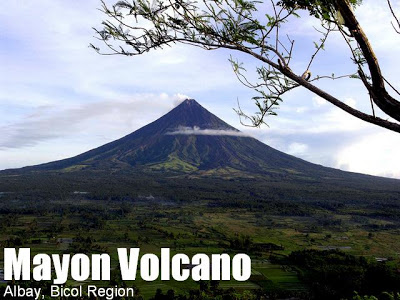 MAYON VOLCANO (MT. MAYON)
Albay, Bicol Region
Major jumpoff: PHIVOLCS Office, Tabaco, Albay
LLA: 13°15′24″N; 123°41′6″E; 2462 MASL (#23)
Days required / Hours to summit: 3 days / 10-12 hours
Specs: Major climb, Difficulty 7/9, Trail class 2-5
Note: Mayon Volcano is currenly closed for climbing.
BACKGROUND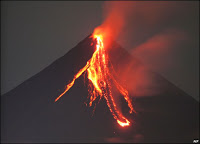 Mayon, magayon – Beautiful Mayon Volcano is one of the most spectacular mountains in the Philippines, and it is one of only two mountains in the world famous for a perfect conical shape, the other being Mt. Fuji in Japan. Its uninterrupted rise from the Bicol peninsula serves as the backdrop of the Cagsawa Ruins in one of most popular postcard scenes in the Philippines. Not surprisingly, the Cagsawa ruins themselves were caused by the volcano in its most devastating eruption in February 1814 which killed over a thousand. Indeed, just like Mt. Fuji, the symmetry and beauty of Mayon has ironically sprung forth from violent volcanic activity. In fact, Mayon is the most active volcano in the Philippines, with no less 46 volcanic eruptions occuring after 1814.
Legends about Mt. Mayon inevitably arose throughout centuries, and the most famous is the central story in Bicolano mythology, that of Magayon, a princess whose famed beauty spread throughout the archipelago and was much-sought after by warriors and noblemen. It was a Tagalog warrior named Handiong who won her heart, and they became lovers. One version says their respective tribes were rivals and they had no choice but to commit suicide instead of letting go of each other. Another version says Handiong had a rival from another tribe, who was preferred by Magayon's father — a clash ensued between the two suitors and . Regardless, the tales are in agreement that the lovers died side by side, and from their grave arose a volcano. They called it Magayon, a name which now means beautiful in the Bikolano language. For indeed, Magayon the girl was beautiful, and now a volcano stands in her place as the crowning jewel of Bicolandia.
(Thus Mayon, like Makiling and Arayat, are feminine in legend, whereas Kanlaon and Apo were ascribed to male deities. On the other hand there are places like Pulag and Amuyao who do not personify any entity, but still figure as places of mythological importance.)
The trek up Mayon is definitely an exciting adventure, made more challenging by the thrill and the knowledge that the volcano can erupt anytime. The trail starts off at 762m at the PHIVOLCS office in Tabaco, Albay. You will first enter a forest then reach a grassland of talahib; from there is what is known as Buang Gully- a ravine formed by an ancient lava flow. At the end of this gully is the first campsite, where one can spend lunchtime if aiming for Camp 2 by night in a summit climb, or you can spend the night there in the Day 1 of a trek to the Knife Edge. Beyond Camp 1, Camp 2 is two hours away, and from here the trek consists of rock scrambling and climbing until one reaches the Knife Edge. After the Knife Edge, the rock scrambing continues; the trail is understandably loose and steep. After 2 hours, the summit crater is reached.
At the top, the view is vast and breathtaking; sights include Mt. Isarog (NW); Bulusan Volcano (E) and the bodies of water that surround Bicolandia. Catanduanes, the large island, looms northeast. Whether the summit or the Knife Edge, the Mayo adventure is doubtless a memorable experience that we foresee will regain its status as one of the most sought-after climbing destinations in the Philippines.
ITINERARIES
from Legazpi, Albay
(KNIFE EDGE)
Day 1
1100 Early lunch in Legazpi, Albay
1200 Head to jumpoff
1300 Arrival at Tabaco, Albay jumpoff; start trek
1700 Arrival at Camp 1, ~1500 MASL (end of Buang Gully?)
Day 2
0600 Resume trek
0800 Arrival at Camp 2. 1921 MASL. Beyond this is rock scrambling/climbing
1100 ETA Knife Edge; 2200 MASL; lunch
1200 Start descent all the way to jumpoff
1800 Back at jumpoff. Head back to Legazpi or other endpoints.
(SUMMIT)
If the summit is scalable, then the recommended itinerary would be something like this:
Day 0
Travel from Manila or Legazpi then spend the night in Mayon Resthouse, Tabaco (near Phivolcs)
Day 1 0500 Early breakfast
0600 Proceed to PHIVOLCS office; start trek
1200 Arrival at Camp 1, ~1500 MASL (end of Buang Gully?). Lunch.
1500 Arrival at Camp 2, 1921 MASL. Set up camp
1800 Dinner / socials
Day 2
0600 Breakfast
0700 Start rock scrambing / scaling. Assault possible.
0900 ETA Knife Edge; 2200 MASL. Rest.
0930 Start scaling cliff / boulder up to summit
1130 Arrival at Mayon summit / Lunch or heavy snacks
1200 Start descent
1500 Back at Camp 2
1800 Dinner / socials
Day 3
0600 Breakfast / Break camp
0700 Start descent all the way to jumpoff
1300 Back at jumpoff. Head back to Legazpi or other endpoints.
SPECIAL CONCERNS
Summitability: Right now perhaps because of recent volcanic actvity, it may not be possible and it is currenly not permitted to climb all the way to the top. If feasible, then consult with local guides/contacts if ropes may be required. Some veteran climbers recommend the bringing of a gas mask to protect one's self from the toxic fumes that emanate from the crater of Mayon.
Logistics. According to Sir Bruce, who visited the blog, the contact for the Albay Tourism Office is (052)8206314 or (052)8206316. The tourism office can supply guides and there are also operators in Legazpi also facilitate treks. According to "How ever there are two independent groups that have equipment which is cheaper, both are registered with the Tourist office. One is situated at the rear of Gasano the other has info in most hotels. We paid P6000 which included two porters, one guide, myself to knife edge and my girl friend to camp one. Food and tent were supplied (no mattress)"
Other notes. The trail is very barren so prepare for sun protection. There is no reliable water source so a lot of water (4-5L) is suggested in the trek.
TRIVIA
Past eruptions of Mt. Mayon: 2004, 2003, 2002, 2001, 1993, 1984, 1978, 1968, 1947, 1943, 1941, 1939, 1938, 1928, 1902?, 1897, 1896, 1895, 1893, 1891-92, 1890, 1888, 1886-87, 1885, 1881-82, 1876, 1873, 1872, 1871-72, 1868, 1863?, 1862, 1861, 1860, 1859, 1858, 1857, 1855, 1853, 1851, 1846, 1845, 1839, 1834-35, 1827-28, 1814, 1811?, 1800, 1766, 1616.
Henceforth "summitablity" will refer to the feasibility of reaching the summit of a particular mountain at the given (default is present) time.
TABACO, ALBAY WEATHER OUTLOOK