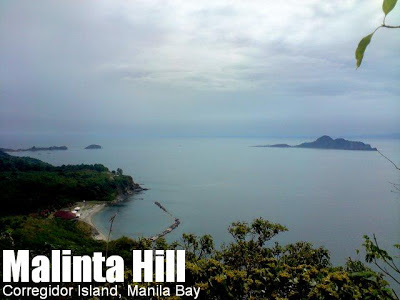 MALINTA HILL
Corregidor, Manila Bay
Major jumpoff: East of Bottomside, Corregidor
LLA: 14°22'60N, 120°34'60, 135m
Days required / Hours to summit: Half-day / 1 hour
Specs: Minor climb, Difficulty 2/9, Trail class 1-3, Historical trail
BACKGROUND
Within the historic island of Corregidor stands Malinta Hill – a rocky, forested slope east of the island which has witnessed events of World War II. Beneath it was the Malinta Tunnel, a labyrinthine complex of underground structures that served as base for the US and Filipino troops making a last stand against the Japanese aggressors. This was where Douglas McArthur contemplated the final days of his stay in the Philippines before escaping to Australia; this was also where Manuel L. Quezon had his final footing on his homeland before fleeing to the United States. Indeed, Malinta Hill has endured much of history's unfoldings, inasmuch as it endured a lot of artillery fire.
Today, there are still traces of battle, such as scraps of cannon here and there, and remnants of artillery batteries and other millitary structures. But silence now reigns where mortar and artillery fire once boomed relentlessly; and the only inhabitants of the hill are the monkeys – 2,000 of them – roaming wild in the island. The forest has grown and it makes the trek to the summit pleasant.
A daytrip to Corregidor would pretty much cover the major sights of the island – such as the Pacific War Memorial, the mile-long barracks, the artillery batteries, and the Malinta Tunnel. But after lunch one can add-on this short hike up Malinta Hill to somewhat literally heighten the experience. And hey, the views are nice too!
ITINERARY
0700 ETA Harbor Square – Sun Cruises Terminal
0800 ETD for Corregidor
0920 Arrival at Corregidor; start tour
1200 Lunch
1300 From Corregidor Inn, walk to Bottomside
1330 Start trek up Malinta Hill
1430 Arrival at summit; visit nearby structures
1515 Back at Corregidor Inn
1700 Take second trip back to Manila
1830 Back to Manila
SPECIAL CONCERNS
From Manila, you can book a tour with Sun Cruises. A daytrip would cost P2,000. For more information, visit http://www.corregidorphilippines.com/
The second trip does not always happen; so make sure to ask if it's available. If not, you can still go for Malinta Hill by taking an early lunch and going on a fast-moderate pace up the hill.
TRIVIA
Malinta Hill was named after the leeches which were said to thrive in the hill in the past. For some reasons – perhaps due to the artillery fire of World War II – these leeches are now (thankfully) nowhere to be found in the hill.