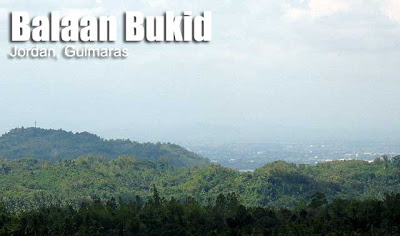 BALAAN BUKID (MT. BALAAN)
Guimaras Island
Major jumpoff: Bgy. Hoskyn, Jordan, Guimaras
LLA: 10°39'48″N, 122°34'5″E, 170+ MASL
Days required / Hours to summit: Half-day / 45 minutes
Specs: Minor Climb, Difficulty 2/9, Trail Class 1

BACKGROUND
A pilgrimage and trekking site that offers views of Guimaras as well as Iloilo City to the north, Balaan Bukid is an easy hike from the capital town of Jordan. This hill whose Hiligaynon name, when translated, means "Holy Mountain" is marked by a chapel and a white cross at its peak. This large cross, which is visible throughout the province, is the culmination point in a Holy Week ritual called "Ang Pagtaltal sa Guimaras" – a folkoric version of the Passion. The same goes for casual pilgrims who do the "Way of the Cross" in this hill. Throughout the year, Balaan Bukid is available as an easy hike that can be included in a one-day trip to Guimaras.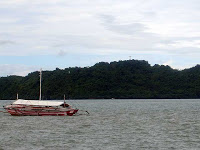 Nestled between the big islands of Negros and Panay, Guimaras is the island famous for its delicious mangoes, said to be the sweetest in the world. Once a subprovince of Iloilo, the island attained full provincehood in 1992, and it has since developed a modest tourism industry. There are notable beaches in Guimaras, including those at Sitio Alubihod in Nueva Valencia. The white sand has inevitably been compared with that of Boracay. Although the latter's sand is finer and the coastline much grander, the Alubihod beach is a worthy item. There's also a Valle Verde Mountain Resort which offers some pools and a trek down the bay of (on the island's SW).
Going there from Iloilo is a breeze. Small crafts ferry passengers from Iloilo to Jordan throughout the day, taking only 15 minutes. From Bacolod, Iloilo is, by fast craft, just an hour away. Just ask the locals at the pier for a tricycle to Balaan Bukid. The trails are well-estalished, easy, and with verdant surroundings. With its strategic location, Balaan Bukid and the beaches of Guimaras are a worthy sidetrip for mountaineers visiting the Panay mountains (i.e. Mt. Madjaas) or the Negrense ones (i.e. Mt. Kanlaon).
ITINERARY
Guimaras daytrip
0600 Take fast ferry from Bacolod to Iloilo
0730 ETA Iloilo Port; walk to Ortiz Port
0800 ETD Ortiz Port
0815 Arrival at Jorden Port; take tricycle to Balaan Bukid
0830 Start trek
0930 ETA summit; take pictures
1000 Descent
1040 Back at Balaan, ride motorcycle to Alubihod Beach
1130 ETA Alubihod Beach; Lunch at Raymen's.
1300 Rest; swimming at the beach
1500 Head back to Balanan Pier
1600 From Iloilo, take last trip to Bacolod City
1800 Back in Bacolod City
SPECIAL CONCERNS
There are no permits necessary to climb Balaan Bukid as this is open to the general public the whole year. There are communities in the hill, and sari-sari stores. Sunblock is a must (also for the beach of course!). Those who wish to have a quiet time at the top, taking pictures of the islands and the seas, must avoid the Holy Week as people literally flock by the hundreds.
The fastest way to travel in Guimaras is by motorcycle. If travelling alone or in pairs, this would be the best option to go to Alubihod. Otherwise, there are jeepneys/tricycles. Just ask the locals.
Allow P500 for this daytrip if travelling with a pair from Iloilo, most of which will be spent in transportation and food. The entrance fees at the beaches in Alubihod range from P10-P50.
TRIVIA
The name of the religious site atop Balaan is "Ave Maria Purisima Shrine". There's a Trappist Monastery in Jordan – an idyllic place. A shop sells delicacies made by their Order, such as the native piaya and mango jam.
According to Wikipedia, the delicious mangos of Guimaras are said to have been served at the White House and Buckingham Palace!
WEATHER OUTLOOK: JORDAN, GUIMARAS