The seven lakes of San Pablo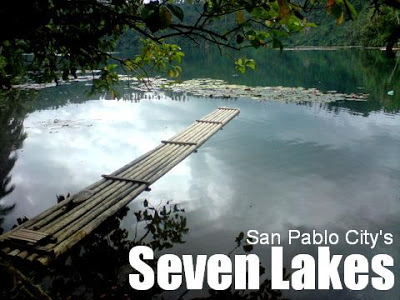 The Seven Lakes of San Pablo
San Pablo City, Laguna
Major jumpoff: San Pablo Plaza (Poblacion)
Days required / Trekking time: 1 day / 1-2 hours
Specs: Minor, Difficulty 1/9, Trail class 1-2

This destination is available in PinoyMountaineer Tours. For 2009 tours, the blogger, Gideon Lasco, himself will guide participants to his hometown. For bookings and inquiries, contact us at info@pinoymountaineer.com.
BACKGROUND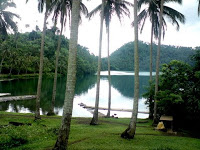 A beautiful yet undiscovered trekking destination near Manila are the famed 'Seven Lakes of San Pablo': Sampaloc, Bunot, Calibato, Pandin, Yambo, Palakpakin, and Mohicap. These natural wonders are set in the backdrop of San Pablo's rural outskirts, surrounded by mountains such as Mt. Cristobal and Tayak Hill, Mt. Kalisungan, and Mt. Mabilog. Their pristine quality range from Sampaloc Lake whose cleanliness is still a work in progress, to the serene cleanliness of the twin lakes Pandin and Yambo.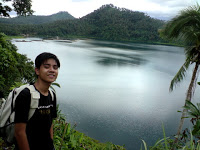 The seven lakes hold a cultural significance for the old folk of San Pablo, and legends are ascribed to each of the Lakes. The most famous of these tales is that of the "Legend of Sampaloc Lake". It tells of a couple who owned a sampaloc tree bearing sweet, delicious fruit. They refused to give some fruit to a passing poor woman. Actually a fairy, the woman punished the couple by drowning their domain, giving birth to Sampaloc Lake. As for the fruit, it turned sour ever since. Each lake will have its legend – Pandin and Yambo were said to be lovers once, and Calibato was a princess who would rather drown her own domain rather than be destroyed by man's activity.
Meanwhile, the geologic explanation of the lakes' origins is equally fascinating. The lakes, scientists say, were craters of ancient volcanos. They form part of what is known as the "San Pablo Volcanic Field" – which includes other mountains in the area such as Mt. Makiling, Mt. Kalisungan, Mt. Atimla, Imoc Hill, and Mt. Mabilog.
All seven lakes can be visited in a single day, in a roadtrip that will take you to the beautiful wonders of San Pablo. The initial lakes line the road to Nagcarlan and other towns in the eastern, more inner section of Laguna. First is a quick stop to Bunot Lake, then proceeding to the farthest lake, Calibato. It is said that there is a small waterfall nearby this lake. Then comes the highlight, the twin lakes of Pandin and Yambo. Here the waters are clear enough for swimming; the view is truly pristine and refreshing. You can rent bamboo rafts to go around the lake. Yambo, the further lake, is perhaps the most untouched all the seven lakes – and also the most beautiful. A trail leads to this lake from Pandin. Two other lakes are close to each other, Lake Palakpakin which is just beside the road and Lake Mohicap, another lake clean enough for swimming. A visit to Sampaloc Lake wraps up the day.
While at the lakeshore taking pictures, take note of the mountains in view, most notably Mt. Cristobal. If you are in Sampaloc Lake, the green slope of Tayak Hill stands out against the blue mountain. Mt. Cristobal is also nice to view in Calibato and Bunot. Take note also of the smaller mountains around, such as Mt. Mabilog, Tayak Hill (it is exposed from Cristobal when in Pandin/Yambo), and Mts. Kalisungan and Atimla.
ITINERARY
0400 Take Lucena-bound bus to San Pablo (P130)
0630 ETA San Pablo; Breakfast at Chowking
0730 Take tricyle to Bunot Lake (~P100/trip/4pax)
0800 ETA Bunot Lake, Brgy. Concepcion [1]
0830 Walk to highway and take jeepney to Nagcarlan (P10)
0900 Get off at Brgy. Sto. Angel for Lake Calibato
0930 Take 10 minute walk to Lake Calibato
0940 ETA Lake Calibato, Brgy. Sto. ANgel [2]
1000 Head back to highway then take return jeepney (P8)
1015 ETA jumpoff of Lake Pandin at Sto. Angel
1030 Head off to Lake Pandin
1045 ETA Lake Pandin [3]. Proceed to Lake Yambo by foot
1100 ETA Lake Yambo [4]. Take pictures.
1115 Head back to Lake Pandin. YOu can swim on the lake.
1200 Return to highway
1215 Take return jeep to San Pablo proper
1240 ETA San Pablo proper; Lunch.
1330 Take tricycle to Lakes Palakpakin and Mohicap
1400 Drop by Lake Palakpakin, Brgy. San Buenaventura [5]
1410 Proceed with same trike to Lake Mohicap
1425 ETA Lake Mohicap jumpoff, Brgy. Sta. Catalina. Walk down.
1430 Arrival at Lake Mohicap [6]. YOu can swim again.
1530 Take tricycle to Sampaloc Lake
1600 ETA Sampaloc Lake [7]. Walk around the park / Snacks.
1700 Take tricycle back to bus terminal along highway.
1730 Dinner at Chowking; then take return bus to Manila
2000 ETA Manila
SPECIAL CONCERNS
No guides/permits/fees are necessary for any of the lakes, although the locals of the Pandin/Yambo area offer to guide visitors. They also offer to rent bamboo rafts (P75?) and a large floating raft where you can have a picnic (P500,negotiable) that will take you across Lake Pandin to get closer access to Yambo, and back. Some groups in San Pablo also offer guide services. But taking public transport will eliminate the need for guides since the tricycle drivers can show directions. On the other hand, going around by one's own vehicle is very relaxing. If you have questions, just ask around. And don't forget to bring a roadmap.
The above itinerary can be achieved faster if taking private transportation. If so, the same sequence and itinerary applies, although it will be quicker. When navigating your way across San Pablo, be sensitive to one-way streets (there are many of them and there are no signs).
Don't forget to bring a change of clothes for swimming. Although people swim in all of the lakes, in terms of cleanliness PinoyMountaineer only recommends the following lakes for swimming: Pandin, Yambo, and Mohicap.
The trip only involves minor trekking – most notably the trek to Lakes Pandin and Yambo. Except for possible muddy sections, the trek is very easy.
TECHNICAL NOTES
| | | | | |
| --- | --- | --- | --- | --- |
| Lake | Location | Coordinates | Area | Depth |
| Bunot | Brgy. Concepcion | 14.083°N 121.343°E | 30.5ha | 23m |
| Calibato | Brgy. Sto. Angel | 14.105°N 121.377°E | 42ha | 135m |
| Pandin | Brgy. San Lorenzo | 14.116°N 121.367°E | 20.5ha | 63m |
| Yambo | Brgy. San Lorenzo | 14.121°N 121.365°E | 28.5ha | n/a |
| Palakpakin | Brgy. San Buenaventura | 14.111°N 121.338°E | 43ha | 7.5m |
| Mohicap | Brgy. Sta. Catalina | 14.126°N 121.334°E | 14.5 ha | n/a |
| Sampaloc | Poblacion | 14.079°N 121.33°E | 104 ha | 27m |
TRIVIA
All seven lakes can be viewed from at least two mountains in the area. From Mt. Kalisungan, the direction is S; from Tayak Hill it is NW. You can also see the lakes in Mt. Banahaw (W); theoretically you can also see them from Mt. Cristobal (NW) although viewdecks are scarce.
Check out also the blogger's account of his trip to the Seven Lakes in Hiking Matters #20 and Ivan About Town.
SAN PABLO CITY WEATHER FORECAST