Climb of the Month: The First Ascents of Mt. Maagnaw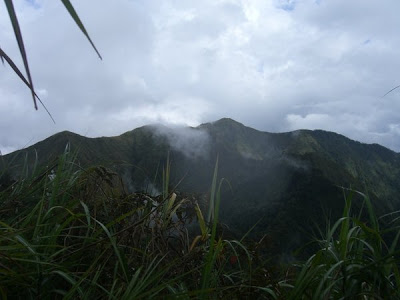 We would like to applaud the efforts of the famed "Team T-Rex" of Mijan Pizarro and Johann Jangulan, as well as the High Conquerors Mountaineering Club led by Emman Palacio who in the month of February set foot at the summit of Mt. Maagnaw in the Kitanglad Mountain Range, the 8th highest mountain in the Philippines. For scaling the highest unascended mountain in the Philippines, the Mt. Maagnaw climbs are the Climb of the Month for February.
Mijan and Johanns reached an elevation of over 2750m on the first week of February guided by a local named Lito Saway, he was also the one who guided the group of Emman who reached the very summit, measured at 2800m, together with the High Counquerors, on February 20-22. 2009.
The first ascent was described by Mijan as "very strenuous" whereas the mossy forest was seen as comparable with that of Dulang-Dulang. I saw the pictures from Emman's Multiply site and it is really a promising destination that adds prestige to the already much-sought after Kitanglad Mountain Range (with its D2K duo).
The second climb was comprised of the following: Team Leaders/Organizers: Emmanuel Palacio & Michael Jan Pizarro Team Members: (from Manila) Maricris Palconit, Orlando Ylaya, Erwin Val Layosa, Ruby Sumague, Rowena Nalda, Dan Solana, (from Sultan Kudarat) Jestone Krys Salcedo, (from Bukidnon) Emmir Raymond Nono, Peter John Muring, Hazel Vizmanos, Zenril "Bain" Depigran & Adeil. Congratuations guys! We look forward to more 'high conquests' from your team!
Information taken from Mijan Pizarro and the Multiply site of Emman Palacio. Picture courtesy of Mijan Pizarro.