Lipa (tropical wood nettles): an overview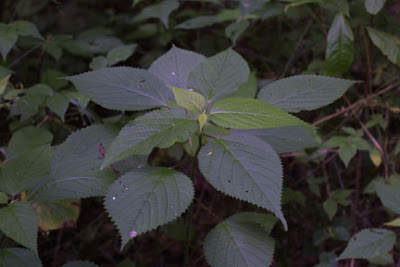 by Gideon Lasco

This is an article belonging to the 'climb health' category in PinoyMountaineer. Information provided in this article are based on research and are not meant as a substitute to actual medical advice and healthcare.
Tropical wood nettles from the genus Laportea – known simply as the lipa in Tagalog; in other languages lupa, dalamo, lingaton – are a notorious breed of plants that release a poisonous substance that causes intense irritation to the skin, which include a burning sensation or severe itchiness, rashes, among others. Mountaineers know this, and in fact have a folk remedy for this: the application of duct tape to remove the poison.
As early as the 1930s, our wood nettles have gained notoriety to foreigners. The famous American botanist David Fairchild reports that he experienced "intense pain lasting for days" in his fingertips when he touched such a plant, and anecdotally we are told that some unwitting Japanese soldiers who used lipa to wipe off their asses in the war got the worst torture of their lives!
It is important to note that this is a family of plants; som may be worse than others. This article aims for the identification and avoidance of these noxious plants, and if unable to, we should also deal with first aid and treatment.
IDENTIFYING THE LIPA PLANT
The Department of Agricutlure website describes a represetative plant as follows: "It is a dioecious shrub or small tree, reaching a height of 3 to 5 meters. The leaves are ovate to broadly elliptic-ovate, 20 to 40 centimeters long, 10 to 22 centimeters wide, entire, shortly pointed at the tip, and somewhat heart-shaped at the base. The upper surface is green, and smooth, and the lower one, paler and rather densely covered with soft hairs." It is added, "The leaves have very numerous, conspicuous, stinging hairs. These hairs have a large bulbous base from which projects a long tapering tube that ends in a curved tip, which is so constructed that it breaks off easily. When one comes in contact with the leaves, the tips of the hairs are broken off and the poison injected. This causes intense irritation. "
WOOD NETTLE PICTURES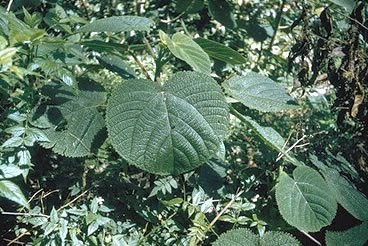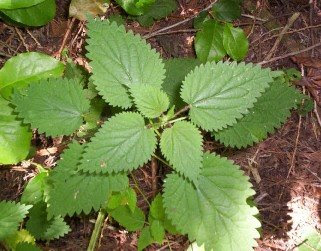 PHOTOS: (COVER) Copyright (c) 2002 Steve Baskauf (3) Taken from www.stuartxchange.com. Rights reserved by owners.
AVOIDING THE LIPA PLANT
Prevention is better than treatment, and this is very true when it comes to lipa. When you are hiking in a mountain or passing by a trail known to have lipa, better have protective clothing (pants, long-sleeved shirts, rashguards, leggings, etc.). Be vigilant when climbing and try to avoid holding/touching plants or shrubs.
MOUNTAINS WITH LIPA PRESENCE
Just like other lists in the website, moutaineers are encourage to add/edit/comment on this partial listing
Mt. Makiling
Mt. Cristobal
Mt. Malipunyo
FIRST AID AND TREATMENT
First aid. After the sting, make sure that the affected area is clean, not dirty or muddy. Use water or alcohol to cleanse the affected skin but do not rub it lest the stinging hairs spread to other nearby areas.
In other countries, the dock plant – a plant which grows near nettles, is used as a immediate treatment; the sap of its stem is applied on the affected part. In the Philippines, a plant with similar effect would be the pungapong or elephant-foot yam. However, these options will not always be able for the hiker.
A local hiking tradition is to use adhesive tape, preferably duct tape. It is applied on the affected area for 5-10 seconds, then removed. Since the poison comes from stinging hairs, this technique could theoretically pull out the irritating hairs through adhesion, thereby lessening the poison that the body would absorb. Correlating our knowledge of the poison's mechanism, this must be done within 10 minutes of the sting.
Home care. Once home, an antihistamine may be taken once or twice daily to lessen the urticaria (skin allergic response). This will also relieve itch and discomfort. A warm bath would be helpful in releasing the toxins.
Other remedies that have been suggested include alkalines such as baking soda (the logic is that the toxin is acidic therefore it has to be neutralized). Still, some suggests the use of urine and saliva. We have no data to recommend or refute these.
PROGNOSIS
Depending on the type of nettle, the discomfort should be gone within 12-72 hours. Other types may persist to 7-14 days. But 99.9% of the time the discomfort is relieved without complications, so there is nothing to worry about.
CONCLUSION
Limatik is to fauna as lipa is to flora; while the former has no long-term affects, the latter could be bothersome for several days after the climb. Hence the need to describe and avoid these types of plants, and understand the possible steps in treatment. We encourage hikers/readers of the blog to contribute to our knowledge about lipa so we can be better prepared in the future.
This is a constantly updated article. Everyone is invited to contribute and challenge the information given here by both the blogger and the those who posted their comments.