Camp Recipes by Fish: Beef Tap-aah!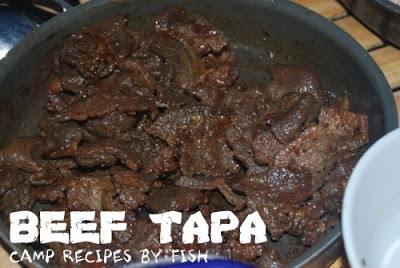 by Chef Louie Lee Castro (UPM)
Starting June 2009, Chef Louie Lee "Fish" Castro of the UP Mountaineers will give us practical tips and zesty recipes for an outdoor culinary experience!
Food is our main fuel to get us going, especially during long treks up & down major mountains. It is also a part of our socials during dinner time as we celebrate stories of success, failures, experiences & friendship.
Who would choose canned goods & instant noodles over a Beef Tapa meal after those long hours of trekking? I wont! Preparing this simple meal 2 days before a climb will take only 5mins. cooking time on camp for everybody to enjoy.
Beef Tap-aah!
Ingredients
1kg beef (laman) trimmed into thin slices
marinade with:
1/4 cup soy sauce
1tbs. msg
10pcs. calamansi
2tbs. minced garlic
2tbs. sugar
3tbs. catsup

1cup water
1. After a day or two, bring to boil for about 15 minutes.
2. Simmer in low heat to dry the remaining marinade.
3. Let it cool down before storing in container, (lock n' lock, etc.)
On camp:
Heat pan, add oil, make sure oil is hot enough before adding the tapa.
fry for only about 3 to 5 minutes & there you have it! Ulam in a flash!
*its also good to have red eggs, with tomatoes & onion as a side dish for a full hearty meal!