Camp Recipes by Fish: Penne Seafood Marinara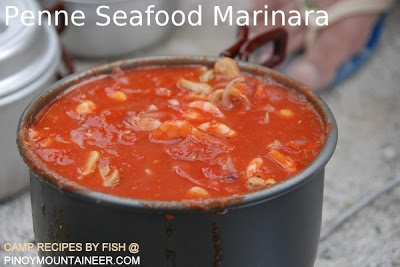 by Chef Louie Lee Castro (UPM)
Starting June 2009, Chef Louie Lee "Fish" Castro of the UP Mountaineers will give us practical tips and zesty recipes for an outdoor culinary experience!
Some climb buddies have the penchant for being spectacular when in comes to campsite cooking serving meals out of the ordinary which makes the climb experience truly a gastronomical adventure as well. Pasta meal has grown to be an alternative to rice. Probably due to the reason that watching the group cook as he prepares the pasta meal is already socials and group bonding in itself.
Searching the internet for the story behind 'marinara' led me to this website which gave a very simple story. As the name implies, it is from the Italian 'marinaro' or 'sailor' and the sauce is supposedly made in Naples for the sailors when they returned from the sea bringing with them fresh seafood as ingredients for the sauce.
Penne Seafood Marinara
INGREDIENTS
500 gram Penne pasta
1 medium canned or 500ml whole peeled tomato
200g onion
2 cloves garlic (minced)
40g white sugar
1/2 tsp. dried oregano
bayleaf/laurel
ginisa mix optional
cooking oil
your choice of seafood, it can be dory, prawns, mussel, scallops etc.
COOKING THE SAUCE
saute onion and garlic
add the mashed whole peeled tomato bring it to boil.
add laurel,sugar, dried oregano, ginisa mix
let it simmer for about 30 minutes to reduce liquid.
add your seafoods and add 5 nimutes simmering time, then add your pasta.
COOKING THE PASTA
see label on how long it will take to cook your pasta to make it al dente.
cooking rice or pasta to the "al dente" stage without over-cooking requires a certain amount of practice and skill, since both have a relatively brief midway stage between the under-cooked phase, where rice or dried pasta stays hard in the middle and where fresh pasta tastes "floury", and the over-cooked phase, where the dish lacks texture and is considered too soft. Using plenty of salt helps achieve the "al dente" texture.
Poaching is particularly suitable for fragile food, such as egg, fish, poultry and fruitswhich might easily fall apart or dry out. For this reason, it is important to keep the heat low and to keep the poaching time to a bare minimum, which will also preserve the flavour of the food.