Camp Recipes by Fish: Chicken Tikka Massala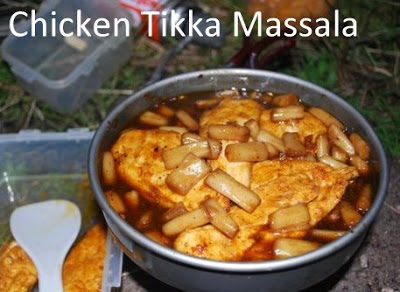 by Chef Louie Lee Castro (UPM)
Starting June 2009, Chef Louie Lee "Fish" Castro of the UP Mountaineers will give us practical tips and zesty recipes for an outdoor culinary experience!
Chicken is everybody's favorite. Being the most popular meat in the world, it is frequently prepared as food in innumerable ways.
Popular as it is, chicken has also become a favorite meal in the outdoors since it is believed to be easily digested. From the simple fried chicken that we usually prepare during our elementary camp-out days, variations on how we could pack chicken and creatively prepare it on-site have widely increased. The chicken in massala sauce is a fit example.
Popularized in Britan, the Massala is a combination of spices, used mainly in Southeast Asian cuisines. It can either be combination of dried spices, or a paste made from a mixture of spices and other ingredients. Massala is used extensively in Indian cuisine to add spice and flavor.
Chicken Tikka Massala
INGREDIENTS
500g chicken breast fillet
Breading
50g curry powder
50g garlic powder
Sauce
30ml corn oil
30g fine chopped onion
30g minced garlic
20g chopped ginger
20g chicken powder
60ml tomato puree
50ml tikka massala paste
200 ml water
AT HOME
Mix curry powder and garlic powder. Bread the chicken and store in chiller.
ON-CAMP
To prepare the sauce, heat oil then sauté onion, garlic, and ginger. Add tomato puree and tikka massala paste. Sauté for 5 minutes, add water and simmer until sauce reduced to half.
After preparing the sauce, pan fry the breaded chicken, cook until it turns to bright orange in color. Top the massala sauce. Vegetables such as broccoli, asparagus and cauliflower, can be added as preferred. Serve it steaming hot.