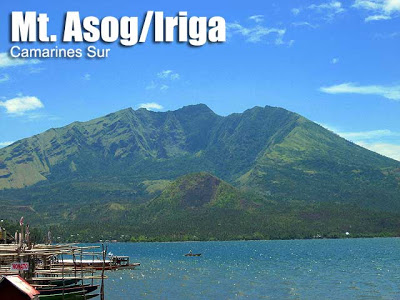 MT. ASOG (MT. IRIGA)
Camarines Sur
Major jump-offs: Sitio Ilian, Brgy. San Nicolas, Iriga City; Brgy. Cabatuan, Buhi
Elevation: 1,140 MASL
Days required / Hours to summit: 1-2 days / 4 hours
Specs: Minor Climb, Difficulty 4/9, Trail Class 1-4
BACKGROUND
Mt. Asog, also known as Mt. Iriga, is an old volcano in the Bicol Region. Although it is outshined by the world-famous Mt. Mayon to the south and the higher, grander Mt. Isarog to the north, it possesses its own charms. For one, the views at the peaks (yes, plural) are breathtaking, offering a view of Mt. Mayon, Mt. Malinao, at Mt. Masaraga on the south; and even a distant Catanduanes southeast. Knife-edged slopes characterize the contour of this mountain, especially in the Buhi side.
Mt. Asog has a colorful history. It was named after a ancient datu (chieftain) of the Agtas named Asog, who reigned over the region. Sometimes it is also called Mt. Sumagang, which means "Mountain of the Rising Sun". In some lowland areas, the sun seemingly rises from the mountain itself. Being on the eastern side of Luzon, the sun rises majestically from the Pacific Ocean when viewed from its summit.
A climb to Mt. Asog is usually combined with a Mt. Isarog expedition; this maximizes a mountaineering trip to the Bicol region. From Naga, you can take a bus to Iriga City. Transport options vary depending on the trail you will take. The Ilian trail requires just a tricycle/jeep ride to the jump-off whereas you may proceed to the town of Buhi for the alternative trail via Brgy. Cabatuan. Both trails are suitable although the latter is a more extensive exploration, using the Esplana campsite as a 'base', from which you can explore the Dead Crater on the first day and the summit on the next. On your way down, you can use Brgy. Santiago which is closer to Iriga City; or Brgy. San Roque in Buhi.
The large width of the mountain gave rise to a number of trail variants; however, PinoyMountaineer has yet to hear of a traverse from the two popular jump-offs. An excellent sidetrip to Mt. Asog, especially if you're passing by the Buhi side is nearby Itbog Falls, in Brgy. Sta Cruz. This falls on the distal side of Lake Buhi, which requires minimal (30 minute) trekking, is set on a verdant location, and is a 'twin falls' much like Bunga Falls in Nagcarlan, Laguna.
The famous Lake Buhi is of course also a must-visit. You can take a boat ride around this lake and visit an island within, La Roca Encantada. Meanwhile, in the Iriga, there is Sabang Falls. Also, there is a tribal Aeta village in Ilian Hill i.e. within the jump-off barangay.
ITINERARIES
VIA THE ILIAN TRAIL
DAY 1
0600 Assembly at Central Bus Terminal; leave for Iriga City (P40)
0730 ETA jump-off point (Sitio Ilian, Brgy. San Nicolas)
0800 Start trek to Campsite (3-4hrs trek)
1100 ETA Campsite
1200 Reach summit (one of the peaks). 1140 MASL. Lunch.
1230 Start descent
1500 Back at jump-off point
1530 At Iriga City; take return bus to Naga / Manila
VIA the ESPLANA TRAIL
DAY 1
0600 Assembly at Central Bus Terminal; leave for Iriga City (P40)
0800 ETA Iriga City; depart for Buhi by jeep
0845 ETA Municipality of Buhi; register. Proceed to Brgy. Cabatuan
0900 Start trek. from Buhi to Esplana Base Camp
1100 ETA Esplana Base Camp
1130 Lunch/Rest/tent pitching
1300 Start of trek from basecamp to Dead Crater
1500 ETA at Dead Crater
1530 Leave Crater to ascend to Esplana Basecamp
1700 Back at the Esplana basecamp
1800 Dinner/socials
DAY 2
0530 Wake up Call / Breakfast
0700 Start Assault to Mt. Asog summit
1000 ETA Summit
1030 Start descent to Esplana Base camp
1200 Lunch at Esplana Base Camp
1300 Head for Brgy. Santiago
1400 Arrival and rest at Brgy Santiago
1630 Leave Brgy Santiago to Iriga City
1700 Return to Naga / Manila or continue to side trips.
SPECIAL CONCERNS
Most parts of Mt. Asog are exposed to the sun, and in the Bicol Region, what's hot is really hot (even in food). Prepare accordingly. Guides may be arranged in the jump-offs. Total trek time on either side is < style="font-weight: bold;">TRIVIA
Mt. Asog is classified as a stratovolcano. The nearby Lake Buhi was formed from Asog's last volcanic eruption on January 4, 1641. This same eruption is responsible for the abrupt, knife-edged landforms that characterize the mountain slopes.
Lake Buhi is famous for its tiny inhabitants, the sinarapan (Mistichtys luzonensis). Contrary to common belief, however, sinarapan is not the smallest fish known. Another goby, Pandaka pygmaea, also found only in the Philippines, is the smallest known vertebrate and, like its cousins in Lake Buhi, are an endangered species.
Thanks to Sir Erick Bautista of OLAY Mountaineers for the picture of Mt. Asog with Lake Buhi.