Gear review: Merrell Waterpro Ultrasport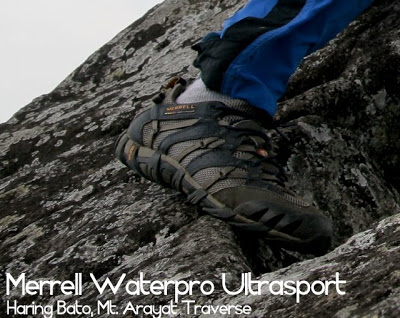 I am about to retire my Merrell Waterpro Ultrasport after two years and more than thirty mountains, but I have a lot of nice things to say about it. And it's not just the sentimental value one attaches to a shoe who has joined me in such great mountains like Mt. Napulauan, Mt. Madjaas, and so many dayhikes and minor adventures.
The versatility is what I like best. So many shoes offer waterproof coverage but in many cases, this is actually meaningless in a tropical conditions. Your shoe may be waterproof but if you're crossing a stream, water can easily seep from above. The Waterpro Ultrasport totally deviates from this approach; in fact it is a water shoe and it accepts water as a fact. Its defense against water, instead of waterproof leather, is covering is a mesh so that when water comes in, it comes out. It also has a quick drying material, negating the woes of a wet shoe. The result is a lightweight, well-ventilated shoe that you can bring anywhere – at 60% the cost of the heavy-duty ones.
At first I had doubts whether the Ultrasport can handle such heavy duty mountains like Napulauan and Madja-as, but this shoe is still a Merrell shoe with Vibram. Faced with a choice between a bulky Hi-Tec shoe and this one, for the Visayan Voyage, I chose the Ultrasport. And hey — I can bring it in the city and the beach too without looking 'wild'. Of course this shoe has limitations; I still brought a more heavy-duty Merrell when I scaled 9/9ers G2 and Mantalingajan. But for many if not most adventures, the Ultrasport is an excellent and affordable choice.