Gear Review: Sandugo Helikon Sandals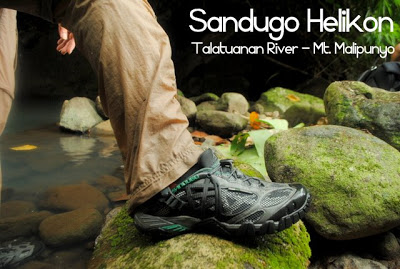 At first I was reluctant to test the Sandugo Helikon Sandals in an intense dayhike – a Malipunyo Range River Trekking Traverse Dayhike with Sky Biscocho no less – but in the end, I'm glad I tried it: it worked very well! For its unbeatable price of P1,900, it has gotta be the most affordable good quality trekking footwear in the market at the moment.
The sandals is actually a hybrid between a shoe and a sandals, and is looks very similar to the Merrell Watersport series – which I also love to use. But the Helikon has some innovations: there's no need to tie your shoelaces with its clip, which even has a mini-cushion! It also has holes at the footpads, draining the water within, eliminating the sludgy, sloshy feeling of some water stuck in your socks.
Because of it's water drainage system, it also dries easily. And since it's also a sandals, after a climb, you can just take your socks off and wear it al fresco.
Helikon also performed well in the intense four-hour river crossing; although I have to say that Vibram pads have a marginal advantage when it comes to rocks in terms of grip. I like the architecture of the Helikon in terms of having none of the ribbon-like sidestraps of its Merrell counterparts, but in terms of toe support, I would appreciate a little more buffer. Lauro Gonzales, my companion in the climb, suggested a more streamlined casing for the shoelace clip, because if too loose it may snag at a root or a rock.
These comparisons, however, are not significant when you are just going for a dayhike or even an overnight climb, especially when you're just starting to climb. Of course, in the long run I would also want to see for myself how well the mesh can withstand pressure from roots and other usually-encountered 'friends on the ground'. But: so far, so good.
I highly recommend the Sandugo Helikon as a very affordable starting shoe, and for its price, it's a very good addition to any hiker's footwear collection.