ONGOING: Follow PinoyMountaineer in Nepal and India as he journeys in the Himalayas!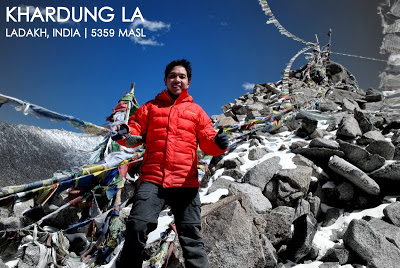 UPDATE (via Facebook)
: Thank you, Lord! Successful ascent of Stok Kangri, 6153 MASL, Indian Himalayas, on Sept. 27, 11:48 AM (UTC +5:30) on the 9th day of our expedition. Congrats also to Farah Pasamonte and Jacob Sarreal for making it!
At the moment, I am traveling in Nepal and India in my first trip to the Himalayas. I am joined by my hiking companions Jacob Sarreal of Trail Adventours and my Kilimanjaro teammate Farah Pasamonte. The expedition started on September 10, and as of now (September 22),we are still in the town of Leh at the Indian Himalayas, 3500 MASL.
Follow the journey on Twitter at @pinoymtnr, and view photos on the PinoyMountaineer Facebook page. Also, check out the following blog entries:
Hiking matters #288: Mt. Shivapuri, Kathmandu, Nepal
Hiking matters #289: Outdoor shopping in Kathmandu
Hiking matters #290: Nagarkot viewpoint, Kathmandu
Hiking matters #291: Aerial view of the Himalayas
Hiking matters #292: Arriving at Leh, at the Indian Himalayas
Hiking matters #293: Shanti Stupa, Leh
Hiking matters #294: Khardung La, Ladakh, India
Hiking matters #295: Pangong Lake, India-Tibet Border