Trek poles: Life extenders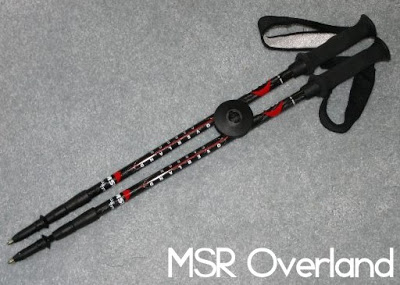 Gear review by Cecil Morella (AMCI)
Equipment Adviser, PinoyMountaineer.com
PinoyMountaineer.com is honored to have Sir Cecil Morella of AMCI as its equipment adviser starting May 2009, providing insights on camping gear and equipment in the website's "Climb Gear" section.
If I were asked to name my single most important life-saving gear on a typical climb or day out in the wild, I would have to say trek pole.
Most backpackers don't even carry one. But to me, it would be the difference between descending a scree or a rain-slicked drop on two legs and sliding down on my backside or worse. It's there so I don't have to grab onto the trunk of a thorny palm tree. Trek poles allow you to crawl on a boulder field while remaining upright, and help you stay on your feet during tricky river crossings, when they also serve as probes as you step into the hidden rocks and other obstacles beneath the water. At a 30-hour, 100-kilometre river-strewn trail running race near Clark in mid-May, only a third of the field, some of them equipped with trek poles naturally, reached the finish line.
There are three or four pole makes that I know that retail at local outdoor shops — Petzl, Kovea, MSR and Coleman. I would like to focus on the first three as I have trekked with them or done multi-day climbs where they were used by my teammates.
I first found out I have a high centre of gravity while falling repeatedly by the side of the trail on the way to the Bulalakao lake at Mount Tabayoc during my first ever climb. For the rest of the weekend our team leader graciously lent me his Austria-made MSR stick. For my next climb I bought an aluminium Petzl Galaxy, a French brand, that has been my trek buddy ever since. It's about double the price of a Kovea — the South Koreans use an alloy called duraluminium — but less than half that of a carbon-fibre MSR Overland. Some friends have mastered the use of a pair, but I make do with one that alternates on either hand.
All three are so-called telescopic poles, using three cylinders with the thinnest one slipping into the next bigger tube, all held in place by a twist-lock mechanism that adjusts to the height and preference of the user. Your elbow is usually level with the top of the grip on flat trails or gradual ascents, and the pole extends more during descents. They double as pole supports for tarp tents, camp kitchens and emergency shelters. The 308-gram Galaxy, the longest of the three, telescopes to a full 1.45 metres and collapses into 80 centimetres (31.5 inches) so it fits inside most packs when not in use. It weighs about 70 grams more — about one headlamp — than an Overland.The locks are mostly hard rubber and virtually maintenance-free. Be sure to clean and dry them after each climb. Most Kovea models have stainless-steel springs inside the tube segments that act as shock absorbers.
The stout end of the trek pole is wrapped in an angled rubber/foam handgrip with straps (the handles of some Kovea models are shaped like a walking cane), while the thin end that touches the ground has a super-hard carbide tip underneath a mushroom-shaped rubber basket that stops the stick burrowing deeper into the dirt. Some Colemans use a thick rubber stump instead. Be careful to keep your distance when climbing with a friend using a conventional trek pole. I unintentionally poked my tentmate in the eye during a 2006 climb up Mount Ugu.
Beyond the technical detail, a trek pole to me makes the grade if it does not bend or break when you accidentally collapse onto it with all your body weight plus that of your full backpack. This usually happens when you are forced to use the stick to arrest your fall from a ledge or a steep trail. Mine has survived several including a harrowing one in the dark near Mount Apo's Lake Venado. I also recall using it as an anchor as I grabbed a colleague who had lost her footing and was being carried downstream while we crossed the rapids along the Daraitan River near Infanta two years ago.
The Kovea and Coleman fail this test. They are perfectly fine walking companions on level ground, but I have seen at least a dozen of my teammates' trek poles snap during training climbs over the past three years — a friend actually broke two poles of the same make on successive climbs, such was her brand loyalty.
I am a big man, more than six feet tall and nearly 180 pounds, and luckily, I have not had an opportunity to push a borrowed MSR trek pole to its breaking point. Carbon-fibre supposedly has a lot more flex, and thus is tougher than aluminium, but I would hate having to spend that much on a new replacement pole.