More BMCs this season: UPM and EMS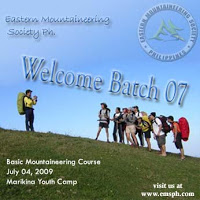 The UP Mountaineers will be having their Basic Mountaineering Course (BMC) soon, and I was informed that the Applicants' Orientation will on July 3 (Friday), 7pm in UP Diliman. Exact venue to be announced. Visit their upmountaineers.multiply.com for more details.
On the next day, July 4, the Eastern Mountaineering Society will be holding a one-day BMC at Marikina Youth Camp. Visit www.emsph.com for more details.
To all mountaineering clubs, feel free to email your BMC schedules at info@pinoymountaineer.com and I will be glad to post them in PinoyMountaineer as long as they are open to the public.