Final update: Pico de Loro Climb for the Environment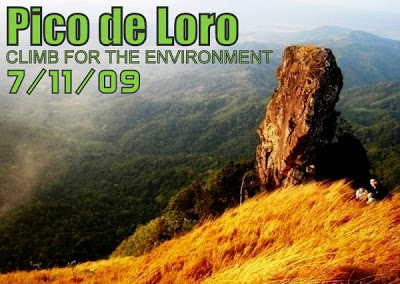 Thank you to everyone who submitted their registration forms for the Pico de Loro Climb for the Environment on July 11, 2009. The Climb Secretariat, Daniel Dellosa, has already sent emails to acknowledge your reservation and for instructions on how to confirm your slots in the climb.
For those who did not receive a confirmation email, or for those who still want to participate in this fundraiser-climb, please accomplish the registration form and submit to info@pinoymountaineer.com. The climb fee (for everything including transportation and the fundraiser contribution) is P1000. Submissions will be entertained only until Friday this week.
Also, I would like to announce that there will be another 'Climb for the Environment' that will be held in September. This time, the venue would be Mt. Talamitam.
Thank you for your support. I look forward to climbing with the participants of the Climb for the Environmetn on July 11, 2009.