Mountain News: Romi Garduce back in the Philippines / summit photo in Carstensz Pyramid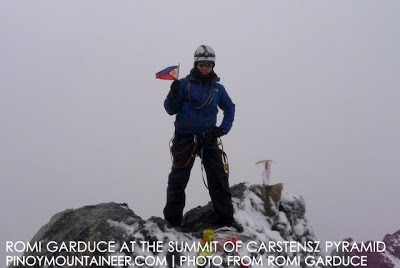 PinoyMountaineer.com welcomes Romi Garduce back from his successful climb up Carstensz Pyramid (Puncak Jaya) in Irian Jaya, Indonesia – the highest mountain in Oceania and one of the 'Seven Summits of the World'!
Sir Romi reached the summit last July 22. Romi Garduce shared with us his summit photo (see above) and gave some initial remarks about the climb, like "Mahirap ang climb", describing it as a "true test of tatag na loob".
Keep posted for more details about Sir Romi's future climbs, including his final Seven Summits climb – Vinson Massif in Antarctica this December!