Mt. Naguiling (1,007+) in Lobo, Batangas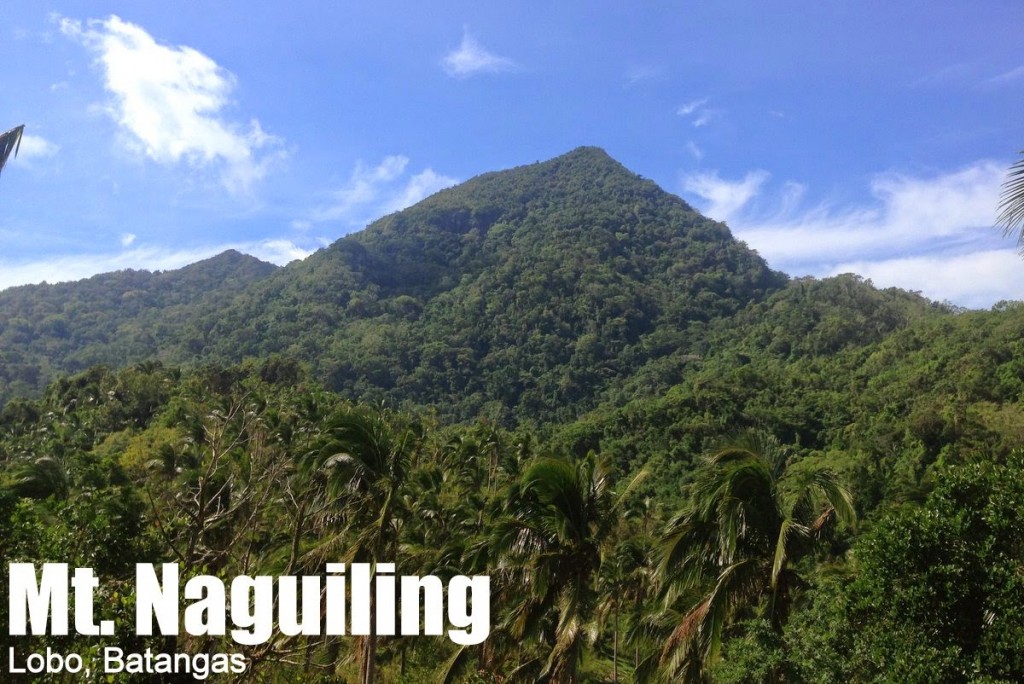 MT. NAGUILING
Lobo, Batangas
Major jumpoff: Brgy. Jaybanga, Lobo
Alternate jumoff: Brgy. Curba (if via Bangkalan)
LLA: 13°39′50.7′′N 121°18′0.5′′ E 1007 MASL (+850)
Days required / Hours to summit: 1-2 days / 4-7 hours
Specs: Major climb, Difficulty 5/9, Trail class 1-3
Features: Views of Southern Batangas, woodlands, agricultural heartland
Article created: August 17, 2014
Last updated: August 17, 2014
BACKGROUND
The highest peak in the Lobo-San Juan Mountain Range – and at 1007 MASL, a candidate for Batangas' tallest mountain,
Mt. Naguiling
is an impressive peak in Lobo in Batangas' southern corridor. that sits between the famous
Mt. Daguldol
in San Juan as well as the emerging destinations in Lobo such as
Bangkalan and Nagpatong Peak
. Once known only as "Mt. Lobo", the range is turning out to be more than just a mountain, but a series of contiguous peaks, offering various possibilities.
The regular hike up Mt. Naguiling begins in Brgy. Jaybanga, but the adventure precedes the hike itself. As in the other peaks of Lobo such as Bangkalan or Nagpatong Peak, private vehicles must pass through the river in Curba in order to reach the trailhead. This can be quite a ride, having the potential to delay your trip, and must be taken into consideration especially when doing the hike during the rainy season.
As the trail gets more established, the hiking time itself gets shorter, and as of August 2014, the mountain is very doable as a dayhike. The hike commences from Brgy. Jaybanga, initially passing through rice fields and, as I described in Hiking matters, "typical agricultural heartland, with coconuts, bananas, other fruit trees, root crops, and and lowland shrubs and trees." A forest then ensues, sharing similar qualities with the mountains in Bataan such as Pantingan and Natib. "Though generally straightforward – you won't use your hands too much – the trail occasionally passes through slanted portions of the slopes, reminiscent of the fragile paths of Pantingan-Tarak. There are no water sources past the communities, but there are a number of rest stops in the forest."
At the summit, the views – though at times requiring a climb up one of the trees – are scenic, feasting the coastline of Southern Batangas, the Verde Island passage, and the northern coast of Mindoro, from which rises a majestic Halcon on a clear day. On the opposite side, Southern Tagalog mountains can be identified, including Maculot, Malipunyo, and Makiling.
On the way down – or up if camping overnight – the Balatikan campsite (13°40′18.1′′N 121°11′39.4′′ E, 548m) has scenic views of the Southern Tagalog. A waterfalls further down – and closer to the exit point – on the other hand makes for a refreshing dip after the hike. Either as a dayhike or an overnight hike that is more amenable to public transport, Mt. Naguiling is a worthy hike in Southern Batangas.
ITINERARIES
DAYHIKE
(Given the difficulty of public transport and the impossibility of riding out from Lobo past 1700H, this itinerary is designed on the assumption of having private transport from Manila, an exception to my policy of writing itineraries based on public transport. Note that in considering the choice of vehicle, have the river in Curba in mind)
0200 ETD private vehicle from Manila
0530 ETA Lobo, Batangas. Register at police station.
0630 Arrival at trailhead. Register at barangay captain's house
0700 Start trekking
1200 ETA summit (1007 MASL). Lunch
1300 Start descent
1600 ETA Balatikan campsite
1730 Mini-falls
1800 Back at trailhead. Tidy up
1830 Take vehicle back to Manila
2300 ETA Manila
PRACTICALITIES: MT. NAGUILING
Transportation

Public, via Rosario

(1) Bus, Cubao or Buendia to Lipa City [140 pesos; 2 hours]

(2) Jeep, Lipa to San Juan – get off at Rosario market [25 pesos; 35 minutes]

(3) Jeep, Rosario to Brgy. Jaybanga [80 pesos; >1 hour]

Note: Consider jeepney rental from Rosario or van rental from Manila especially if attempting a dayhike to expedite the trip as public transport is very limited and irregular. Always ask what time the last trip will be for your return (usu. 1700H).

Private, via Lobo Head out to Batangas City via SLEX-Star Tollway then take the road to Lobo, Batangas. From the poblacion, proceed to Brgy. Jaybanga through the rough road and the river crossing. Ask locals for specific directions if in doubt. Approximately 4-4.5 hours travel time.

Note: Private vehicles must be heavy duty enough to brave the river crossing and the rough roads.

Registration

(1) Logbook at Lobo police station (No fee)
(1) Logbook at barangay captain's house (P20/hiker)

Available: Magnaye brothers (Suggested rate is 500 pesos/guide/day)

+ 639488572737- Magnaye brothers
+ 639293159513 / +639177575186 – Chairman Romeo Delen of Brgy. Jaybanga
+ 639295536232 – Andoy (Jeepney driver)

Campsites and waypoints

Balatikan campsite (13°40′18.1′′N 121°11′39.4′′ E, 548m)
Summit (13°39′50.7′′N 121°18′0.5′′ E 1007m)

Water sources

(1) At the last community, 1 hour up
(2) Off-trail near Balatikan campsite

Cellphone signal

Absent at the jumpoff

Present from 300m upwards, including the summit and Balatikan campsite

River crossings

Nothing major

Roped segments

None

None

Minimal

Rattan

Moderate

Hiking notes

This is a very new hiking destination so many changes may still happen in the itinerary and in the process of going up the mountain.

Sidetrips

Lobo beach; Mt. Tibig, and other peaks in the range.

Alternate trails

Yes (4-5.5 hours to summit; 3-4 hours down)
MT. NAGUILING PICTURES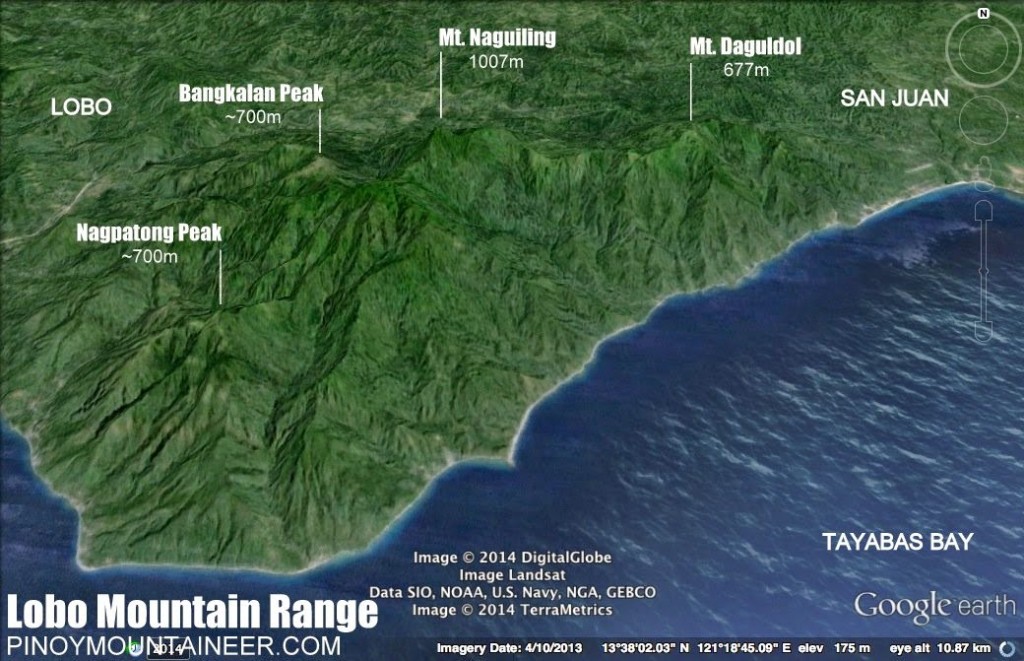 Illustrated map showing Mt. Naguiling with respect to the other
mountains of the Lobo-San Juan Mountain Range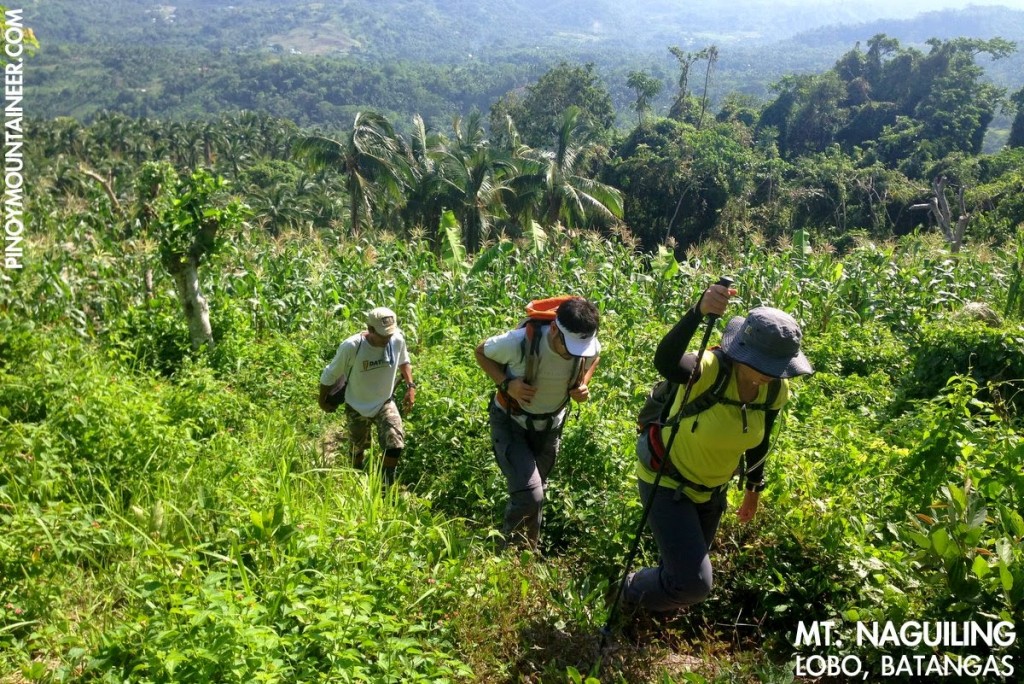 Going up the trail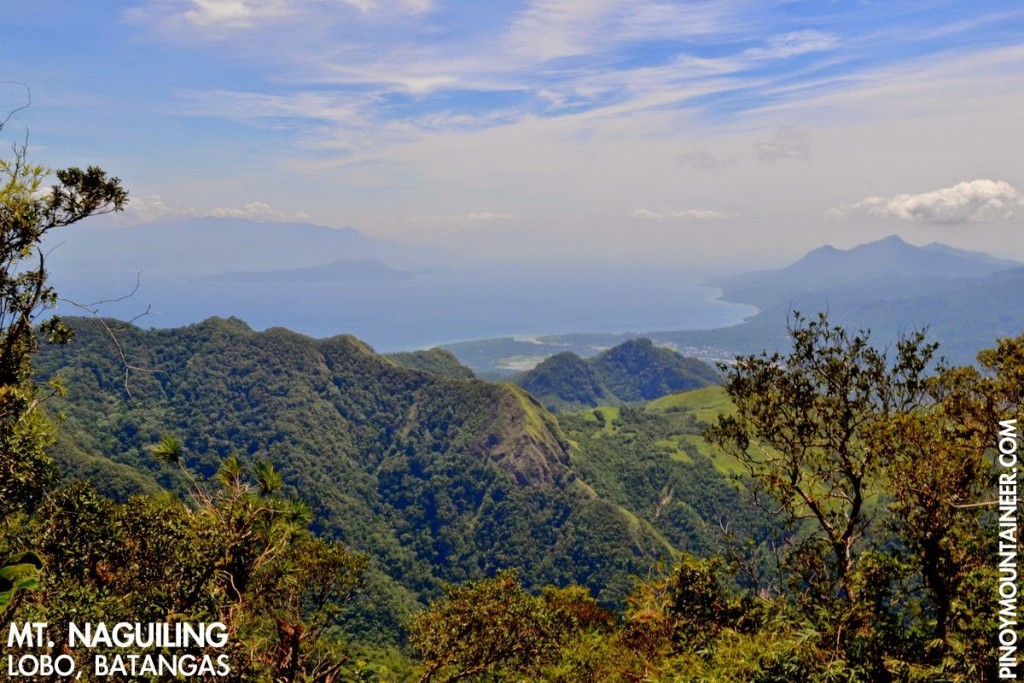 The view at the summit, featuring Verde Island
and the passage that bears its name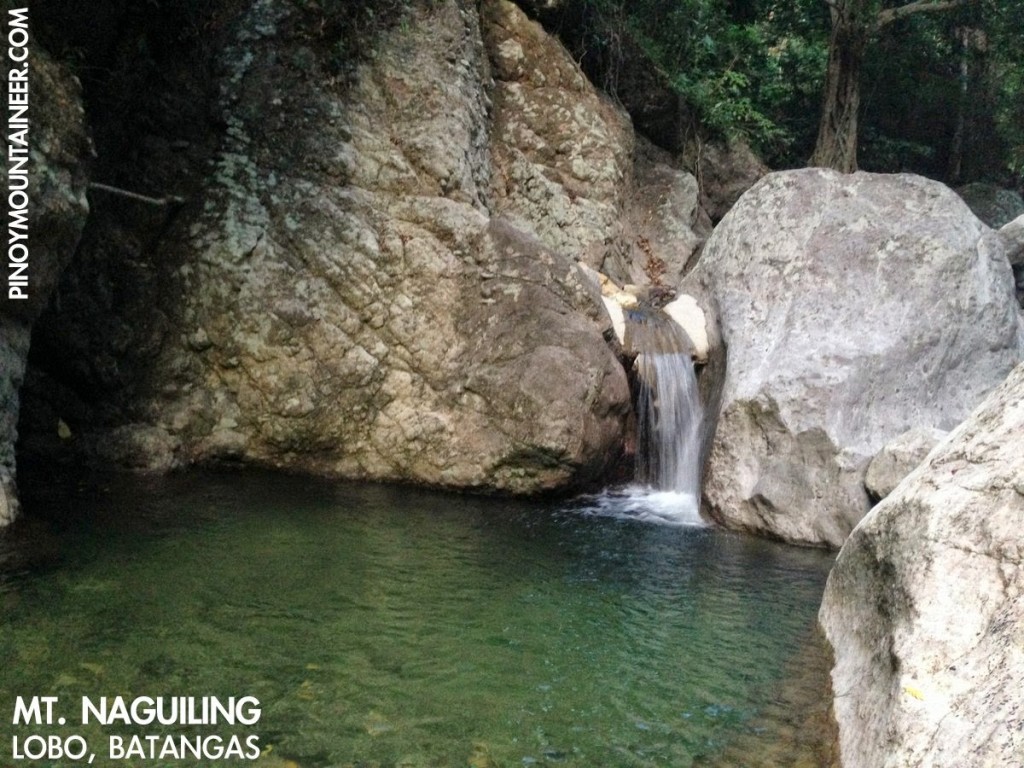 A mini-falls towards the end of the hike makes for a rewarding dip
TRIVIA
The word "naguiling" (reclining / grinding) personifies the mountain as one which looks the same from different vantage points.
An account of the Pinoy Mountaineer hike up Mt. Naguiling is narrated in Hiking matters #416.