Therm-A-Lite: sleeping pad for a good night's sleep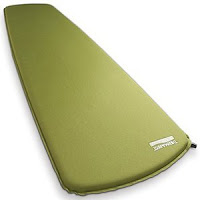 Gear review by Cecil Morella (AMCI)
Equipment Adviser, PinoyMountaineer.com
What would you trade for a good night's sleep? The question becomes even more crucial when going outdoors where you would need more than the thin footprint, bare tent floor and your clothes shielding your body from the wind-lashed cold ground of a mountaintop. The main trade-offs are weight, bulk/ space, and cost, since whatever you choose will have to be carried on your back.
I am one of the blessed few who can fall asleep once my back hits the ground, as long as it is reasonably dry, and over the past three years have tried and experimented with a fair number of options – plain tarpaulin, an aluminised Coleman polyethylene emergency blanket that weighs less than 43 grams but annoyingly rustles every time you move, a raincoat, a conventional mat, a self-inflating foam pad, a raw strip of foam padding, a heavy yoga mat, a bulky sleeping bag, a rudimentary garbage bag, and even a flattened out milk carton. Basically, everything worked, but most others are not so lucky.
Backpackers with bad backs or sleep problems — the type who would carry their favourite pillow at home in their pack — and generally the comfort-driven campers usually go for the high-end, and in the Philippines, the most expensive ultralight sleeping pad currently available on outdoor shops is the three-season Therm-a-Rest Prolite 3. Weighing 0.567 kilos, or about a half litre of water for the regular size, they are fitted with a grippy rubberised bottom to prevent slippage on the typical sloping grounds available at campsites. Unpack it once you set up your tent and just leave it inside with the screw-top air valve open and it will self-inflate to about an inch thick. Blow into the valve for more air as desired and remember to close the valve before you lie down and the irritating tree roots, rocks and twigs that lurk beneath your tent floor would be a thing of the past. Some users claim the material reflects back body heat, making sleeping bags obsolete, but I cannot vouch for that myself.
The pads are 20 inches wide, both for the male and female editions but taper slightly at the feet. The men's versions are six inches longer at 72 inches, but the shorter women's versions supposedly pack extra insulation on the torso section and unless you are a considerably more than six feet tall male, the women's version would work with ordinary-sized Filipino males just as well. A gram-shaving option would be to opt for the three-fourth length pads, if you can find one at local shops.
Though a bit heavier than plain form pads, the ProLite rolls up to the size of a Nalgene litre bottle and thus frees up space inside your pack. The 2009 model, which I believe is not yet available locally, tapers more drastically at the feet and shaves 113 grams off the older versions, while the rectangular NeoAir models weigh just under 400 grams. For the price of any of the three models though, you can buy a decent two-person backpacking tent. So is the trade-off worth it? It's all up to you actually.