Gear review: Columbia sportswear in Amuyao field test
by Gideon Lasco
Before I climb, one of the important questions I ask myself is 'What to wear'. My bag and tent would always be the same, but clothing would depend on the season, the weather coniditions, the terrain, and if you have a choice, of course, style. "Will I look good with the sea of clouds?" Technically speaking, the criteria should include how well the clothing protects from the heat, from the cold, from the wind, from the thorns and similar irritants, and from water.

Confronted with a traverse of Mt. Amuyao, one of the most difficult climbs in Luzon, I tried out hiking gear from Columbia. It turns out that I would have an all-Columbia repertoire, since I was using a Columbia tent also, my personal Frosty Ridge II 2-person tent. This tent, a pasalubong from my sister Christine, worked very well in Pulag on a cold January; I've also tried and tested it in rainy nights in Mt. Kanlaon and Mt. Mantalingajan. The reason behind is ability to withstand rain is the 'GoBe Dry Ultimate Rain Protection System', which combines patent pending fabric, component, and seam technology that culminates in exceptional protection from the elements, in particular rain, in any and all terrain. For a tropical country, this feature is very important.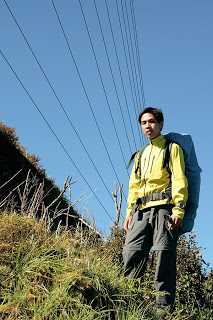 First up in my new set of hike clothes was the Titanium Series Hightail FullZip outerwear, which I decided to use as my trek wear. Its coverage of the elements is excellent: wind resistant, water resistant (when you trickle some drops of water they'll just slide down the sleeves, as if the jacket's a 'gabi' leaf!), and even sun resistant! Yep, it has UPF 50 which blocks 97.5% of UV rays. The guys at Columbia even said I don't have to wear sunblock anymore. With a strechable fabric, it had a perfect, very comfortable fit. In mountains where weather conditions are very volatile, breathability is also a test which i think this cool jacket has passed . I think I found the perfect trek wear for the Cordillera mountains with this one!
Next comes my favorite of them all, the Omni-Dry SilverRidge Converitble pants. To begin with, it is very very lightweight. An easily-adjustible belt goes with it, making it very comfortable. And then it also has UPF 30 sun protection. As a result, I only had to wear sunblock on my nape and face. In terms of versatility, you'll be surprised: you can not only convert it into a shorts; you can also pack it on its own backpocket! I've never tried out a convertible until now and I found the zipping/unzipping very easy to pull off. Its ability to dry off almost instantly is another very important. Even when I had it washed after the climb, it was already dry in just half an hour! Amazing! I've always climbed with two hike pants + 1 extra, but now I think I can make do with just one!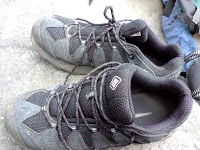 Finally, I also used Columbia footwear for the first time. In Guiting-Guiting two weeks ago, some of my companions used Columbia shoes during the dreaded Knife Edge trail, and it worked that's why I thought of getting one. It was very comfortable and durable throughout the Amuyao traverse; my feet dipped on the rice paddies at Cambulo a few times but it dried out easily. After the lengthy and arduous descent in which I'm sure the shoe took some punishment, I was expecting to see some cracks or dislodged threads and I was pleasantly surprised to see none. And its very light too!
I think I'll have more of Columbia in my next climbs!
Columbia Branches in the Philippines: Gateway Mall, SM Mall of Asia, SM Megamall, The Block @ SM North, The Podium, Festival Mall, and Limketkai Mall Cagayan de Oro.