Gear Review: Merrell Waterpro Maipo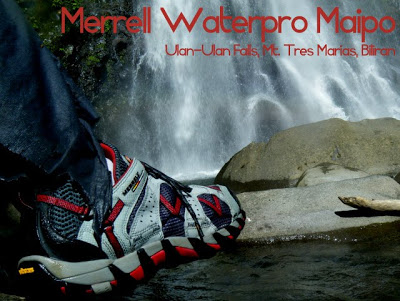 For my latest climb up Mt. Tres Marias in Biliran Island in the Leyte-Samar area, I got to try the Merrell Waterpro Maipo – the latest version of the Waterpro. Having already tested the Waterpro line with my loyal Ultrasport pair that has carried me to over 30 mountains, I easily felt familiar with the feel of my new shoe.
The drawback for using water shoes in the mountains are weak flanks that leave the lateral sides of your feet unprotected especially in uneven or rocky surfaces. An improvement of the Maipo is what I perceive to be a stronger mesh on the sides which addresses this concern quite well.
The lightweightness of the shoe allows one to negotiate river trails with more dextrous feet – an ability I found useful as we leapt from rock to rock across some of the rivers. A bulkier Merrell or a boot might reduce the finer motions that are needed for such movements. Also, its size affords enough space for the shoe compartment of my backpack to contain an extra pair of sandals.
Water shoes do away with the concept of waterproofing – in fact, it tries to work with water, admitting it freely but at the same time letting go just as easily – making it easier to dry. At the same time, the weight of the shoes doesn't change much even when it's soaked. An upgrade of the Maipo is an antimicrobial property that prevents molds and other organisms to grow if it's moist – thus making a freely-wet shoe an even more plausible option for many mountains.
In Mt. Tres Marias, we crossed a lot of streams and passed by numerous waterfalls. In river crossings there are two options: either just wade in the waters or try leaping from rock to rock, keeping yourself dry. The Maipo supported both options: if you decide go get wet then so be it, you can be sure that it's the same old shoe when you emerge from the waters. And if you decide to try the more adventurous option of "leapfrogging", the Vibram sole and good grip can support this as well. Indeed I felt great being able to survive my jumps unscathed.
So having survived a baptism of water and earth, having joined me up a new mountain, I think I have found a new partner in the trails. Retaining the Waterpro line's and adding on new features of its own (reinforced mesh, new design, and antimicrobial powers), the Merrell Waterpro Maipo is my light hiking shoes of choice and I hope that my future experiences will continue to affirm it.