Rat-eating pitcher plant discovered in Victoria Peak – and this mountain is about to be featured in PinoyMountaineer!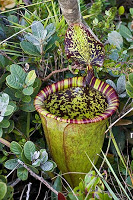 It's such a coincidence. Just as we are preparing to feature yet another untamed, primeval, and unexplored mountain in Palawan, it has come into international attention when it was announced that a giant rat-eating pitcher plant was discovered in the said mountain, no other than Mt. Victoria in Narra, Palawan. At over 2000 MASL, it is the second-highest mountain in Palawan, next only to Mt. Mantalingajan and much higher than Mt. Thumbpeak or Cleopatra's Needle. It is at least a Difficulty 8/9 mountain.
Truly, the wildlife of Palawan boosts its reputation to being the "last frontier" in Philippine mountaineering and one of the most exciting hiking destinations in Southeast Asia. Several other exotic species have been identified in Mt. Victoria and for sure, a lot more will follow. When I climbed Mt. Mantalingajan, I was only three months too late in being the first to document some exotic flora near the summit (Conservation International's team published about them and by the time I climbed M'jan, there wasn't even a scientific name yet for some of the flora!)
Abangan! The mountain entry for Mt. Victoria will be posted very soon in PinoyMountaineer in cooperation with our correspondent in Narra, Palawan, Jehson Cervancia.