Invitation to Ilocos #5: The first expedition to Mt. Sicapoo – the highest peak in Ilocos!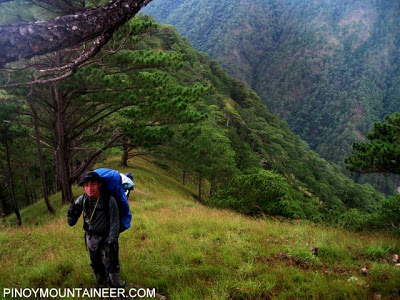 PinoyMountaineer presents "Invitation to Ilocos", featuring the newly-documented mountaineering destinations of Ilocandia. This column is by Agnes Fidelis Gloria-Pinzon, PinoyMountaineer correspondent for Northern Luzon and the One Degree Mountaineering Group.
The team's June expedition to Mt. Sicapoo, Ilocos Norte's highest peak, ended in mild disappointment. While we were thrilled over having explored the never trekked trails of Solsona's mountain ranges, discovered the truly breathtaking summit views of Mt. Simagaysay and Mt. Timarid and crossed the angry waters of Gasgas River, time constraints barred us from climbing the towering height of the "majestic Mt. Sicapoo". The group vowed to return and seek the mountain's assent to finally scale its slopes. It was just a matter of when and how long. We knew we had to let the peak of the rainy season pass and the 3 day original itinerary also proved short so we would need to prepare for a 4 day climb. An additional day meant another B-L-D cycle, and thus more food, more fuel, more clothes – in short a heavier pack. We also planned for a Gasgas river entry and in anticipation of the rigors of the crossing, we needed to bring 30 meters of rope.
Finding a 4 day window from work and family demands proved more difficult than physically preparing for a grueling 7/9 climb! When the date was finally set – September 11 to 14 – only four members signed up (3 from the original party).
Doc Gideon's account ended in Saulay junction, the peak after Mt. Timarid where we turned left to descend to Saulay creek that led towards Gasgas River and home. We needed to reconnoiter the leg of the climb beyond the junction all the way to Mt. Sicapoo. Since we planned for a river entry to cut trekking time, so much of the climb depended on weather. After we registered with the Solsona PNP and met our guides, Tata Emilio and Mang Cristobal, we happily learned that the river was shallow despite the previous night's rain. This meant that we could push through with our river entry plan. From lessons gleaned from the first attempt, we decided to bring rope this time and brush up on some basic rope skills for the more perilous crossings of Gasgas river. We thus started the trek with very high hopes, buoyed by the clear blue skies. Since we were still on familiar ground, we did excellent time, reaching the Saulay river camp only after 5 hours of river crossing and lunch by the riverside. The rains started however just as we were negotiating the last two crossings and the water rose faster than expected. Just before reaching camp, I slipped and hit my face square on a boulder which was fortunately underneath the surface.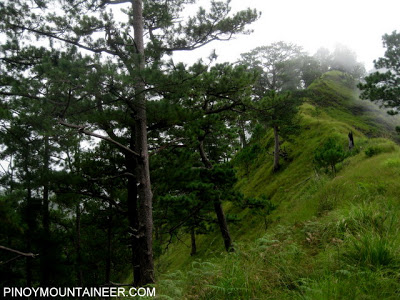 We decided to camp by the river once more and just make the push up to the junction by early morning since the rains were upon us. We endured a night of heavy rain and the expected mosquitoes but we awoke to a clearer day. We left the Saulay river camp at 6:30 but not before our guides caught wild eel with finger-thick earthworms we caught in camp! We reached the junction three hours later and from that point, everything was new territory once more. We traversed Mt. Saulay, which we learned was 1240 masl, onto a ridge called "narabaw nga danum" (shallow water) where we had lunch. From that point, we can look up at the steep slopes of Mt. Bubuos (1251 masl) and behind it, Mt. BalBalite (1292 masl) which were a challenge to climb because of its sharp inclines. But the view here is absolutely beautiful – the whole magnificent verdant range can be seen! After four hours, we finally reach Mt. Pakpako at 1680 masl, whose summit is a sprawling pine forest plateau. We made our way down and to the side to have more cover from the fierce winds in the summit. This was our camp for the night and the logical jump off for a Mt. Sicapoo summit assault. The guides refused to push on to Mt. Sicapoo because of the thick fog and they further inform us that the trail ended here as only a handful of hunters have gone beyond this point. We would have to make our way through thick undergrowth and vegetation, depending on our guides for direction and the fog could get us lost. We ended day 2 in very high spirits, we were finally near our illustrious highest peak! The rains came heavy and strong that night though, with wind that foretold a brewing storm.
We awoke before dawn and with our fears come true – the rains from the previous night had not stopped and worse, the wind has picked up serious strength. Our guides were tentative about making the push so we decided to wait out a few more hours and see what daylight would bring. Sunrise was hazy, almost completely covered by the thick, black clouds that lined the mountaintops. But the sun was there! And it was a good enough sign to do what we've come so far to accomplish. So we pushed, just as it got light and though we were not loaded, the climb was arduous and grueling as we made our way up and over another peak, Mt. Matalidong (1685 masl). Covered in algae and moss the forest was thick and almost impenetrable. Our guides had a tough time making out the way and hacking through the tangled bush in freezing winds and rain. After three hours in the forest, we were all soaked to the skin and shivering in the cold and the guides tell us that we were lost! We could hear the winds above us, roaring with the steady downpour and we wondered with heavy hearts if we would yet again fail to assault the slopes of Mt. Sicapoo. Still we pushed on, our guides doing their best to clear a path despite numbing fingers and limbs with the teeth-chattering cold. After another hour, one of the guides shouts out in surprised jubilance. In the absence of a trail, we had gone north which led us straight to Mt. Sicapoo instead of a route that the guide remembered which would have taken us to another side of the mountain. We were absolutely ecstatic and congratulated each other profusely as we climbed trees to get a better view! We were on the mountain's top but our guides tell us that the trail is so dense and thick that it would take hours to get through to the highest peak which was a few hundred meters away. The wind was picking up by the minute and we suspected that a storm has indeed developed. That and our shivering state prompted us to decide to turn around and descend. We've reached the elusive mountain and that would have to be enough triumph for this climb.
Reluctantly we made our way down, on a running descent, taking the four hour trek in two hours. When we reached camp, we find out that there was really a storm up over Ilocos Norte. We decide against our original plan of striking camp and heading for Solsona via Mts. Timarid-Simagaysay. Our guides also advised us to sit out the storm and just head back the next day, hopefully in clearer weather. So we wait out the storm inside our tents, wet but euphoric over our feat!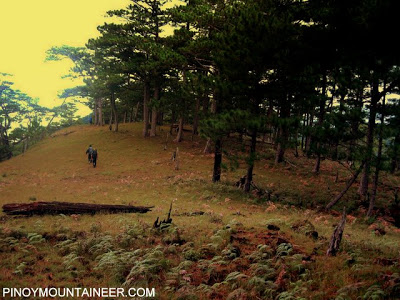 On day 4, we leave the Mt. Pakpako campsite at 7:30 am and head for Solsona. We were anticipating a 10 hour trek at the very least and though we had doubts at the back of our minds that we would make it before dark, our guides were confident that what we took two days to trek last June, could be compressed to a day. Just before lunch though, a member of the team trips and slightly sprains his ankle, slowing down our pace. We reached Mt. Simagaysay 10 hours and from there we could see the plateau and home! But it takes us another 6 hours to reach the bridge as our steady pace dwindled to snail's trudge as night overcame us (which got us lost for a good hour!) and we ran out of water. At 11:00 pm, four days after we set off, we finally touchdown in Solsona!
Checking our trail by GPS against Google topo maps a few days later, we learned that we reached 2218 masl and that Mt. Sicapoo peaks at 2338 masl – a 700 meter lateral distance to our right and a 120 vertical meters above us. On a post-climb assessment though, the team realized that we have indeed fulfilled our objectives of doing a reconnaissance trek from Saulay onwards and forging a trail through Mt. Sicapoo. While the last 120 meters up its summit still beckons, it would have to wait this time…yet again.
It seems that our pursuit of Mt. Sicapoo's summit will continue to test our wills, try our hearts and remind us that to climb is a privilege; a rare opportunity to rise above what we think we are capable of to the point of almost breaking, of almost giving up – until we are finally rewarded with that fleeting view of creation from almost near heaven. Sir Cecil, Gideon… are you free for a reunion climb?