Hiking matters #56: Ilocos exploration / first ascents of two mountains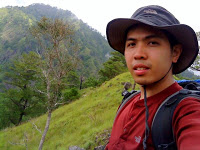 LAOAG, ILOCOS NORTE – I have just arrived here from Solsona, Ilocos Norte after a successful first ascent of Mts. Sumagaysay and Mt. Timarid, as well as the first traverse of those two mountains from June 12-14, 2009. It was a privilege to be able to join the ONE Degree Mountaineering Group in this pioneering expedition.
The traverse was very strenuous – the first day involves climbing up a grassy ridge, then a trail-less dense forest, before finally reaching the summit of Mt. Sumagaysay with its breathtaking views of Ilocos Norte and pine forest environs. Then the second day involves crossing through ridges of pine forests, in steep, narrow trails to Mt. Timarid (1,560 masl est.). Finally, the third day requires several hours of negotiating you way through a long, winding river — perhaps this is the most difficult part.
Anyway it's good to be back here in Laoag. Will have Ilocos longganiza in Saramsam Restaurant then take the 1915H Maria de Leon bus back to Manila. Will write more later when I get back to Manila.