Essay: After the floods and above the clouds, a golden view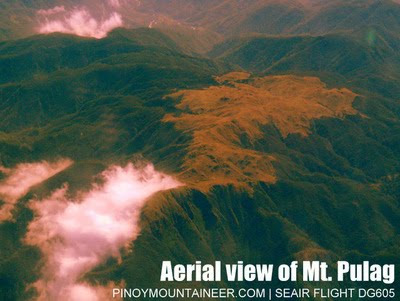 BASCO, BATANES – Days after the onslaught of Typhoons 'Ondoy' and 'Pepeng', I am here in the 'Land of Winds' upon the kind invitation of the Batanes Mountaineers and their president and most generous host William Antonio and with the support of SEAIR. The powerful Dornier aircraft dispelled any doubts that our flight would be delayed, and we cruised steadily amid the improving weather in Luzon. By the time we landed in Basco, the weather was beautiful.
The sights along the way, however, were saddening. Rivers were swollen and muddy, with the sea absorbing mud and silt. From the sky, one can can see the extent of damage that Typhoons 'Ondoy' and 'Pepeng' had wrought. Just yesterday I posted about Mt. Pulag and other Cordillera mountains being inaccessible due to landslides that have disrupted transportation.
There was however, one uplifting sight I saw along the way. As our plane flew past the Cordillera mountains, I happened to look from the window, and lo and beyond: Mt. Pulag! Our dear Mt. Pulag – its summit giving off a golden, radiant glow, ever majestic. The roads to Pulag may be closed, but the mountain itself is there, enduring and ever-beautiful, a testament to the strong Filipino spirit that will see us through whatever adversity we face.
Quickly I grabbed my camera and captured the splendid sight – the first time I saw Pulag from above. After the floods and above the clouds, I have faith that a golden view awaits all of us.